If you missed some of our home remodeling blog articles during the year, it's your chance to catch up. Here are the top five most read articles for 2015:
Manufacturers of shower wall panels are creating exciting new designs. They now feature products made from fiberglass and composite materials that can be molded with grooves, various textures and finished edging.
Some new designs replicate popular tile patterns, including subway tile and grid tile layouts. Most are available in a range of colors and finishes. Matte, gloss and textured finishes are also options that have changed the look and aesthetic appeal of shower wall panels.
In this article we discuss the advantages of wall panels, some of the many accessories you can choose from and introduce you to two of the wall panel products that our customers rave about – The Onyx Collection and Koehler's Choreograph.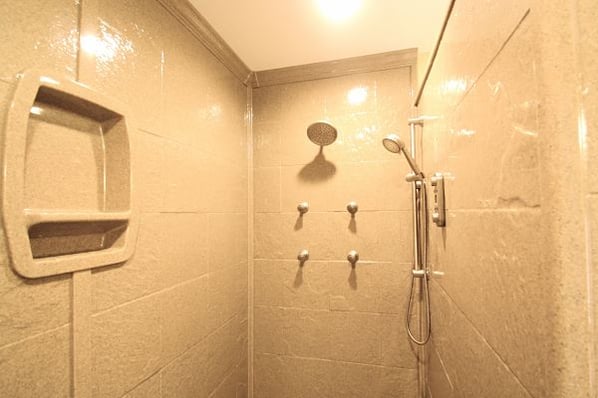 Shower wall panels in a stone finish from The Onyx Collection were used for this walk-in shower. Crown molding was added. Wall jets, a wall showerhead and handheld showerhead create a spa-like experience.
Bath design trends have focused primarily on ways to add both comfort and function to the room. Most bathrooms are small spaces. In many older homes with a combination tub/shower unit the average bathroom size is about 5-by-8 feet (40 square feet). In newer construction the average size is about twice as large, approximately 8-by-10 feet (80 square feet).
In this article we talk about our top ten picks for best bathroom design trends in 2015:
Large Master Suite Bathrooms
New Porcelain Tile Designs
Walk-in Showers
Universal Design Features (check out our new Homeowner's Guide)
New Mosaic Tile Designs
Multiple Showerheads
Free-Standing Bath Tubs
Pedestal and Porcelain Sinks with Legs
Custom Vanities
Quartz and High Definition Laminate Countertops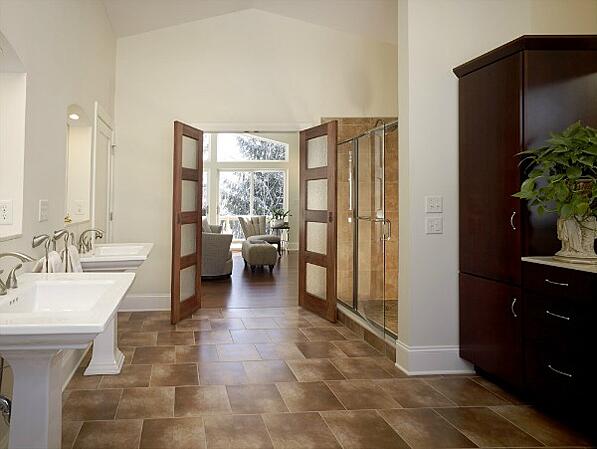 This en suite bath features stone-look porcelain tile flooring, a walk-in shower; two pedestal based porcelain sinks with wall niches and brushed stainless steel fixtures.
A master bedroom and bath addition is a popular remodeling project for personal comfort and enjoyment. A term that you may be hearing a lot lately is "en suite." En suite refers to a bathroom adjoining a bedroom (see photo above). A master en suite may include a king size bed, multiple dressers, walk-in closets, a bath with spa features, a walk-in shower, a free-standing tub and other amenities.
If space for a master en suite cannot be attained by making interior changes, many homeowners will opt to build an addition. In this article we offer six tips to help homeowner's get started in planning a master bedroom and bath addition:
Determine whether the addition will be located on the first or second floor of your home.
Discuss your options with a design-build firm.
Identify important elements that should be considered as drawings and plans are made.
Give special attention to exterior features in planning an addition.
Set priorities for the interior of the master bedroom and bathroom.
Consider the special needs of users.
Master bedroom and bath additions are very popular among "Baby Boomers."
In 2015 we saw a change from the popular gray and greige room colors of 2013 and 2014. In this article we identify specific paint colors that were our top picks for the hottest interior room colors 2015, including:
Reds, which add energy to a room.
Whites, the predominate color used in homes on walls, trims and ceilings.
Blues, which remain ever popular.
Greens, which are used as a neutral to complement many of the wood finishes and fabrics offered by popular home décor retailers such as Pottery Barn, West Elm, Martha Stewart and Ikea.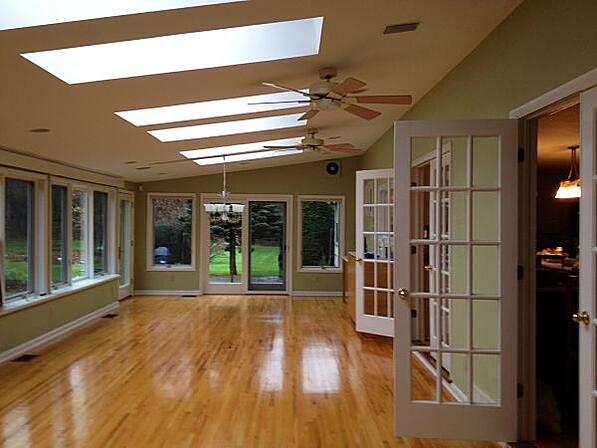 The wall color used for this sunroom is Benjamin Moore's Color of the Year for 2015, Guilford Green HC-116. Trim is Benjamin Moore's White Dove PM-19.
Our most popular home remodeling article for 2015 is also one of the most popular features homeowners ask about when planning a bathroom remodeling project – a walk-in shower without doors.
In this article we discuss six facts to know about walk-in showers without doors:
Doorless showers are almost always custom designed.
When selecting a base for a walk-in shower without doors consider the options.
Placement of showerheads is important.
Special ventilation and lighting is not required.
Placement of accessories can be configured for the users.
Cleaning and maintenance are easier than showers with doors.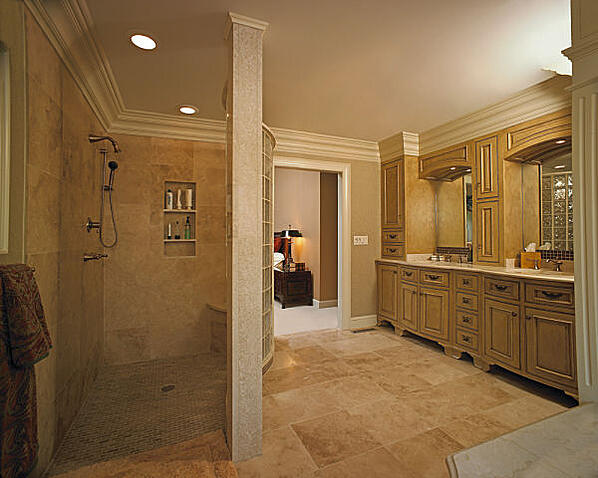 This custom designed walk-in shower without doors features a level threshold, wall-mounted and handheld showerheads, a shower seat and a wall niche for shower supplies. A curved block-glass partition contains water and provides privacy.