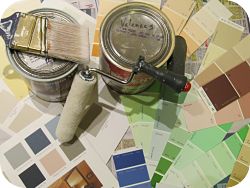 In our business we see a lot of colors used in Central New York homes. We predict that whites, neutrals and grays will remain strong but we love to see rooms with color that enhances wood flooring, furniture and cabinetry.
When our customers remodel a room they frequently ask for our advice about paint colors. We often use Benjamin Moore and PPG Pittsburgh Paints because of the reliability of both color and performance and we are most familiar with those products.
Here are our picks for The Hottest Interior Paint Colors for 2013:
Whites
Whites can be tricky because they have color undertones. We like Benjamin Moore's whites. We've selected 4 whites with subtle undertones and a pure white from their extensive palette. These shades work well as wall colors or can be used as accent colors on trim, cabinets and furniture.
Beiges
Beige works with many colors as a neutral background. Beige looks great with white or wood trims and complements blues, tans, greens, reds, oranges purples and blacks. One of our favorite pairings with beige is aqua as an accent. We have listed four different values of beige that range from lightest to darkest and have specified undertones.
| | |
| --- | --- |
| | Navajo White PM-29. This is one of Benjamin Moore's best selling classic colors and remains on our list for 2013. It is a light, creamy beige with soft yellow undertones. |
| | Hush AF-95. A classic warm beige from Benjamin Moore's Affinity Colors and a Pottery Barn color from "Summer 2011". Benjamin Moore shows this as a ceiling color paired with soft red and as a trim color paired with chartreuse green. We like it as a wall color. |
| | Annapolis Gray PM-14. This color again is a classic that we have seen in a number of homes. It has taupe/gray undertones and looks great with Annapolis Green, a soft aqua. |
| | Deer Path 1047. This is a stunning color that was featured at the 2012 Parade of Homes in a home with an open floor plan and dark cabinetry and black granite. It is a warm shade of beige with a golden undertone that accentuates dark colors and wood finishes. |
Grays
Gray was one of the hottest interior colors in 2012 because it grounds almost any color scheme used in a room. Black, white, red, orange, blue, yellow and purple all look great against a gray wall. In bathrooms, gray complements white fixtures, tile and marble surfaces. We've selected three hues and listed them from lightest to darkest.
| | |
| --- | --- |
| | Horizon OC 53. This is one of Benjamin Moore's classic colors often used by designers, including Candice Olsen. It is a true gray that pairs well with yellows, reds, pinks, blues, blacks and an assortment of other colors. It is great as a neutral and when Decorators White is used for trim. |
| | Stonington Gray HC-170. A mid-tone gray from Benjamin Moore's Historic Colors that pairs well with russets and purple colors. |
| | Flagstone 518-4. This is a warm gray Pittsburgh Paint color that looks great in a masculine bedroom or study. It can also be used as an exterior color. It pairs well with white trim and black, navy, orange, dark purple, gold, off-white and silver accents. |
Blues
Blue, in a variety of hues, will be hot this year. We're seeing pops of turquoise in magazines used primarily as an accent in kitchens. We're also seeing blues paired with yellows, browns and beiges. The undertones include green, gray and violet. Blue is also being used as a pale wash on walls with white trim. Based on these trends we like:
| | |
| --- | --- |
| | Lookout Point 1646. This pale blue has a touch of gray and works well if you need a wash of color. |
| | Wythe Blue HC-143. We were not surprised when Benjamin Moore picked this blue as it's 2012 color of the year. It really is beautiful and versatile. |
| | Celestial Blue 451-7. This is a blue from Pittsburgh Paint that we've tried and like because of the coverage when applied to a wall and the way it looks with white trim and black, orange and red accents. |
| | Blue Lagoon 2054-40. If you really like that flash of turquoise you've been seeing everywhere, try this color. |
Yellows
Yellow is one of those colors that can be very intense or very pale. It can also have undertones of orange, green, peach, and black.
| | |
| --- | --- |
| | Lemon Sorbet 2019-60. Benjamin Moore's Color of the Year for 2013 is a very bright soft yellow. |
| | Precious Ivory 185. If you are looking for a yellow to use as a neutral, this is it. This color looks good in rooms with white trim, brick fireplaces, hardwood floors, dark wood and doesn't scream yellow. Try it in hallways, bedrooms and main living areas. |
Midtones
Midtone colors are bright and blend well with other accent colors.
| | |
| --- | --- |
| | Raspberry Parfait 2172-40. This color is a fantastic wall color. If you have Mission Oak furniture, give this color a try. It was featured in the Stickley Audi furniture showroom. Try it with Mayonnaise accents. |
| | Goldfinch 187. This gold has a brown tone that looks great with black, coral, green. |
| | Annapolis Green 687. This blue/green pairs well with beige, brown, gray and cream. |
| | Liberty Park 487. Green is one of the most difficult colors to pick. There are always strong undertones that come through such as yellow, blue, black, gray and brown. This is a color that will work with creams, natural wood finishes and oak flooring. |
Darks
Are you afraid of the dark? Dark colors, that is. Bright, deep colors can really enhance a home and bring out architectural elements especially in kitchens, half bathrooms and dining rooms. We have a few to try:
| | |
| --- | --- |
| | Red: Pomegranate AF-295. This is a red that you won't get tired of. Try Mayonnaise as a trim color. |
| | Orange: Pennies From Heaven 063. Coppery oranges can warm up a family room, kitchen or bath. |
| | Purple: Grappa 1393. If you're looking for something different, this may be it. Grappa is a deep grape color that is awesome with green and creams. |
| | Brown/Tan: Greenfield Pumpkin HC-40. Cambria has a color match tool that paired this bold brown color with black. The impact was stunning. |
| | Black: Witching Hour 2120-30. We saw black used in the 2012 Parade of Homes in a powder room and as an accent. If you want to paint it black, try this color. It's a soft black that looks good with green, tan and cream colors. |
Trim
We have a "go to" color for trim.
| | |
| --- | --- |
| | Decorators White PM-3. This is a versatile color that works with any almost any color. It has a slight note of gray that tones it down as a trim color. |

If you're searching for interior colors check out our 2012 hottest color selections, too.