Manufacturers of shower wall panels are creating exciting new designs. They now feature products made from fiberglass and composite materials that can be molded with grooves, various textures and finished edging. Some new designs replicate popular tile patterns, including subway tile and grid tile layouts. Most are available in a range of colors and finishes. Matte, gloss and textured finishes are also options that have changed the look and aesthetic appeal of shower wall panels.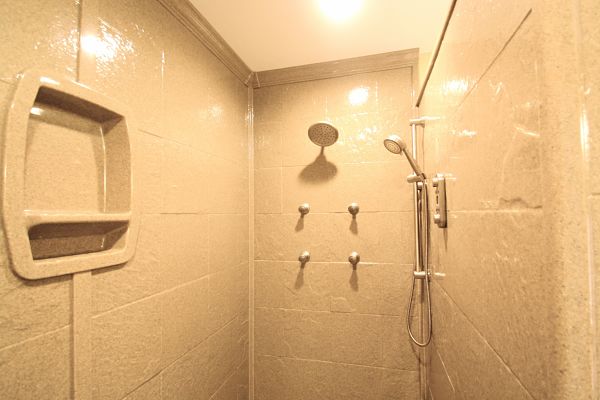 Shower wall panels in a stone finish from The Onyx Collection were used for this walk-in shower. Crown molding was added. Wall jets, a wall showerhead and handheld showerhead create a spa-like experience.
Advantages
There are several advantages to panels. They are waterproof, easy to maintain and easy to clean. While the cost of wall panels may not be less than tile, they can usually be installed more easily. Many manufacturers recommend cleaning panels with a non-abrasive, non-toxic solution of white vinegar and water.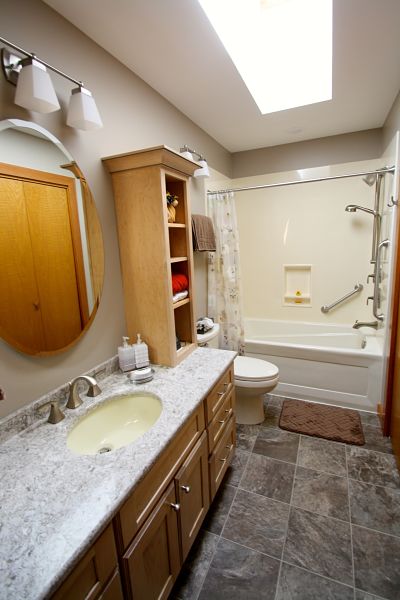 An acrylic ivory matte finish shower wall panel was used as a surround for this tub/shower combination bath unit.
Accessories
Crown molding, mosaic inserts, shelves and shower benches are some the accessories made for shower wall panels. The panels can be matched to shower bases for a uniform look. Panels can also be used in combination to create an accent wall and in areas outside of the shower stall where wall tile may have been considered.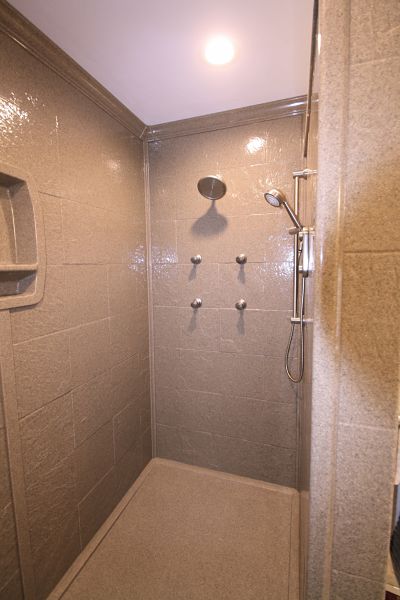 Stone finish wall panels, crown molding, corner strips, an inset self and a color coordinated shower base from The Onyx Collection were used for this walk-in shower.
Onyx and Kohler Products
Two shower wall panel products that we have used for our customers are from The Onyx Collection and Kohler.
Onyx wall panels are available in five finishes: matte, gloss, subway tile, stone and slate. Panels are 3/8-inch thick and have a solid color throughout. Border inlays, strip inlays and graphic inlays are made to complement and enhance the shower wall panels and create the look of tile.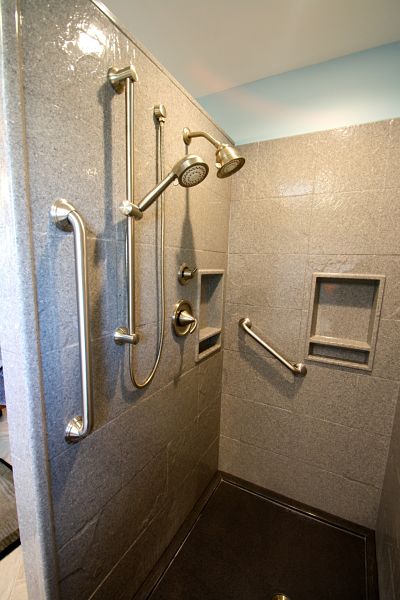 Stone finish wall panels, two inset shelves, dual showerheads and grab bars were used for this walk-in shower without doors.
Kohler introduced its "Choreograph" shower wall systems in January 2015. These wall panels are made from Serica, a composite material composed of crushed stone and fiber reinforcement. The line features in-wall and on-wall shelving units that can be added along with a flip-down 26-inch wide seat. The ranges of patterns you will find include brick and cord textured wall panels, and hexagon tile, linen and stix texture accent panels.