Bathroom design trends are influenced by the introduction of new products and features and the changing preferences of homeowners and professional designers.
Recently, the National Kitchen and Bath Association announced its bathroom trend awards for 2016. On the NKBA list were five trends:
No-threshold showers
Floating vanities and open storage
Undermount sinks
Neutral colors
Freestanding tubs
Our picks for the best bathroom design trends for 2016 are based on what we're seeing in the industry and what Central New York homeowners ask for when they build a new home or remodel. Here is our list of the top ten trends:
1. Walk-in Showers with Upgrades
One of the most popular trends of the past five years has been adding a walk-in shower (or several) to a home. While the trend holds, more consumers are asking for the following upgrades:
Zero-threshold bases
Frameless glass enclosures
No doors
Multiple showerheads
Custom shelves and niches
Enhanced lighting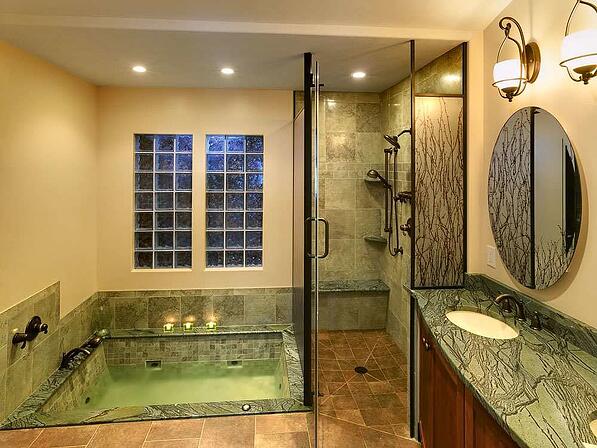 This bathroom has many upgrades including the no-threshold walk-in shower with an embossed glass door enclosure and a custom tile design on the floor and walls. The shower includes custom shelves, a shower seat and multiple showerheads.
2. Strategic Storage
Generally bathrooms are small rooms so when homeowners talk to us about remodeling they often ask about how to improve the storage space that is available. Vanity base cabinets seldom provide adequate storage for grooming appliances and bath supplies. To keep essentials accessible, many customers opt for open storage. Others add towers to vanity areas or more cabinets to optimize storage space for towels and other items.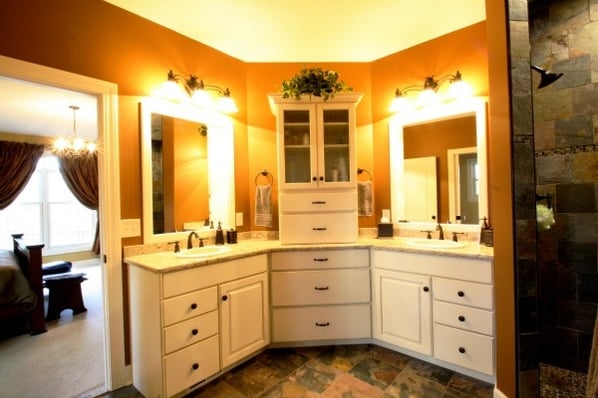 A custom storage tower and a base cabinet with drawers expand the storage area of a double vanity in this master bathroom. Note the custom doorless walk-in shower to the right.
3. Universal Design Features
"Universal Design" has been a predominate factor in designing today's bathrooms for comfort and safety. We incorporate many of these features and principles in every bathroom we remodel. Some Universal Design basics include:
Grab bars
Shower seats
Handheld showerheads
Accessible vanities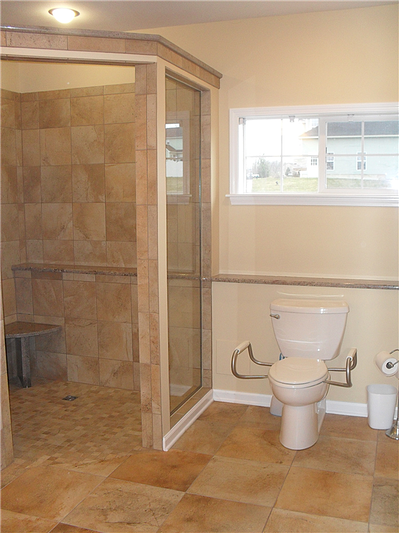 This master bath was custom designed to be barrier-free for a homeowner with restricted mobility. The no-threshold shower has no doors. There is ample space for a person who uses a wheelchair and the toilet has grab bars on each side for support and balance. The design of the bath blends with the home.
4. Water Saving Fixtures
Many people today are concerned about using energy efficient and resource saving products in their homes. WaterSense labeled products include toilets, showerheads and faucets that meet EPA standards for water efficiency and performance. Digital technology is also being used to improve water conservation and make bathing enjoyable.
Here are three water saving fixtures that are trending:
WaterSense toilets. WaterSense toilets are more efficient than the current federal standard for toilets. They use 1.28 gallons of water or less per flush, 20 percent less than the federal standard of 1.6 gallons per flush.
WaterSense faucets. These faucets use a maximum of 1.5 gallons per minute can reduce a sink's water flow by 30 percent or more from the standard flow of 2.2 gallons per minute. By retrofitting bathroom sink faucets with models that have earned the WaterSense label, billions of gallons of water could be conserved each year.
"Smart" showers. Digital technology is changing products we use in our bathrooms. Both showerheads and bathtub fixtures can now be controlled with digital devices.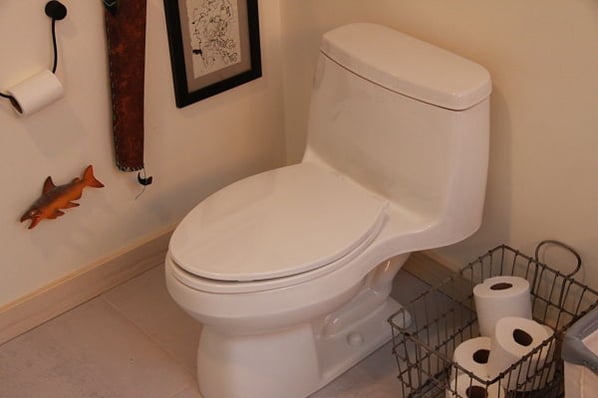 A WaterSense low-flow toilet.
5. Multiple Showerheads
A ceiling or wall-mounted showerhead coupled with a handheld showerhead are becoming essentials in today's shower stalls. Handheld showerheads allow you to direct water when rinsing shampoo or soap. The wall or ceiling unit provides a steady stream of warm water for comfort. Handheld showerheads are an asset if your household includes a small child or a person who may be disabled due to injury or illness.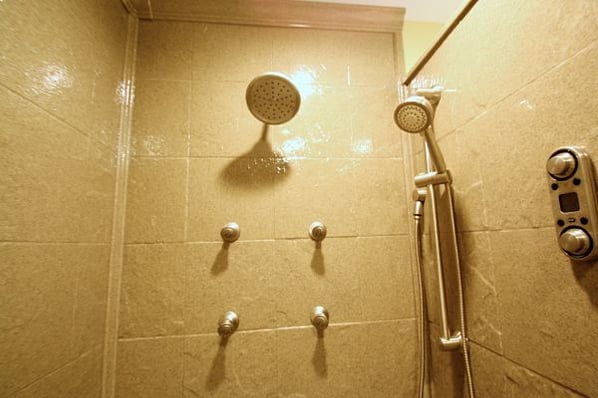 This shower has wall jets and multiple showerheads, including a handheld showerhead. It is a "vertical spa" fixture by Moen ioDigital. This is a "smart" shower that can be operated by a remote control device to turn on and set the shower to the desired temperature, water flow and showerhead settings before you enter. The shower surround is an Onyx wall panel enclosure.
6. Tile in Neutral Colors
White is a "hot" interior room color for 2016 and neutrals will be a predominate trend in interior design. Travertine, porcelain and ceramic tile in earth tone colors and white complement bath fixtures and cabinetry.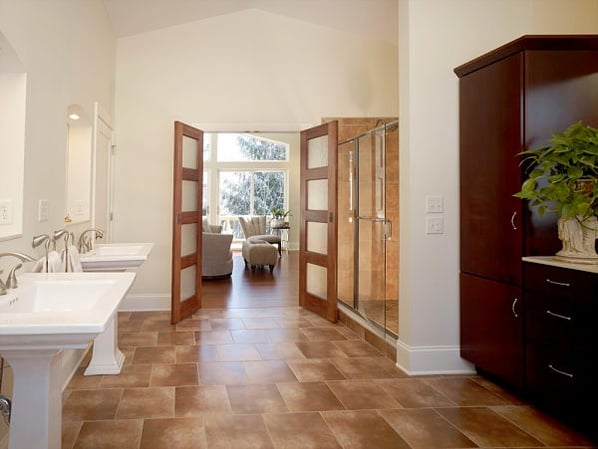 The neutral color of the floor tile used in this master bathroom complements with pedestal sinks, granite counter and wood stain cabinetry and doors. A neutral beige wall color and white trim tie the elements together.
7. Undermount Sinks
Undermount sinks are easy to maintain and often used with quartz and stone counter surfaces in both baths and kitchens. This year there are some amazing new designs in quartz surfaces that will be seen in homes. Cambria is an industry leader in quartz countertop design and has developed some stunning patterns. Cambria also has linked with Benjamin Moore Paints to create a palette of colors to complement its products.
Undermount sinks are used with a quartz counter surface on this double vanity and are separated by a storage tower.
8. Integrated Tubs and Showers
Integrated tubs and showers provide an option for efficiently fitting fixtures into a bathroom. They can be placed on a wall or incorporated into a corner. They are also convenient to use, attractive and add style.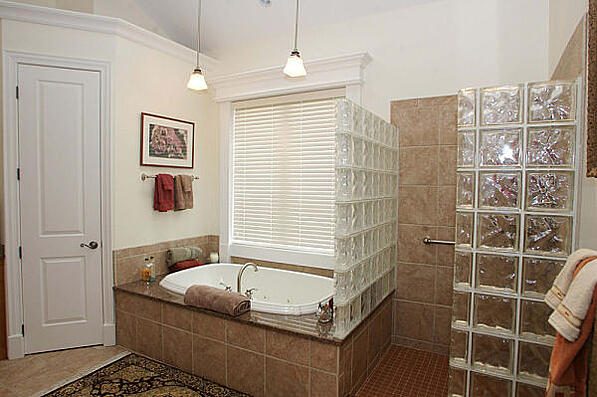 A whirlpool tub with a deck was integrated with a doorless walk-in shower in this master bath. A glass block wall was mounted onto the deck to separate the fixtures. A second glass block wall is used to contain water and provide privacy in the walk-in shower.
9. Privacy Walls
In bath design, especially for bathrooms that have multiple users, a commode area for the toilet is a plus. However, if space is limited erecting walls for an enclosure and adding a wall may not be an option. A privacy wall can provide a solution. Privacy walls can also be considered for walk-in showers.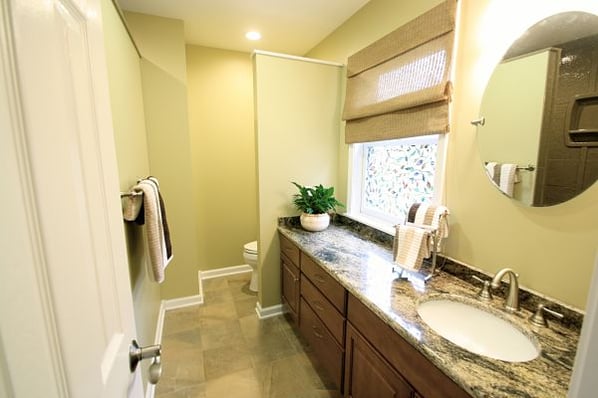 This long narrow bathroom does not have enough space to enclose the area around the toilet for privacy nor for a door. A partitioned privacy wall was built to divide the toilet area and vanity.
10. A Walk-in Closet Off a Master Bathroom
Master bathrooms are often personal retreats. Homeowners create these spaces based on their lifestyles and for comfort. Being able to dress in the same area used for grooming is practical for busy people. Adding a closet or expanding the space of a bathroom to encapsulate an adjacent hallway closet is not uncommon when remodeling.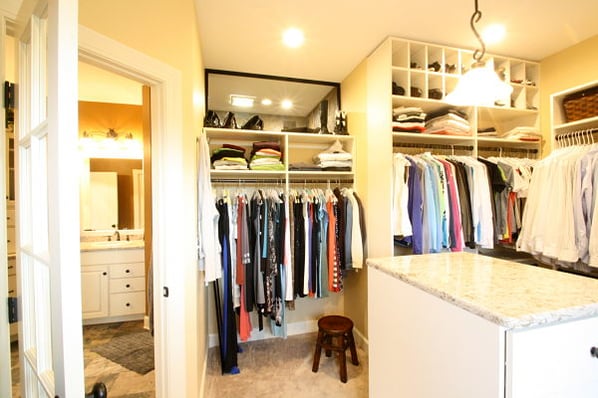 A custom storage system was used for this "dressing room" that is located within a master bathroom.