If you're planning to remodel a bathroom this year you may want to consider some of the current trends in bath design that will add both comfort and function to the room. Many of the trends we identified in 2014 will continue to be seen but with growing interest.
Generally bathrooms are small spaces. The average size of a bathroom in many older homes with a combination tub/shower unit is about 5-by-8 feet (40 square feet). In newer construction the average size of a bathroom is larger, approximately 8-by-10 feet. Half baths are typically 3-to-4 feet wide and 5-to-8 feet long. There are new configurations and products available that will optimize the space if you plan to stay within the present dimensions and amenities to add if you plan to expand the room or build a bathroom addition to your home.
Here are ten of our picks for the best bathroom design trends for 2015:
1. Large Master Suite Bathrooms
The "en suite" trend continues with people seeking to expand their bathroom space and add upscale elements when they remodel a master bathroom to create a private retreat. Dual vanities, compartmentalized commodes, soaking tubs, stylish light fixtures and refined architectural elements and décor add to the aesthetics and comfort of a master bath.
2. New Porcelain Tile Designs
Tile manufacturers are now offering porcelain products that look like wood and natural stone. One popular trend is the use of plank tile, 6-by-4 inch tile or 12-by-24 inch tile, for flooring. The larger tile has fewer grout lines making it easier to clean.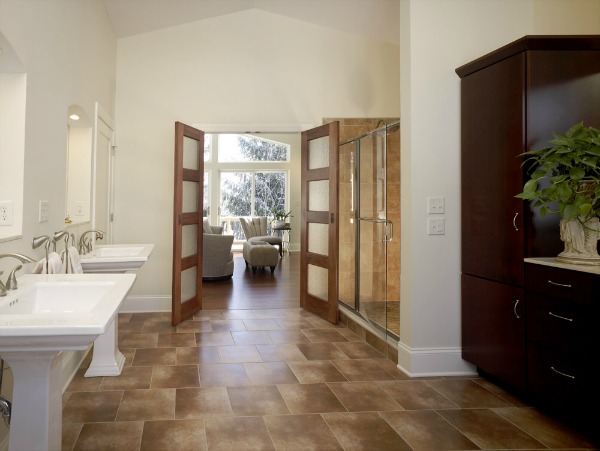 This en suite bath features stone-look porcelain tile flooring, a walk-in shower; two pedestal based porcelain sinks with wall niches and brushed stainless steel fixtures
3. Walk-in Showers
Most people prefer an easy maintenance shower with spa features to a tub. Today's walk-in showers can be installed with or without doors. A walk-in shower can be installed in almost any bathroom and many are customized to fit the space. There are both standard and custom shower bases to choose from when planning the design of the room. Multiple showerheads, wall jets, steam bath features, special lighting and even speakers can be installed to create a spa-like experience.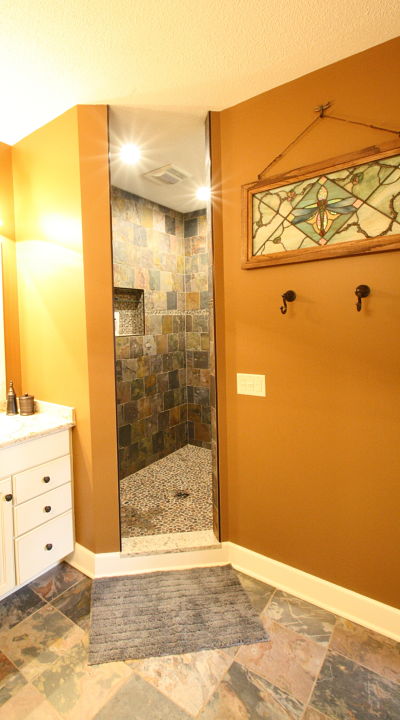 A doorless walk-in shower is accessible and easy to maintain. The wall tile and pebble tile flooring in this walk-in shower without doors can be wiped down after use to clean residue.
4. Universal Design Features
Universal design features are becoming a standard in most bath remodels. Low threshold shower entries, slip-resistant flooring, grab bars, shower benches, hand-held shower sprays and a night-light are some of the basics that add both comfort and safety to a bathroom.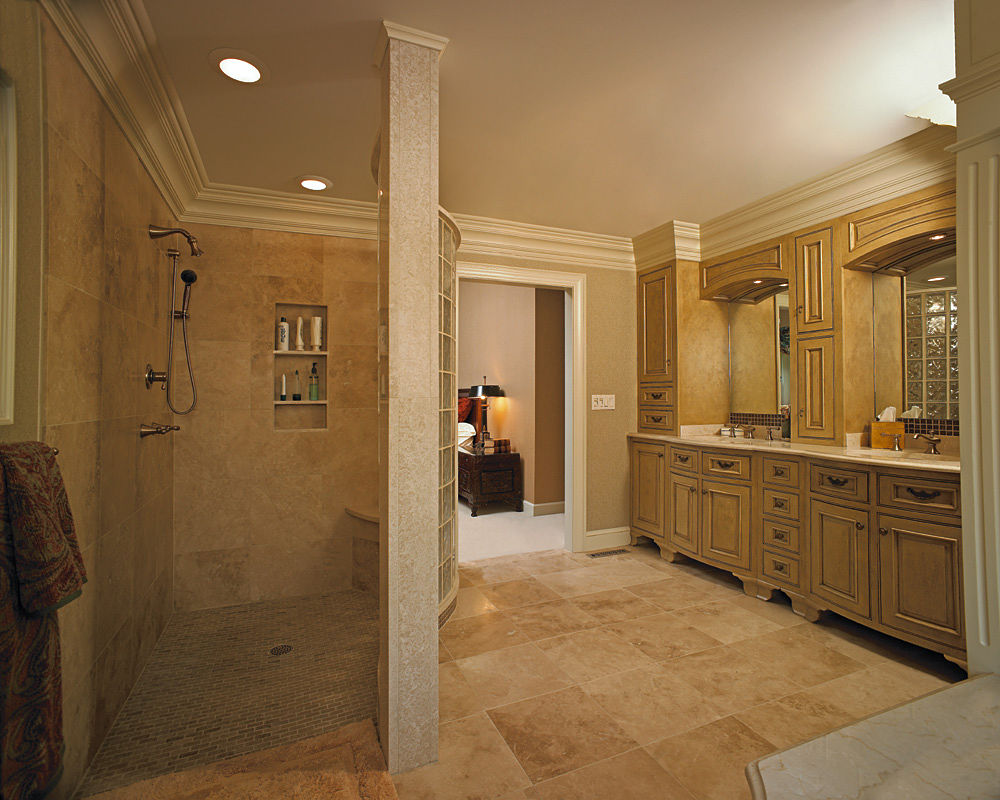 The universal design features in this luxurious master bathroom include a walk-in shower without doors, a level threshold entry, slip-resistant floor tile, hand-held showerhead, shower seat, lever-handle faucets, wide aisles and good lighting throughout the bathroom.
5. New Mosaic Tile Designs
Patterned mosaic tile is back and adds interest to a bathroom when used on either walls or floors.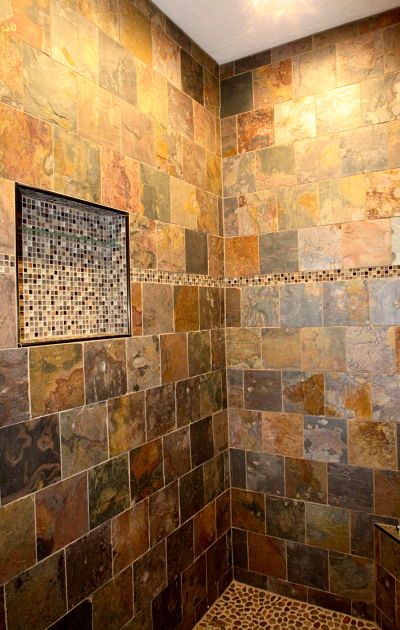 Walk-in shower with a mosaic tile niche, mosaic accent tile and a mosaic pebble tile floor.
6. Multiple Showerheads
A wall or ceiling mounted showerhead coupled with a handheld shower spray is rapidly becoming the new norm in shower installations. However, wall jets and even dual mounted showerheads (i.e. a waterfall shower mounted on a ceiling and an adjustable massage spray mounted on a wall) provide a spa experience at home.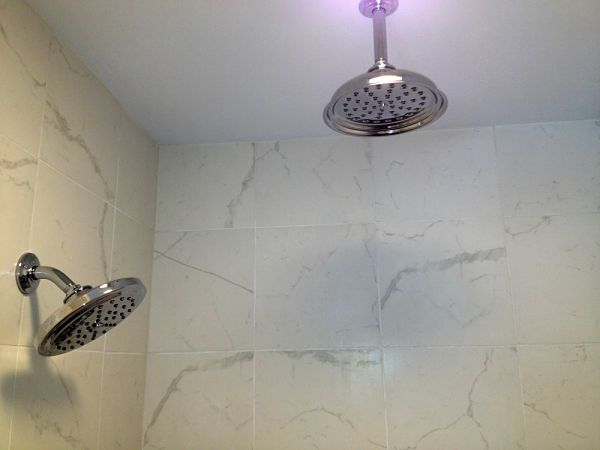 Ceiling and wall-mount showerheads combine to create a spa-like experience.
7. Free-Standing Bath Tubs
Free-standing tubs, either acrylic or porcelain, with floor mounted tub fillers are replacing the standard bath tub. A hand-held spray or wand can be added. These tubs are stylish and add comfort to bathing.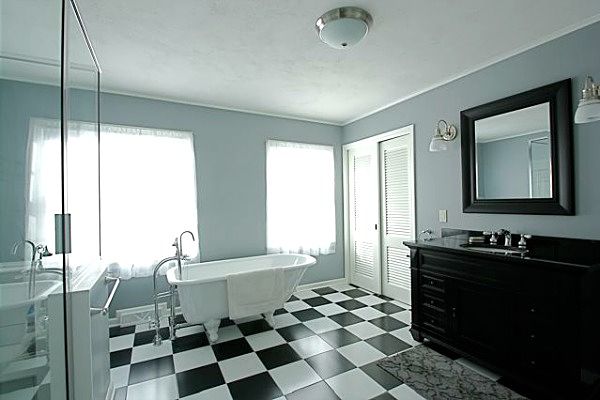 This bathroom features a footed free-standing tub with a floor mounted tub filler.
8. Pedestal and Porcelain Sinks with Legs
Pedestal sinks and legged console sinks are space savers. The classic design has withstood the test of time.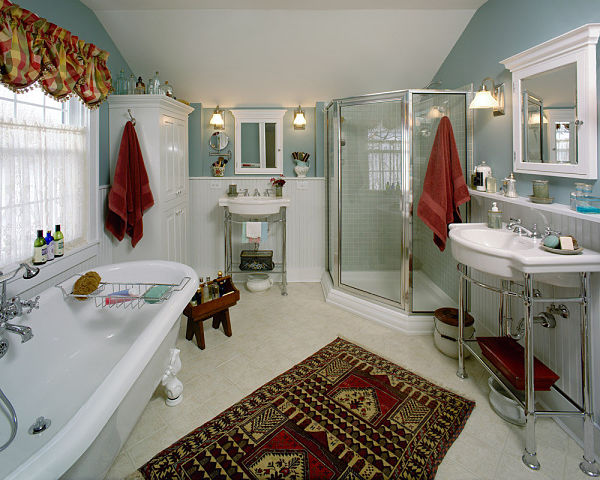 Master bath with a freestanding tub with a floor mounted tub filler and dual console porcelain sinks.
9. Custom Vanities
Since bathrooms are often small rooms it makes sense to optimize function and storage with a custom-built vanity designed to fit efficiently into the space. Dual sinks are often requested. Storage towers help to separate the space for users and can provide shelves or drawers for grooming essentials.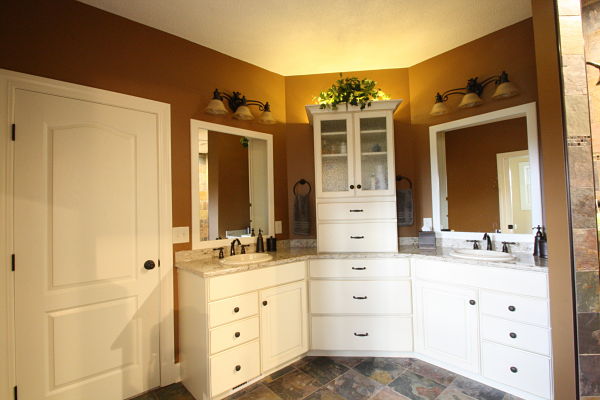 A dual sink vanity with drawers and a storage tower containing shelves and drawers was custom designed to fit into the space of this master bathroom.
10. Quartz and High Definition Laminate Countertops
New designs of quartz continue to make it one of the most popular products used in kitchens and baths. Cambria has added some remarkable patterns and edge profiles to its product line. High definition laminates that look like stone offer an affordable option for vanity counters. Laminates are getting better each year.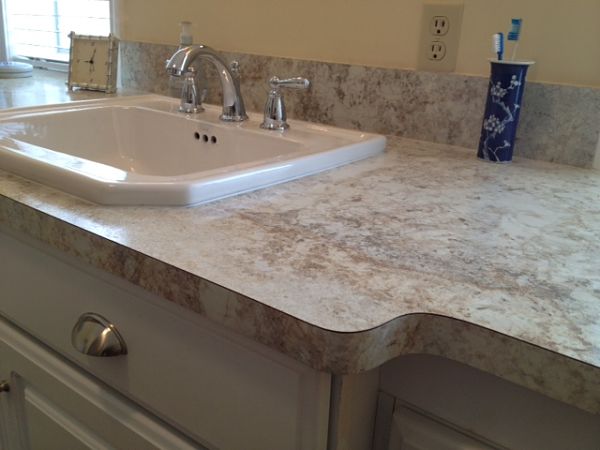 A high definition laminate was used for the vanity and backsplash in this half bath.