Selecting a shower pan or base is one of the most important decisions you'll need to make if you're considering adding a walk-in shower to your home. Bases come in standard sizes or can be customized. There are also threshold and surface options to choose from. Here are some facts to know about the three types of options for walk-in shower bases as you plan your project.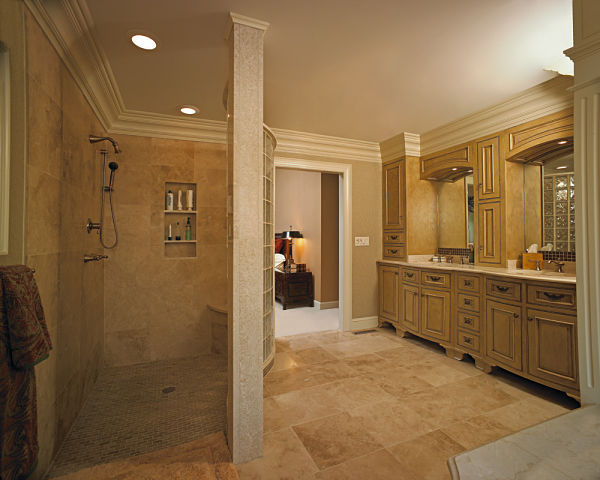 A walk-in shower with a slip-resistant custom tile floor.
1. Standard and Custom Base Options
All shower bases should be slip-resistant, have an adequate slope and a watertight seal. In standard bases you will find either a center drain hole or an offset drain hole. The drain hole in the base should be matched to the existing drain or framing if possible. If you are using a custom base you will be able to adjust the drain location for the existing drain line, framing and shower shape.
Standard bases. Standard square or rectangular shower base pans range in size from 32-by-32 inches to 60-by-42 inches. There are also standard neo-angle base pans for corner showers that range from 36 inches to 60 inches in diameter.
Custom bases. Custom bases are cast to order or are built-in-place. They are commonly constructed with either a solid surface material such as Onyx or tile laid over a mortar base (mudset) with a waterproof membrane such as Schluter.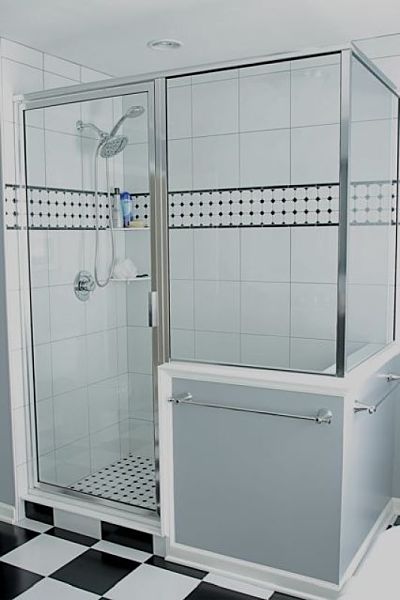 A walk-in shower with a tiled floor and glass enclosure.
2. Threshold Options
Shower base manufacturers, (a product line we often use is Onyx) offer several threshold options. While a shower threshold can serve as a dam for water, it can also present a tripping hazard or barrier for some users. In planning your project here are four threshold options to consider:
Standard full-height thresholds. A standard threshold for a walk-in shower pan is approximately 4 inches in height.
Lowered thresholds. The height of standard and custom lowered threshold bases ranges from 1¼ inches to 2½ inches depending on the size of the shower. The base is typically sloped ¼ inch per foot of area toward the drain hole to allow for water drainage.
Ramped threshold. Ramped thresholds are designed for people who use a wheelchair. A ramped threshold can be integrated with a shower base or it can be a separate removable piece when used with a base that has a lowered threshold. The slope of a ramp base can increase from zero to 1½ inches or from zero to 2¼ inches depending on the length of the ramp.
Zero threshold. Proponents of "Universal Design" recommend a level entry for a shower. Zero threshold entries are commonly used with walk-in showers with or without doors for easy access and safety. If you're remodeling an existing bathroom, and like this feature, you'll want to discuss installation with your contractor to assure that there is an adequate floor structure for drainage.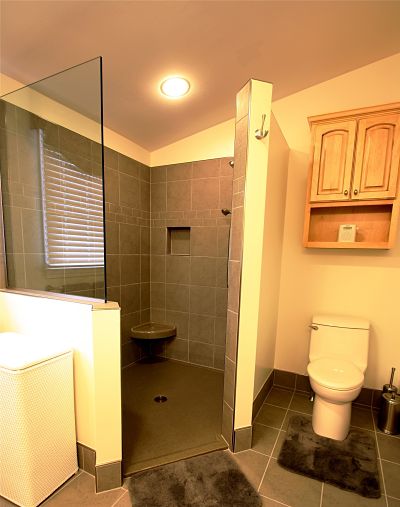 This doorless walk-in shower features a lowered threshold solid surface Onyx base with a ramped threshold.
3. Surface Options
Material used for manufactured shower bases includes solid surfaces materials such as ONYX products, fiberglass, cultured marble and acrylic. These bases come in a range of colors, designs and prices. Most bases that are built-in-place use slip-resistant tile for shower flooring. The numerous selections of tile choices allow for a wide range of design and price options for these bases.