If you are planning to remodel a bathroom it is important to carefully consider flooring and shower base product options for both safety and function. Slips and falls are the leading cause of injuries at home and often occur in a bathroom.
While no floor or shower base is "slip-proof," floors and shower bases with texture can be "slip-resistant." There are many slip-resistant products available for floors and shower interiors in a variety of textures, colors and surfaces including luxury vinyl flooring, solid surface bases and tile. Check the manufacturer's product information to determine if it is slip-resistant.
Here are three options for slip-resistant bathroom flooring and three options for slip-resistant shower bases: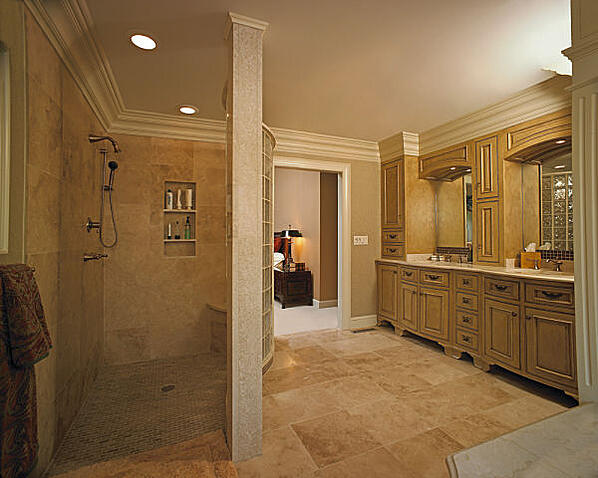 In this award winning master bathroom with a walk-in shower, 12-inch square travertine tile was used on the floor and walls for easy maintenance. Rectangular 1-by-3 inch mosaic tile was used for the slip-resistant custom shower base. Overhead lighting in the shower stall, a shower seat, a handheld showerhead, accessible controls and easy-to-reach recessed niches are other safety features.
Bathroom Flooring
Luxury vinyl flooring as well as ceramic, porcelain and mosaic tile are all good products for bathroom flooring. All of these surfaces are durable and resist water. While vinyl flooring traditionally comes in rolled sheets, today's luxury vinyl products are available in tile squares and planks and are designed to compete with ceramic tile and wood flooring. Tile is durable and easy to care for.
1. Luxury Vinyl Flooring
New luxury vinyl flooring products are thicker and have textures that improve traction. Luxury vinyl flooring is available in tile patterns that resemble slate, travertine, marble and other stone surfaces. Luxury vinyl tiles can be set with or without grout. Luxury vinyl also comes in planks that provide the look of wood in a bathroom without the worry of warping and staining.
Unlike ceramic or porcelain tile, which can be cold and unforgiving when items are dropped on it, luxury vinyl flooring is easier on your feet and reduces the likelihood of glass shattering. It is easy to install and maintain. It can be mopped with a cleaner formulated for vinyl floor care. If a tile or plank becomes damaged it can easily be replaced.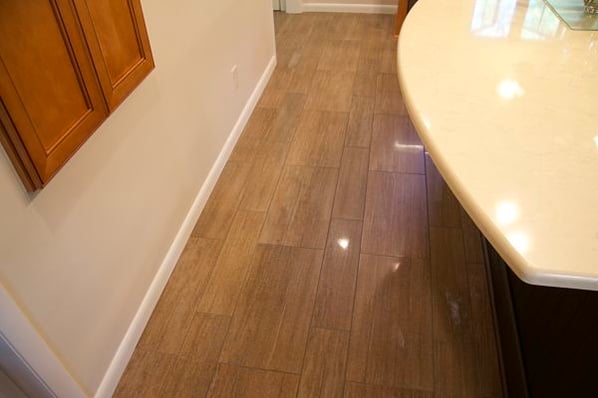 Easy-care, water resistant luxury vinyl plank flooring can provide the look of a wood floor in a bathroom.
2. Ceramic or Porcelain Tile Flooring
The tile industry uses several scales to measure slip resistance of ceramic and porcelain floor tile. In general, heavy textured floor tiles are more slip-resistant and smaller tiles are more slip-resistant because there are more grout lines.
Talk with your contractor or tile supplier about products to use for your project. Consider buying extra tiles in the event that a tile becomes cracked or chipped and requires replacement. Tiles may be discontinued or are produced in runs where colors may vary. It is always good to have extra tiles on hand if you need to replace them.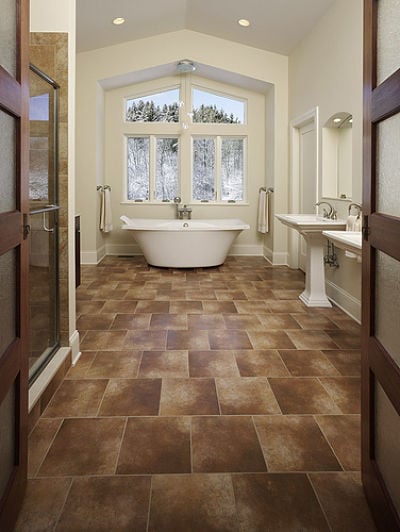 The ceramic tile used for this bathroom resembles stone. The pattern is variegated and adds interest to the room.
3. Mosaic Tile Flooring
Mosaic tile is frequently used on the floor of shower stalls, where wet surfaces are especially slippery, because of its traction and durability.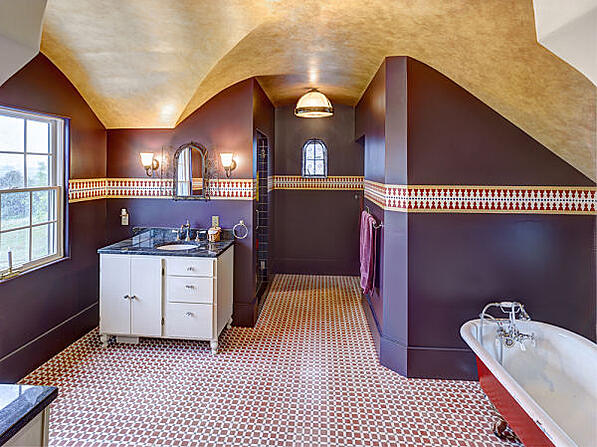 The master bathroom in this home has a colorful mosaic tile floor and wall border, a claw-foot tub painted red on the exterior, black granite vanity surfaces, a custom portal window, and a doorless walk-in shower with dramatic purple tile.
Shower Bases
More homeowners are opting for a walk-in shower when they remodel a bathroom. If your plans include a walk-in shower you will need to select a shower base. All shower bases should be slip-resistant, have an adequate slope and a watertight seal.
There are three types of shower bases to consider for your project:
1. Custom Tile Shower Bases
Custom tile shower bases are built-in-place to fit the space. Slip-resistant tile is used for shower flooring. The numerous selections of tile choices allow for a wide range of design and price options for these bases. Tile is laid over a mortar base (mudset) with a waterproof membrane such as Schluter.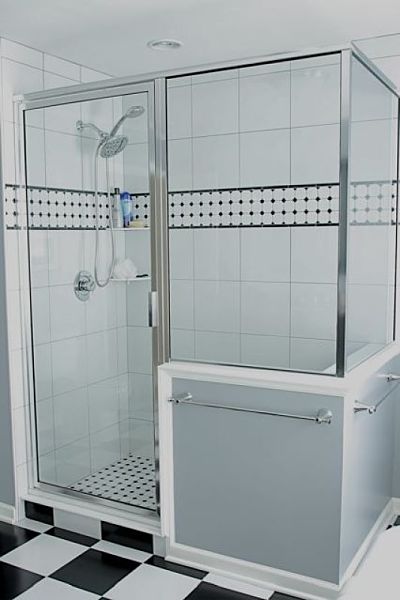 The custom tile shower base built for this master bathroom has a low threshold. Slip-resistant black and white mosaic tile was set into the base. The black and white ceramic tile flooring is also slip-resistant.
2. Custom Fabricated Shower Bases
Custom fabricated shower bases can be cast to order. They are commonly constructed from solid surface material such as Onyx. If you use a custom fabricated shower base you will be able to adjust the drain location for the existing drain line, framing and shower shape.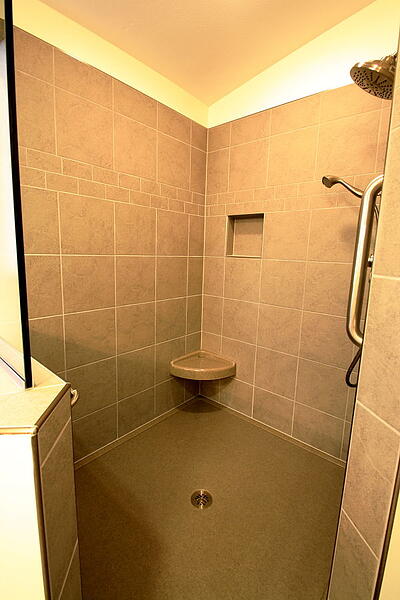 This doorless walk-in shower features a custom solid surface Onyx shower base, which was fabricated to fit the available space.
3. Standard Manufactured Shower Bases
Material used for manufactured shower bases includes solid surfaces materials such as ONYX products, fiberglass, cultured marble and acrylic. These bases come in a range of colors, designs and prices.
In standard manufactured shower bases you will find either a center drain hole or an offset drain hole. The drain hole in the base should be matched to the existing drain or framing if possible.
Standard square or rectangular shower base pans range in size from 32-by-32 inches to 60-by-42 inches. There are also standard neo-angle base pans for corner showers that range from 32 inches to 48 inches in diameter.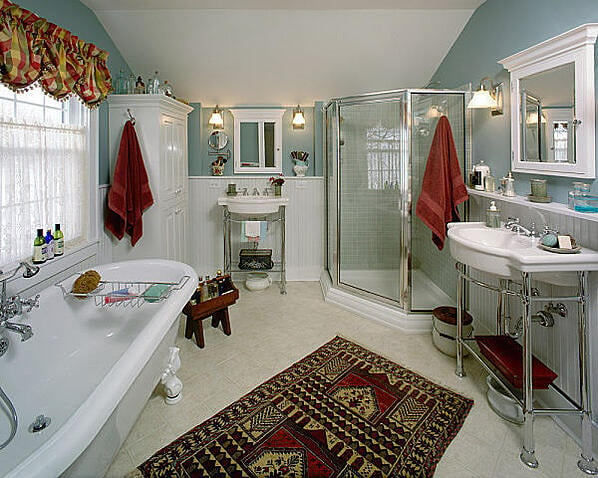 This master bathroom includes a neo-angle walk-in shower with a manufactured shower base pan and ceramic tile flooring.