Walk-in showers are a popular home remodeling project. Many homeowners are eliminating the tub/shower combination and adding walk-in showers to their bathroom spaces. One reason for the change is safety. Walk-in showers are more easily accessible and you no longer have to step over a 15-inch side of a tub to enter or exit, which reduces the risk of falling.
Whenever you plan a bathroom remodeling project, a special emphasis should be placed on safety since falls are the leading cause of injuries at home and often occur in a tub or shower.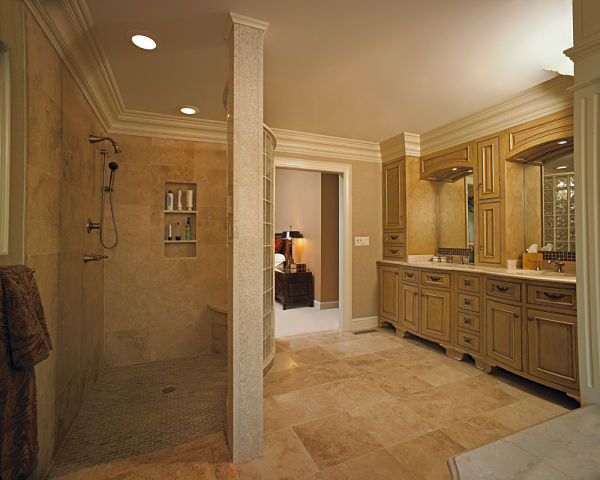 In this award winning master bathroom with a walk-in shower there are many safety features including a level entry, slip-resistant mosaic floor tile, overhead lighting in the shower stall, a shower seat, a handheld showerhead, accessible controls and easy-to-reach recessed niches.
Here are nine important safety features for walk-in showers to consider if you are planning to remodel a bathroom:
1. Shower Bases
When planning a walk-in shower, one of the first decisions you will need to make is selecting a shower base. Shower bases for walk-in showers can be a standard shower base pan or a custom pan cast to order or built in place. No threshold or low threshold bases help to prevent trips and falls.
The surface of the base should be slip-resistant. Materials used for manufactured shower bases include solid surface materials such as ONYX products, fiberglass, cultured marble and acrylic. Slip-resistant tile is often used for built-in-place bases.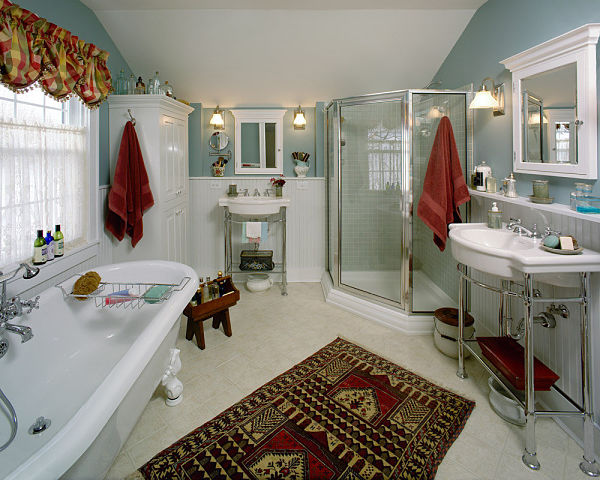 This master bathroom includes a neo-angle walk-in shower with a manufactured shower base pan.
2. Grab Bars
Grab bars provide stability for shower users and come in a variety of sizes and styles. A grab bar should be able to support a person weighing up to 250 pounds. The height of the bar can be adjusted for users.
Generally, grab bars are installed 33-to-36 inches from the shower floor. Talk with your contractor about the best options for installation since grab bars can be installed horizontally, vertically or at an angle (consider installing a grab bar at an angle near a shower seat) and must be installed in wall studs.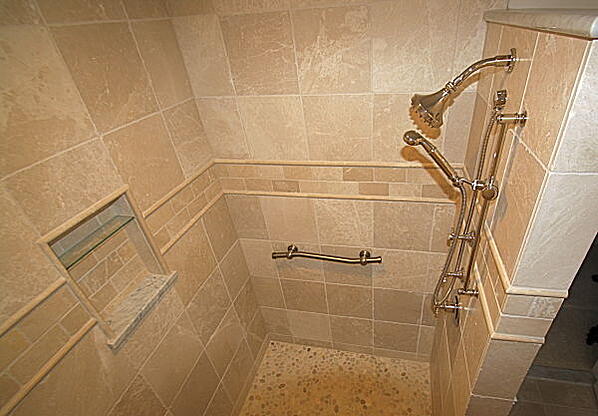 A stylish grab bar was installed in this walk-in shower without doors.
3. Lighting
General lighting in a bathroom may be insufficient for a shower stall. There are vent fan lights that can do double duty when placed over a shower stall, they will illuminate the space and remove steam and moisture.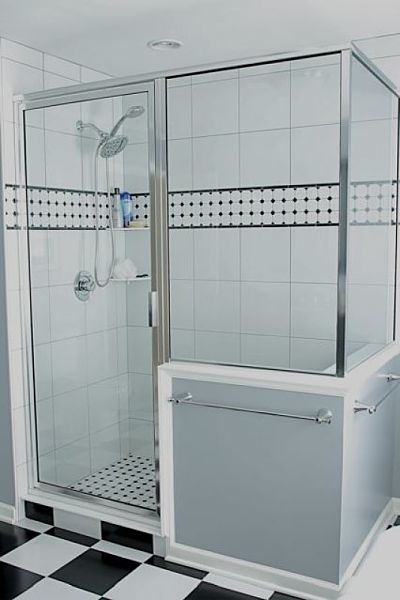 A recessed light was placed over the shower stall in this master bathroom. The walk-in shower has a knee wall and glass enclosure. The custom base has a low threshold and slip-resistant mosaic floor tile was used for safety and style.
4. Anti-scald Faucets
If you've ever been "burned" in a shower when someone in the house flushed a toilet and it affected the water pressure, you may want to install an anti-scald faucet.
Anti-scald faucets contain specialized valves that control water pressure. Some, such as Kohler's Rite-Temp pressure balancing valve, allow you to set a maximum high and then find and maintain your desired water temperature and maintain it within three degrees Fahrenheit, plus or minus.
5. Handheld Showerheads
Using a handheld showerhead allows you to more efficiently control water flow when rinsing off soap or shampoo. If you've ever had an injury that required a cast or surgery where you may have needed to keep sutures dry, you'd truly appreciate the maneuverability of a handheld shower.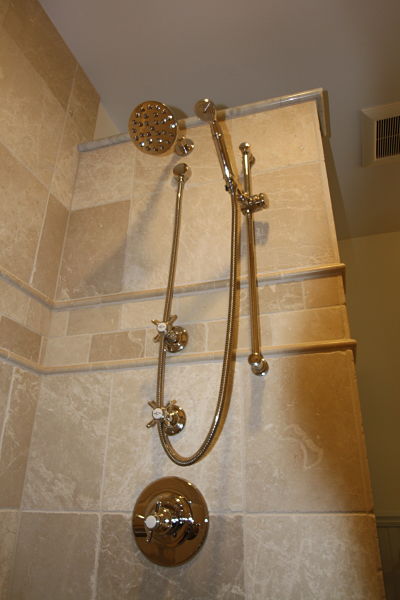 A mounted handheld shower head with separate hot and cold water controls was used for this walk-in shower.
6. Accessible Controls
Controls should be easy to reach. Consider lever handles that are easier to push and adjust when wet rather than a knob you have to grasp.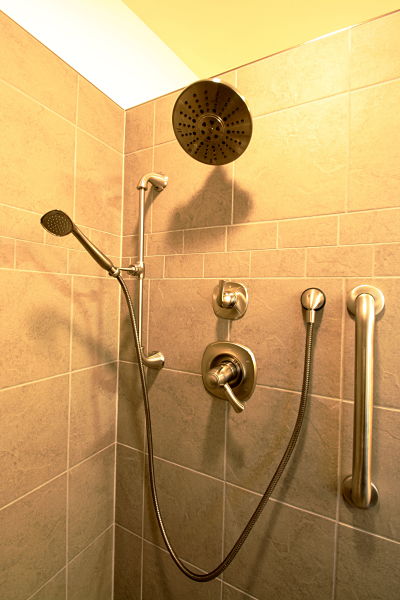 Lever handle controls for the mounted rainfall showerhead and the handheld showerhead were installed in this shower. A vertical grab bar is a safety feature.
7. Flooring
While no flooring is slip-proof, you will want "slip-resistant" flooring in the bathroom and shower stall. There are three types of slip-resistant rated tile recommended for use in shower stalls: ceramic, porcelain and stone. Ceramic and porcelain are resistant to moisture while stone should be sealed prior to use. Vinyl flooring can be used for the floor outside of the shower.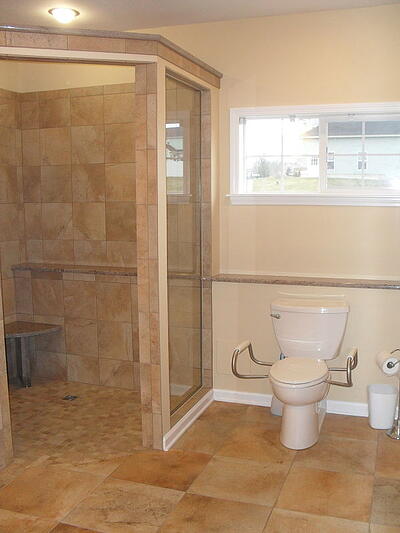 This shower was designed to be handicap accessible. The walk-in shower without doors has a one inch square mosaic tile floor. The exterior porcelain tile is slip-resistant with a rough surface.
8. Shower Seats
Shower seats provide a variety of functions for users. It is much easier to shave while seated and the seat can provide a handy place for a washcloth, loofa or body wash.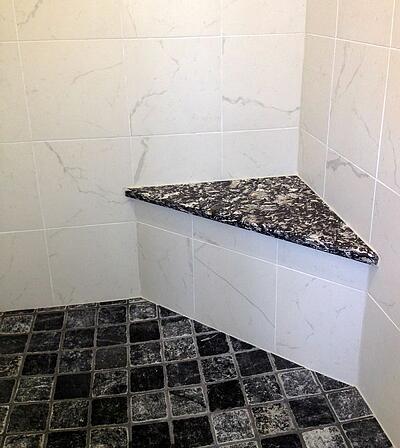 This shower seat was custom built and features a quartz seat that matches the mosaic tile floor and complements the wall tile.
9. Easy-to-Reach Shelves
Recessed niches and convenient wall shelves help to contain soaps, shampoos, conditioners and razors in the shower to keep these items from falling onto the floor and becoming a hazard.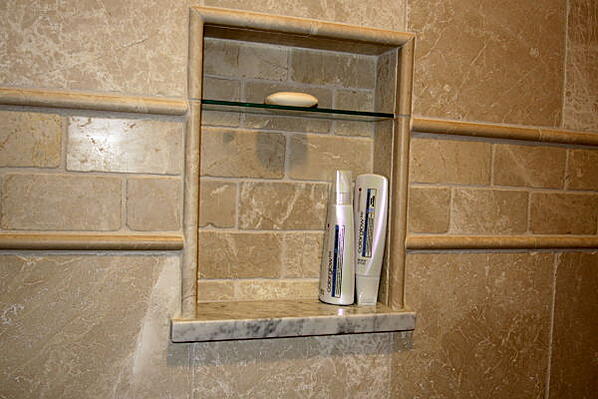 This recessed wall niche was custom built and is framed in tumbled marble tile. The base of the niche is a cut piece of marble. A glass shelf was added to hold soaps and for easy maintenance.