Homes can present barriers or become hazardous not only for older adults but also for those with temporary mobility impairments such as a teen who injures a leg in football practice or a person recovering from surgery. If you are planning to update or remodel a bathroom or bedroom, consider these "Universal Design" tips to improve access and safety in your home.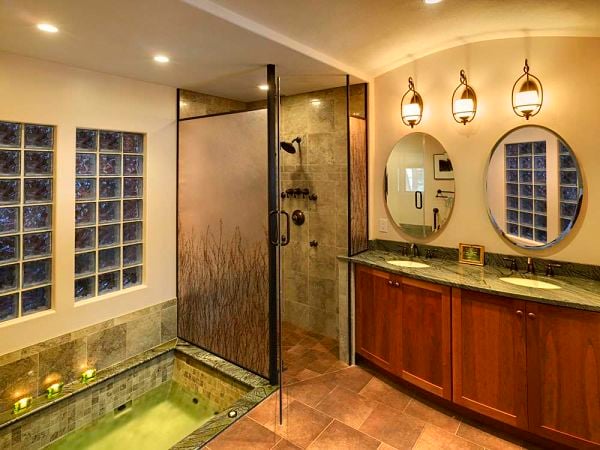 The subtle Universal Design features in this master bath include a dam-free walk-in shower that is beneficial because there are no tripping hazards. The slip-resistant tile floor is pitched to the drain so water stays out of the main bathroom floor. The vanity has a toe kick recess and lever handle faucets. Lighting has been designed to optimize vision.
12 Tips for Designing Safe Bathrooms
Install a no-threshold walk-in shower or low-threshold water dam shower with minimum dimensions of 5-by-3 feet. Use slip-resistant flooring in the shower and within the bathroom.
Add a built-in shower seat.
Place grab bars in the shower, tub and near the toilet.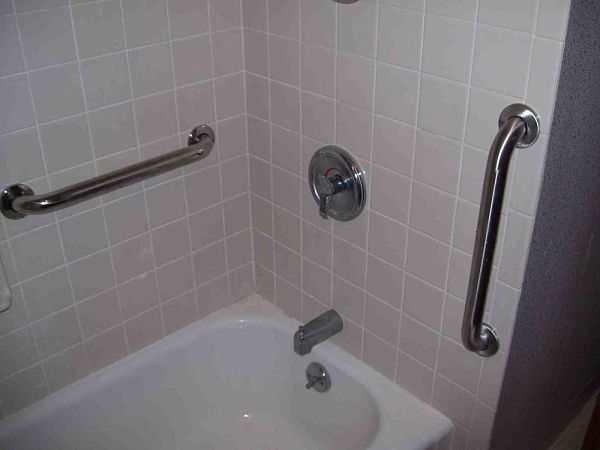 Grab bars help to prevent the user from slipping and also assist the user to move more easily without help from others. The outside grab bar in this photo can be used to get in and out of the tub and also used as a support for the user to reach in to turn the water on.
Install several showerheads, including a hand-held adjustable height showerhead with easy to operate controls.
Widen the doorway to 36 inches in the bathroom entrance.
If possible, allow for maneuvering space. Ideally, allocate space to accommodate a 60-inch turning radius.
Replace twist handle faucets with lever handle, anti-scald faucets.
Consider installing a pedestal sink or wall mount sink. Not only are they attractive, but also the sink is accessible to those in your home who may use a walker, wheelchair or crutches.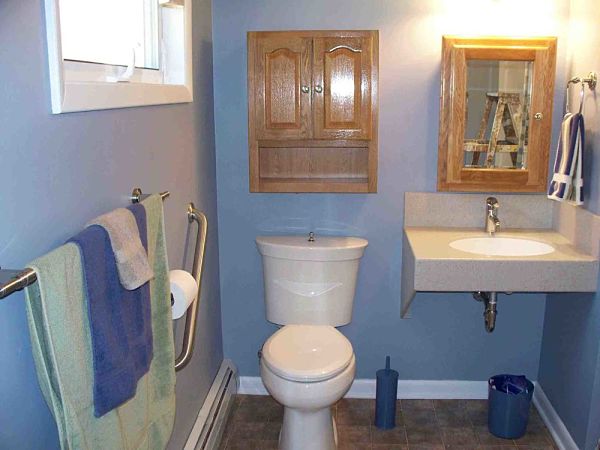 This simple bathroom includes many Universal Design elements such as grab bars, a wall mount sink, a chair-height toilet, a single handle faucet and products that are easy to clean such as the one piece sink.
If you are installing a vanity, mount the sink bowl close to the edge for easier use and select cabinetry with easy-glide drawers that close automatically. Use a cabinet with a "toe kick" to help users maintain their balance when using the sink.
Toilets should be centered 18 inches from any sidewall, tub or cabinet and the seat should be 18-to-19 inches off the floor for older persons, lower for children. Consider taller "comfort height" toilets for adults.
Replace round doorknobs with lever handle knobs.
Install lighting to provide good illumination for vision when using the shower, tub, sink and toilet. Also, add a night light for safety.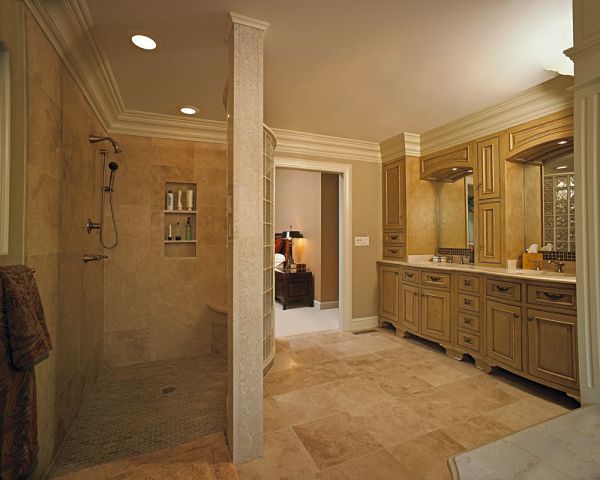 This upscale master bathroom includes a shower with a wide barrier-free entry, a shower seat, slip-resistant tile flooring and an adjustable and fully removable handheld showerhead.
Tips for Designing Safe Bedrooms
Many bathrooms are part of a master bedroom suite or located just outside the bedroom. To make your bedroom space more accommodating and safe, consider these Universal Design elements:
Assure that there is a level threshold in doorways to prevent tripping.
Add a night light.
Install additional electrical outlets to accommodate technology or future medical equipment.
Fit closets with multi-level clothing rods or multi-level pullout drawers and shelving. Don't use bi-fold doors on closets because they can be difficult to open and close.
The television show "This Old House" has an interesting "how-to" video on Choosing Universal-Design Bath Fixtures. Also, AARP offers a home accessibility checklist for bathrooms.
Editor's note: This post was originally published on June 29, 2010 and has been updated to provide new or additional information.