5 min read
8 Design Ideas for Safe and Accessible Bathrooms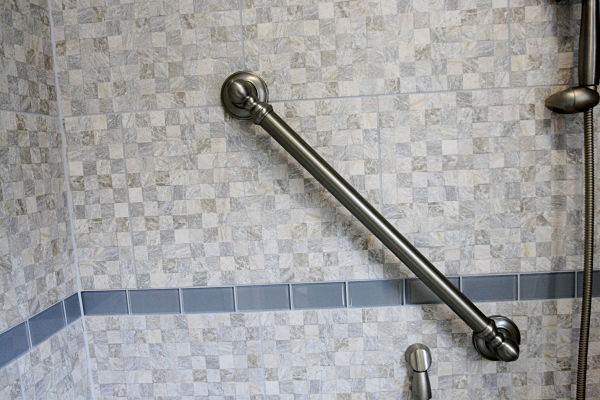 Home accidents often occur in bathrooms due to slips and falls. Safety and access are important factors in designing functional and accommodating bathrooms.
What should you consider when planning to renovate or remodel a bathroom? We have eight design ideas to share that will make your bathroom spaces safer and user-friendly.
1. Grab Bars
Grab bars provide stability when using a tub, shower or toilet. They are available in various lengths, shapes and finishes. Grab bars no longer look institutional and can blend with décor and bathroom fixtures.
Consider the height, weight and ability of users when choosing products. Talk with your contractor about the best options for installation since grab bars can be installed horizontally, vertically or at an angle (consider installing a grab bar at an angle near a shower seat) and must be installed in wall studs. Grab bars are an important feature for safe and accessible bathrooms.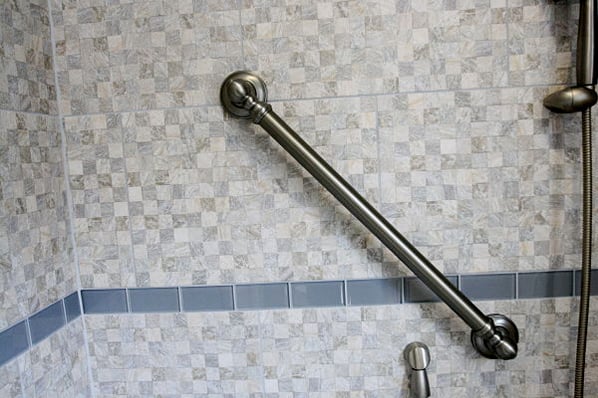 A shower grab bar installed on an angle provides safety and accessibility to users. Note the brushed stainless steel finish and the styling of the bar.
2. Level or Low Thresholds
Flush thresholds within a home help to prevent tripping and falls. When planning your project talk with your contractor about transitions from the bathroom to adjacent rooms or hallways and options for shower thresholds.
A standard threshold for a walk-in shower is four inches in height. There are low, ramped and zero-level shower base options to consider that make it safer to enter and exit a shower.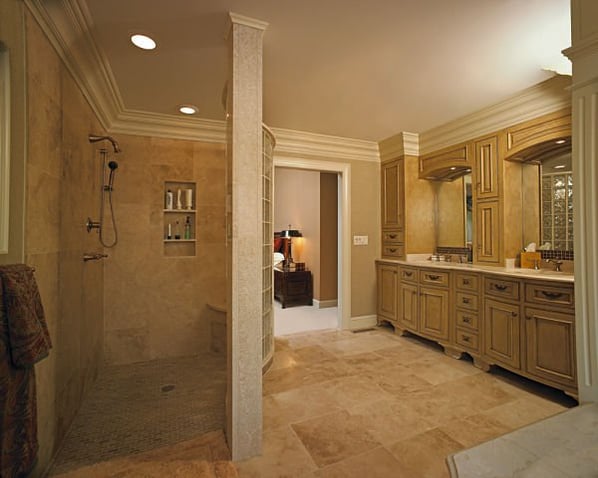 This master bathroom has level thresholds in the shower and in the entry to the adjacent bedroom. The flooring is slip-resistant tile.
3. Slip-resistant Flooring
The most popular product used for bathroom floors is slip-resistant tile. Floor tile has a rougher surface than wall tile that makes it slip-resistant. Smaller tile is frequently used for shower floors because it provides better traction when the floor is wet.
Tile used for flooring can be ceramic, porcelain, mosaic stone or vinyl. Sheet vinyl can also be used in bathrooms. New luxury vinyl floor products are suitable for use in bathrooms and have the look of stone and wood. Vinyl floor tiles can be set with or without grout.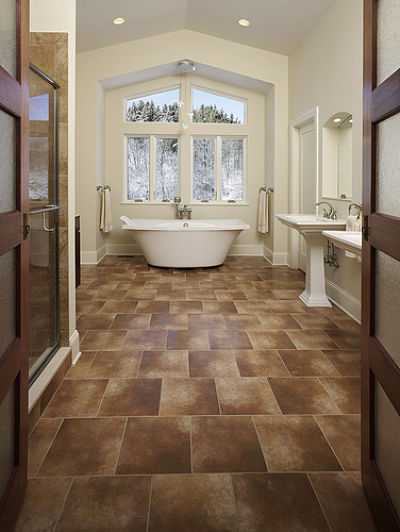 The slip-resistant ceramic tile used for this bathroom resembles stone. The pattern is variegated and adds interest to the room.
4. Walk-in Showers
Walk-in showers are replacing tub/shower combinations in homes. Many people prefer a shower to a tub. A walk-in shower is easier to maintain and a shower stall is more easily accessible. Walk-in showers can be installed with or without doors.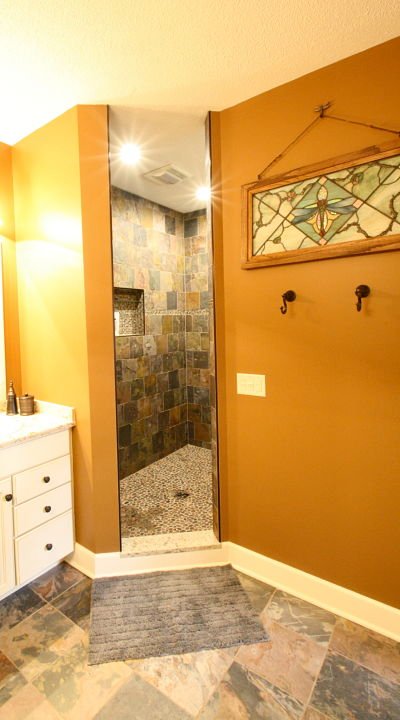 A doorless walk-in shower is accessible and easy to maintain. The wall tile and pebble tile flooring in this walk-in shower without doors can be wiped down after use to clean residue.
5. Handheld Shower Sprays
A handheld showerhead is an essential item in today's shower stalls. Handheld showerheads allow you to direct water when rinsing shampoo or soap and are often coupled with a wall or ceiling mounted showerhead.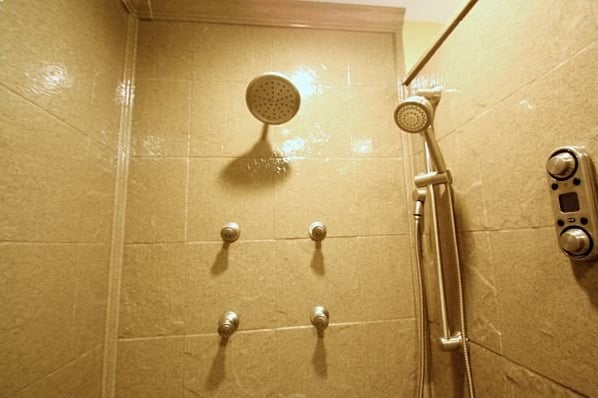 This shower has wall jets and multiple showerheads, including a handheld showerhead. It is a "vertical spa" fixture by Moen ioDigital. This is a "smart" shower that can be operated by a remote control device to turn on and set the shower to the desired temperature, water flow and showerhead settings before you enter. The shower surround is an Onyx wall panel enclosure.
6. Shower Seats
Shower seats are becoming a "must have" for walk-in showers for comfort, safety and as place for shower essentials. You can find portable shower seats and benches in a variety of materials including teak, acrylic, metal and plastics.
We prefer built-in seats for stability and aesthetics. Built-ins won't shift and are made of materials that are easy to clean such as acrylic, tile, solid surface, quartz and granite. Built-in seats can be scaled to fit the space in a shower stall and can be placed along a wall or in a corner.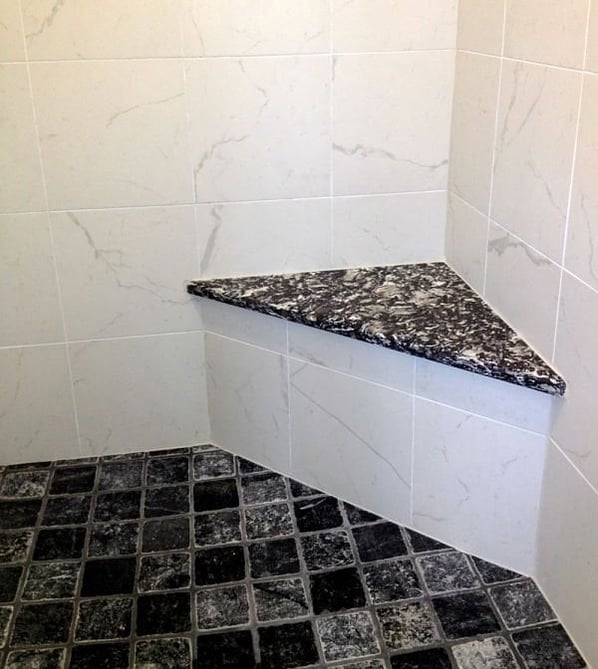 This custom built walk-in shower features a quartz corner seat. Products for this project include: quartz shower seat (Cambria "Braemar"), marble wall tile (Dobkin Tile- Elegance: Perseo Statuario) accented by glass listello tile (Best Tile "Precious Gems"), and slip-resistant black tile floor (Dobkin Tile "Toros" Black Tumbled Marble).
7. Easy Access Shelves and Niches
Built-in shower shelves are an asset in any bathroom especially in a shower stall or tub area where wall niches can be added. Built-in shelving is sturdy and can be placed where access is optimal.
We don't recommend shower caddies or pole shelving because the weight of bottles can cause them to shift. They are also difficult to clean and require frequent replacement.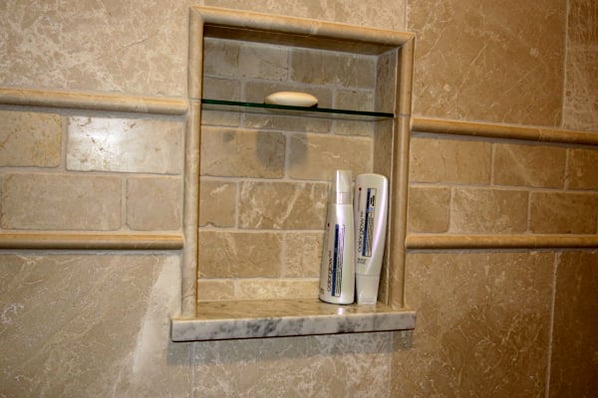 A beautifully designed inset wall niche provides a place for soap and shampoos. The glass shelf was added specifically for soaps and easy maintenance.
8. Lighting
Bathroom lighting should provide good illumination for vision when using the shower, tub, sink and toilet. Install rocker light switches to turn lights on and off with ease. Place light switches 42-to-48 inches from the floor where everyone can reach them. Also, add ventilation and fan lighting and a night light for safety.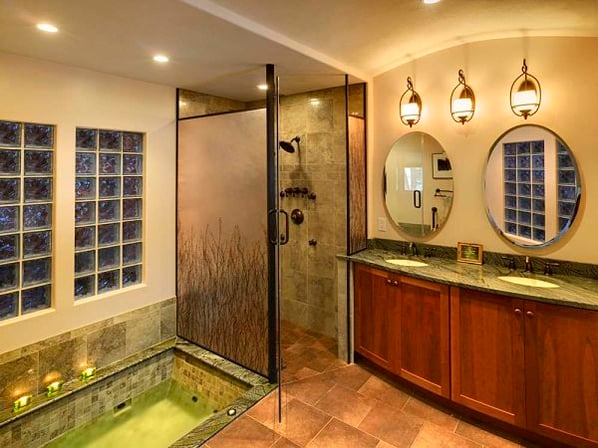 Lighting was an integral element in the redesign of this bathroom. There is natural light, illumination over the shower, tub and double vanity. There is also ambient lighting on the sunken tub. Glass blocks were used on the large double window for privacy.