Home accidents are most likely to occur in a bathroom. According to studies conducted by the Center for Disease Control (CDC) more than 230,000 nonfatal bathroom injuries among people over age 15 are treated in emergency rooms each year.
Injuries occur most frequently in or around a tub or shower. Women are more likely to experience injuries than men. Overall, injury rates increase with age, especially accidents where a person slips and falls near a toilet.
In its report the CDC concludes:
"Injuries might be reduced through environmental modifications, such as putting non-slip strips in the tub or shower and adding grab bars inside and outside the tub or shower to reduce falls, and installing grab bars next to the toilet for added support if needed."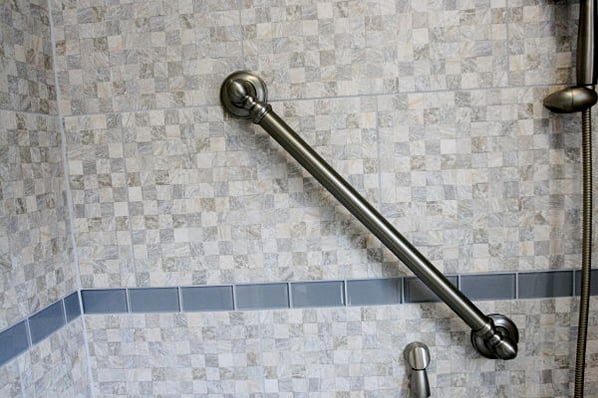 A shower grab bar installed on an angle. Note the brushed stainless steel finish and the styling of the bar.
Here are four facts to know about bathroom grab bars if you are considering adding them to a shower, tub or toilet area in your home:
1. Grab bars should be mounted to wall studs, not sheetrock.
Grab bars provide stability for you when using a tub, shower or toilet. A grab bar should be able to support a person weighing up to 250 pounds. The height, weight and ability of users should be considered when choosing products to install.
Generally, grab bars are installed 33-to-36 inches from the shower floor. The height, position and location of the bar can be adjusted for users.
Talk with your contractor about the best options for installation since grab bars can be installed horizontally, vertically or at an angle (consider installing a grab bar at an angle near a shower seat) and must be installed in wall studs.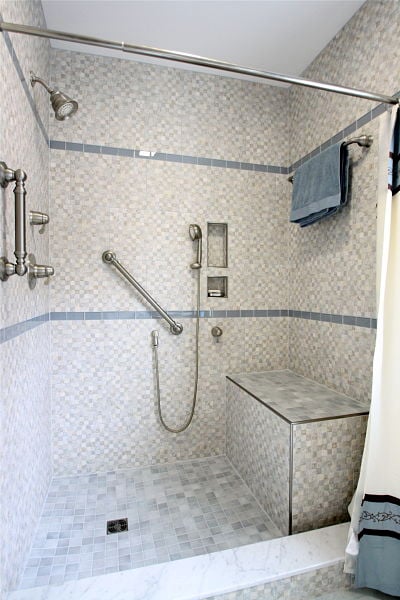 Two grab bars were installed in this walk-in shower. There is a vertical bar placed at the entry and a diagonal bar near the shower seat.
2. Grab bars should be located where they can best assist users in preventing slips and falls.
Grab bars help to prevent the user from slipping and also assist the user to move more easily without help from others.
In 2010, the US Department of Justice published the Americans with Disabilities Act (ADA) standards for the placement of grab bars in showers, tubs and toilet stalls. While these standards aren't required for private residences, they do provide helpful recommendations about where to locate grab bars that you may want to consider in your remodeling plans:
Tub/Shower Combinations
Grab bars can be installed on the back wall and control wall of the shower stall. The ADA recommends that two bars be installed on the back wall, one 8 to 10 inches from the rim of the tub and the other parallel to it 33 to 36 inches from the base of the tub.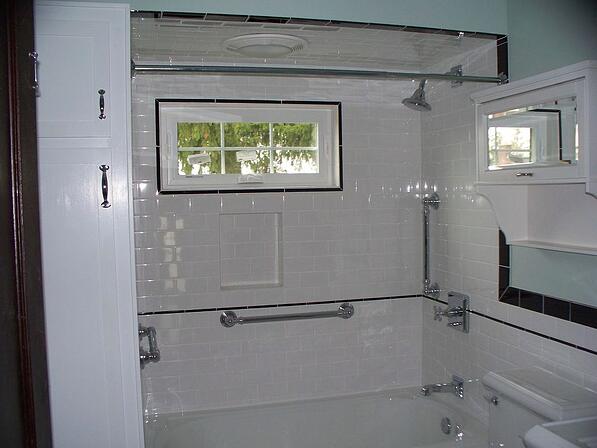 Three grab bars were installed in this tub/shower combo. The horizontal bars on the walls are used to get in and out of the tub. The vertical bar on the wall containing the controls serves as a support for the user to turn the water on and off.
Walk-in Showers
Grab bars should be installed on a side wall, back wall and on a side wall near a shower seat if there is one in the shower stall.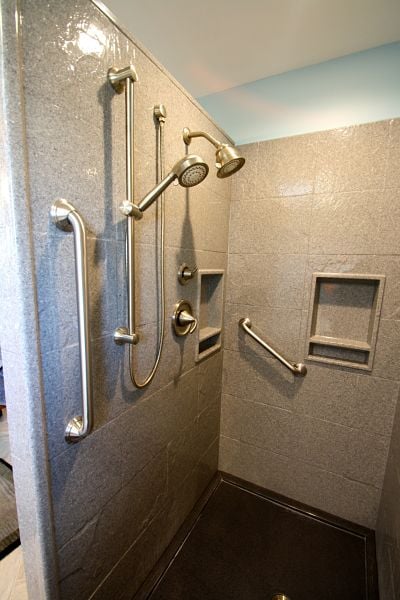 Two grab bars were added to this pre-fabricated walk-in shower stall, one vertical bar at the entry and an angled bar near the recessed shelves.
Tubs
Many of the stylish tubs, such as free-standing tubs, tubs with decks and sunken tubs may not have built-in grab bars but homeowners should consider their comfort and safety when selecting these types of fixtures for their bathrooms. Grab bars can be installed near the rims on each side of the tub or near controls to help users maintain their balance when stepping in or out of the tub.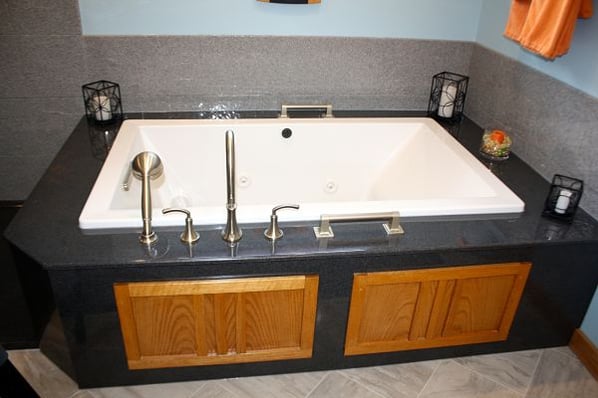 Stylish grab bars were installed with this jetted tub to support the user when entering and exiting.
Toilets
Two grab bars are recommended for toilet areas, a 42-inch bar along a side wall and a 32-inch bar along the back wall.
Two grab bars were installed near the toilet in this accessible bathroom with Universal Design features. Note the wall-mounted sink near the toilet that is accommodating to a person who uses a walker or wheelchair.
3. Grab bars come in a wide variety of lengths and styles.
Grab bars are available in various lengths ranging from 9-to-42 inches. They also have many different shapes and finishes. Grab bars no longer look institutional and can blend with décor and bathroom fixtures.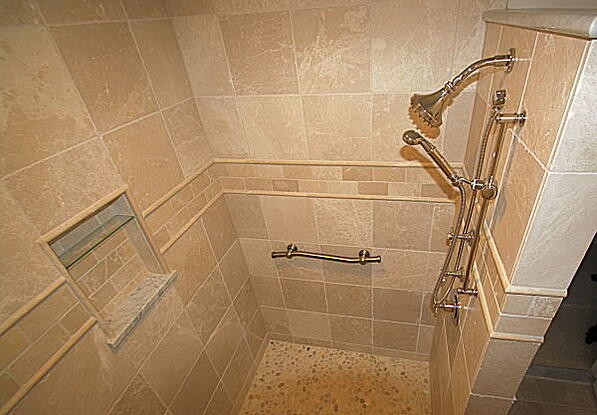 The decorative and purposeful grab bar in this Transitional-style walk-in shower without doors matches the finish of the showerheads and adds interest to the space.
4. Many grab bars meet or exceed ADA standards.
When you shop for grab bars you will note that some are labeled to show that they are compliant with standards set by the ADA. These products comply with or exceed the following specifications:
The grab bar is made of heavy duty 18-gauge brushed satin stainless steel with round snap on covers.
Flanges are fabricated according to the ADA standard for maximum strength and durability.
The diameter of the bar will be 1¼-to-1½ inches in width. The narrower diameter is easier for adults with smaller hands and children to grasp and is recommended for home use.
The space allowance between the bar and the wall is 1½ inches.
The grab bar is capable of supporting 500 lbs. of weight.
We recommend choosing grab bars that are ADA compliant. Here are links to three popular manufacturers where you will find latest options, styles and finishes for grab bars: