If you're planning to remodel or update a bathroom, you will need to purchase a sink. With so many options and styles how do you select the best sink for your bathroom? Here are five things to consider when choosing a bathroom sink.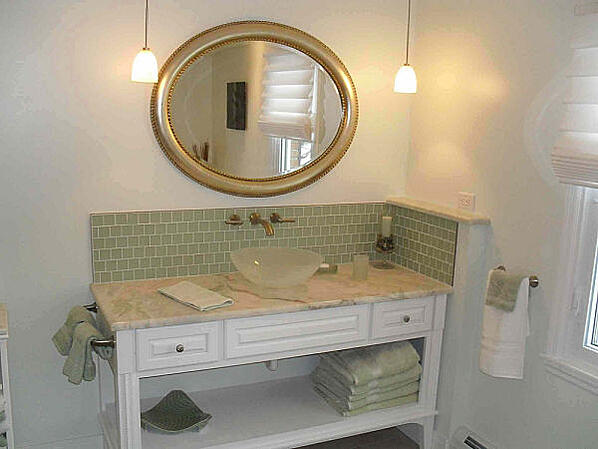 A glass vessel sink was the perfect choice for a custom-built vanity.
1) Space
Bathrooms are often small spaces. The average size of a full bath in an older home is 5-by-8 feet or 40 square feet. Three-quarter baths are generally 5-by-7 feet. Half baths can be as small as 3-by-6 feet. Jack and Jill bathrooms and master baths are larger. There are space saving fixtures that can be used when space is limited including wall-mount and pedestal sinks and compact toilets. Bathrooms have increased in size in newer homes as modern amenities and new products have become available. Interior designers are now giving special attention to bathroom spaces focusing on both comfort and aesthetics.
2) Users
Who will be the primary users of the bathroom you are remodeling? What are their storage needs? If you and your spouse will be sharing a master bath you may want separate sinks and vanities. Vanities provide storage space but limit floor space.
If you have young children or need to make a sink area more accessible "toe kicks," which are recesses at the base of a cabinet, make it easier for a person to use a sink without losing their balance and will reveal more of the floor, making the room seem larger. A vessel sink can make a design statement in a half bath used by guests but may not be a good choice for a bathroom used by young children due to the height and type of mounted faucet required.
If you're considering "universal design elements" in your plans, look at user-friendly pedestal and wall-mount sinks that keep floor space open for a person who uses a walker or wheelchair.
3) Materials
Bathroom sinks can be cast in many materials. The most common are cast iron, porcelain, vitreous china, stainless steel and tempered glass. Other materials include copper, concrete, hammered metal or solid surface (e.g., Corian, Silestone).
4) Shape and Color
Bathroom sinks are smaller than sinks used in kitchens. Traditional basin shapes are rectangular, round and oval.
Sinks are available in a range of colors and some manufacturers will offer matching tile and accessories in their lines. You may want to consider these accessories since certain colors such as blue, yellow, green or even gray may be difficult to match. Color is a personal preference but best sellers are standard white, bisque and bone.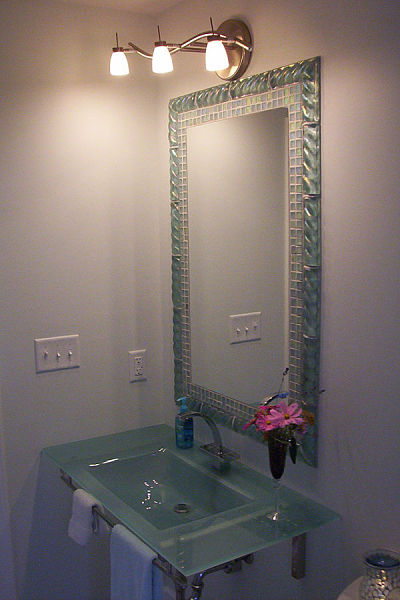 A green glass rectangular wall mounted sink is accented with a matching tile mirror frame.
5) Style
The look and function of a sink is always important in bathroom design. Free-standing pedestal and wall-mount sinks conserve space in a room. A vanity is often required for bathroom storage and there are a number of options for vanity sinks.
Here are some of the sink selections we've installed for Central New York homeowners:
Pedestal Sinks
Pedestal sinks were first introduced in the early 1900s and were a key element in art-deco design. The classic elegant look remains popular today. Pedestal sinks are versatile and can be used in twos for master bathrooms or in a corner of a half bath where space needs to be optimized. When choosing a pedestal sink be sure there is enough surface area around the bowl if you plan to use toiletries.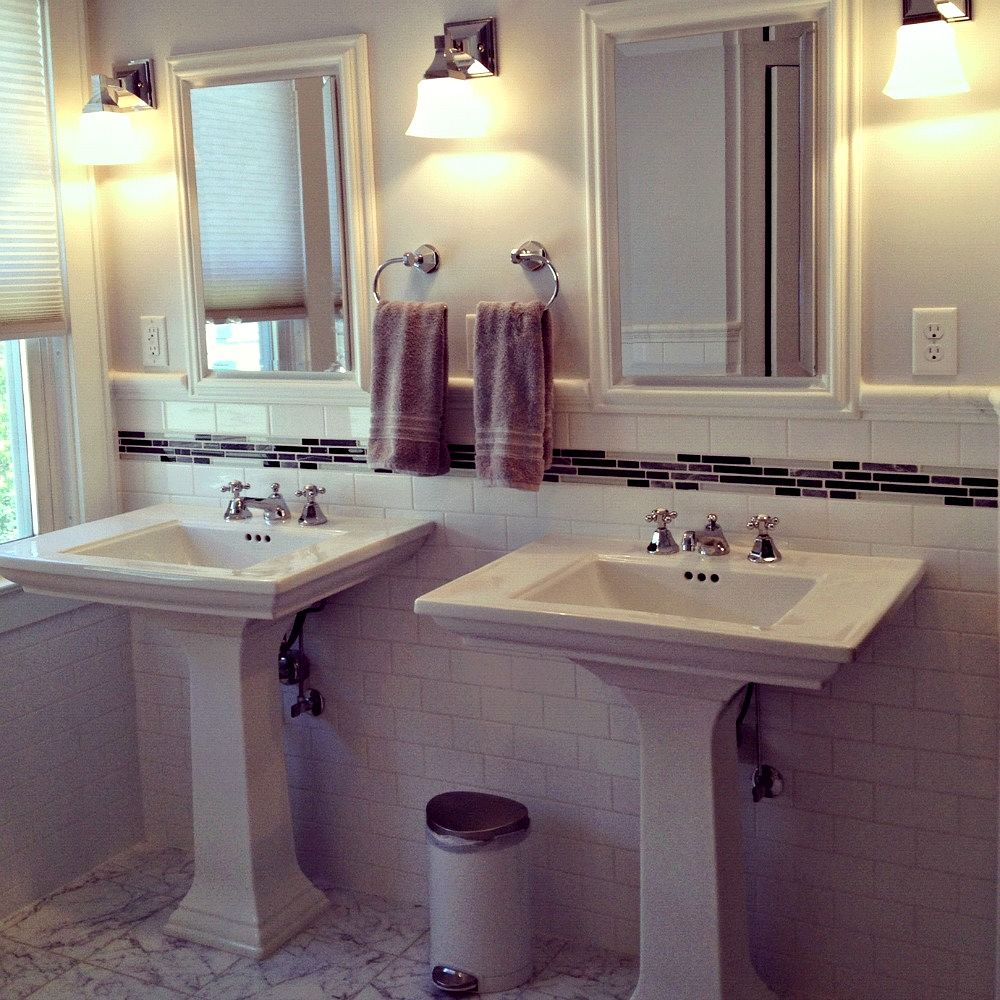 Two pedestal sinks with ample surface area were used in this master bath remodel where limited space was a major consideration.
Wall-mount Sinks
Wall mounted sinks have several advantages. First, they can be used in small bathrooms where a vanity or even a pedestal sink would take up too much space. Second, the height can be adjusted to accommodate a person who may use a wheelchair or is petite or for young children. Third, they often have a backsplash, and an area for soap. Fourth, they are easy to clean.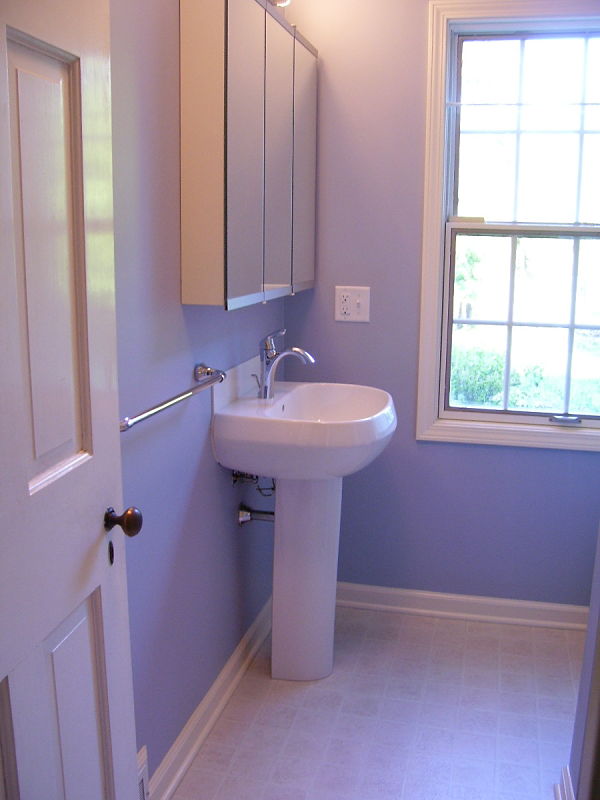 A wall mounted sink was used in this half bath. The sink includes a backsplash and has a pedestal to camouflage pipes.
Vessel Sinks
Vessel sinks are a focal point in a bath. The dramatic shape of the sink and the style of the mounted faucets used with these sinks make a design statement. Kohler recently launched a line of artisan sinks that includes bronze, marble, pottery, gilded, embossed and painted design sinks.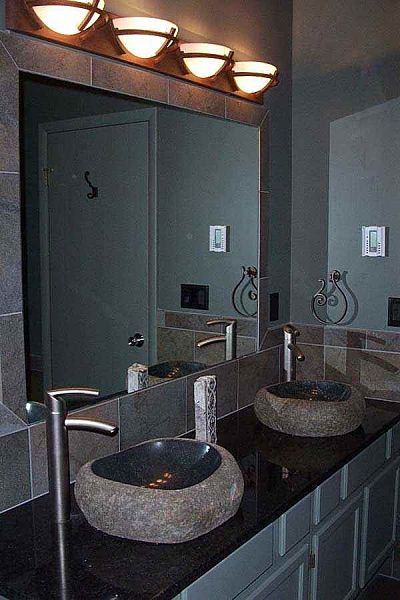 Vessel sinks create a dramatic look in this contemporary bathroom.
Undermount Sinks
If you're planning to use a stone or quartz counter for a vanity, an undermount sink will expose the largest area of the surface allowing more space for grooming and the beauty of the counter to be seen. Undermount sinks do not have a rim on the counter where soap residue can build up.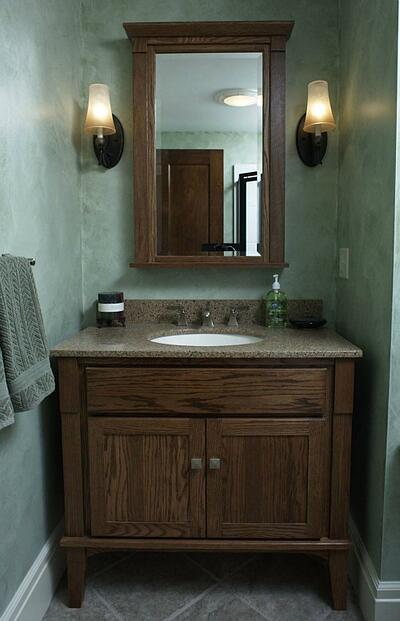 An oval undermount sink was set in a granite counter on a furniture style vanity in this bathroom.
Drop-in Sinks
Drop-in sinks are one of the easiest to install. They are a good choice for popular furniture style vanities because they require one hole. The bowls often come with depressions for holding soap and they can be easily cleaned. Drop-in sinks may also have a front apron to control splatters and are a great option for a bathroom children will use.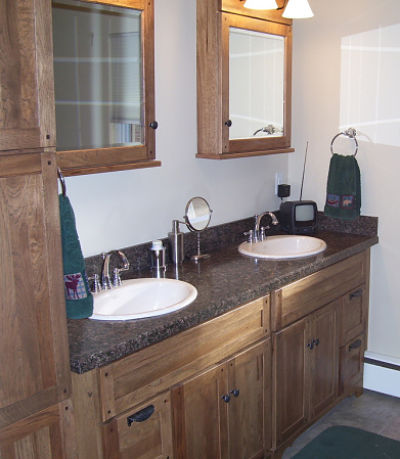 Two oval drop-in sinks were used to update this master bathroom.