This year "hot" is "cool" when it comes to interior room colors. Designers are selecting from subdued palettes. We will be seeing gray, beige, blue, teal and white wall and trim colors in homes.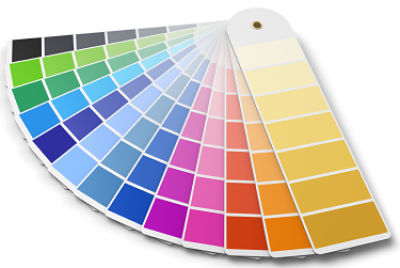 Paint manufacturers offer products that coincide with interior design trends. Benjamin Moore is featuring a "Neutral Palette for 2014" of 23 colors, five are blue. Sherwin Williams has entered into an agreement with Pottery Barn to create "Pottery Barn Colors for 2014". The palette of 20 colors complements Pottery Barn furniture and fabrics. There are many mid-tone colors selected to enhance the white, black and dark wood finishes on the furniture.
The Paint Manufacturers: 2014 Colors of the Year
Many major paint manufacturers have selected a "Color of the Year". Each is offering a color that differs from choices of competitors. Here are some examples of colors they will be marketing:
Benjamin Moore: "Breath of Fresh Air" 806
Sherwin Williams: "Exclusive Plum" SW 6263
PPG Pittsburgh Paints: "Turning Oakleaf" ATC-38
Valspar Pantone: "Radiant Orchid"
Our List: The Hottest Interior Colors for 2014
When selecting colors for our annual list of the "Hottest Interior Room Colors" we look at the best selling colors from major manufacturers for tried-and-true paint colors that will stand the test of time. We also review trends on popular home décor websites and in magazines. Then, we consider how these colors may actually look in homes with products our customers here in Central New York choose for their remodeling projects.
Whites
We are seeing white used as wall color and as trim to complement beige, grays and blues.
| | |
| --- | --- |
| | Benjamin Moore's White Dove PM-19. This shade of white has a gray/olive undertone that provides a hint of color when used on walls but also complements gray, blue and green wall colors when used to paint trim. |
| | Benjamin Moore's Simply White 2143-70. "Simply White" has a pale gray undertone, which makes it appear crisp. This is a color to use on trims, ceilings and walls. |
Beiges
Beige works well in rooms with blue, teal, purple, earth-tones, red, gray, green and black furnishings and accents. Since beige is a neutral, it makes colors in a room 'pop'.
| | |
| --- | --- |
| | Benjamin Moore's Navajo White 947. Soft yellow undertones add a cast of gold to this perennial shade of beige. This color appears on many designer palettes and is one of Benjamin Moore's best sellers. It pairs well with teal, blue, purple, green, dark gray, taupe and brown as a trim and stands on its own as a wall color. |
| | Benjamin Moore's Muslin 1037. If you're looking for true neutral mid-tone beige, this is it. There are no strong undertones of yellow or red. "Muslin" is one of those colors that works with many others and looks great with natural wood, white, black or blue finish cabinetry; stone veneers; wood flooring; and granite and quartz countertops. |
| | Benjamin Moore's Putnam Ivory HC-39. Putnam Ivory has a subtle undertone of gold and stands out as a wall color when paired with white trim. It is a relaxing color that looks fantastic with the teal and indigo accents that we're seeing so much of this year. |
"Greige"
Designers are using neutrals paints that mix gray with beige and refer to these colors as "greige". We've picked three shades of greige for 2014.
| | |
| --- | --- |
| | Benjamin Moore's Edgecomb Gray HC-173. This is a color for walls and trim. Teal, olive green, russet, black, brown and shade of purple are enhanced by "Edgecomb Gray." |
| | Benjamin Moore's Copley Gray HC-104. "Copley Gray" is from Benjamin Moore's Historic Color palette. The gray is more prominent in this color but the taupe undertones make it a good choice with earthy elements such as stone and wood. |
| | Sherwin Williams' Mega Greige SW-7031. This color creates a dramatic effect in a room. "Mega Greige" appears gray but has a brown undertone and could be used in a bath to complement granite and natural stone tile, a son's room, an office, as an accent wall in a family room or in a contemporary-style kitchen. |
Grays
You will most likely be seeing a lot of gray in home interiors this year. At the 2013 CNY Parade of Homes, gray was used by many of the designers. It complements today's marble, quartz, granite, soapstone and laminate countertops as well as stainless steel appliances. It also complements many colors such as yellow, red, black, navy, orange, violet and teal.
| | |
| --- | --- |
| | Benjamin Moore's Gray Owl 2137-60. "Gray Owl" is a soft versatile neutral wall color that looks stunning with "Simply White" trim. It can be used in kitchens with white painted cabinets, baths and bedrooms or any room of the house. If you love the look of a gray room with yellow, black and gray furnishings, give this color a try. |
| | Benjamin Moore's Sea Haze 2137-50. HGTV interior designer extraordinaire Candice Olson worked with Benjamin Moore paints to create a designer palette. "Sea Haze" is one of the colors she chose. It's a mid-tone gray that adds richness to a room. |
Blues
Two shades of blue that you will be seeing everywhere this year are teal and indigo.
| | |
| --- | --- |
| | Benjamin Moore's Palladian Blue HC-144. We've listed "Palladian Blue" before. This shade of teal is timeless and one of Benjamin Moore's best sellers. Year after year designers who consult with the country's top home magazines use this color in almost every room of the house. It can change in light but always looks great even on cabinets. |
| | Sherwin Williams' Distance SW-6243. The designers at Pottery Barn chose this blue color for their palette, we like it too. It would be great for a child's room or a media room. There are violet undertones that add warmth. White trim, doors and ceilings are the perfect accents. |
How to Test Paint Colors
When choosing a color for a room in your home, keep in mind that colors will change with lighting. Purchase a paint sample and try it out on a board rather than a wall. If you don't have a piece of wood, paint a heavy piece of cardboard or white foam board. Give your board at least two coats to get the true color. Move it around the room and view it in daylight and at night.
Check out our interior room color selctions for 2013 and 2012, too.