Many homes, both old and new, often have irregular spaces in bathrooms and kitchens.
In bathrooms, especially second story bathrooms, rooflines and the placement of fixtures can create irregular spaces.
In kitchens, taking down a wall to expand the space or building an addition onto an existing structure can also create irregular spaces.
Here are several ideas to show you ways to optimize irregular or unusual spaces in baths and kitchens and the solutions we've found for homeowners in Central New York.
Bathroom Spaces
Second story bathrooms often have walls with varying heights due to roof eaves. There also may be a load-bearing wall between a bathroom and hallway that determines the configuration of the room.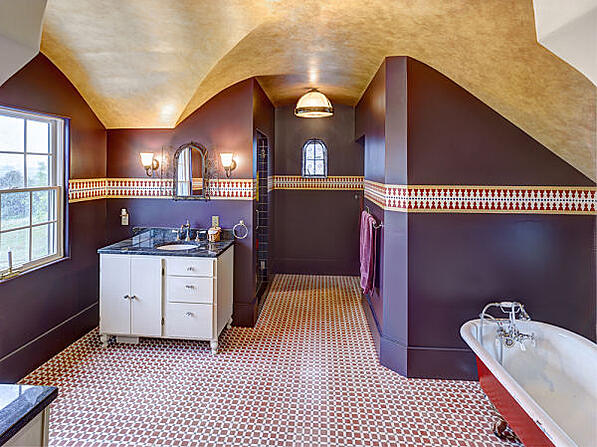 The master bath of this custom-built home has unusual details in both the ceiling and configuration of the floor. A walk-in shower was installed with a walled surround. A freestanding tub was placed near the shortest wall. Two single sink vanities were placed on each side of a window, which provides natural light.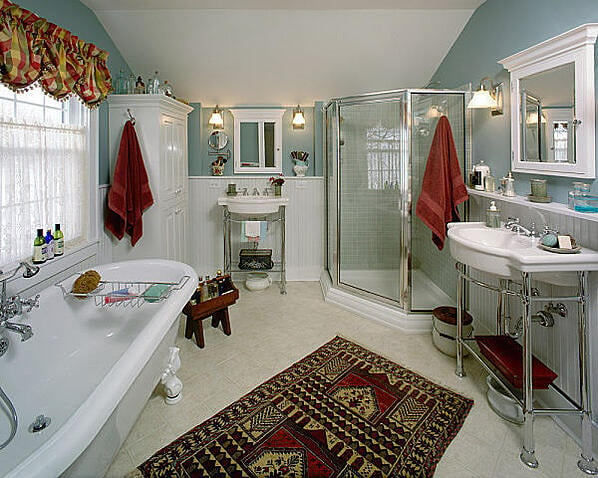 The roofline of this remodeled second story master bathroom influenced the design. A neo-angle walk-in shower was placed in a corner of the room to conserve space needed for a freestanding bathtub and two pedestal sinks. The linen cabinets were fitted to the room. Mirrored medicine cabinets were placed at functional heights.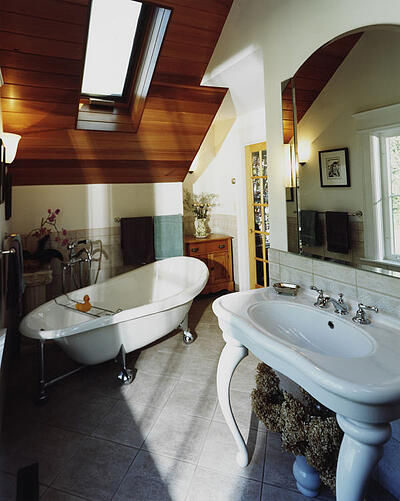 A skylight, a window and doors, including a French door that leads to the outside, created irregular spaces in this bathroom. There is an alcove near the French door where a freestanding storage cabinet is used. The tub was placed near the shortest wall where tile is used to serve as a barrier to water.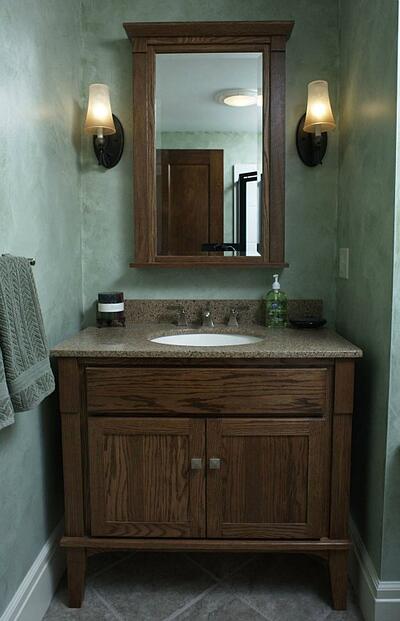 A custom furniture-style vanity that fits into an irregular space was used for this bathroom.
Kitchen Spaces
Irregular spaces in kitchens are not unusual. When remodeling kitchens we often encounter support beams, pipes and vents that impact the floor plan. Irregularities in walls and ceilings, along with windows, doors and entryways also influence the layout.
Irregular spaces may also be created when appliances are installed such as in a deep corner area.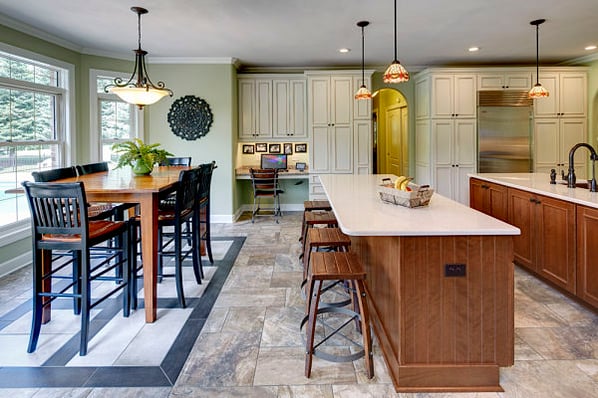 Architectural elements in this large kitchen include three large windows, two entryways and an opening to a family room. One of the irregular spaces is a wall that protrudes into the dining area and creates a recess where a desk and a pantry cabinet were placed. The wall also defines the dining area, as does the change in the floor tile pattern.
A cathedral ceiling contributes to irregular walls in this kitchen that opens into a family room. A partial wall was built for storage cabinets, installation of ovens and additional counter space. The partial wall also serves as a room divider.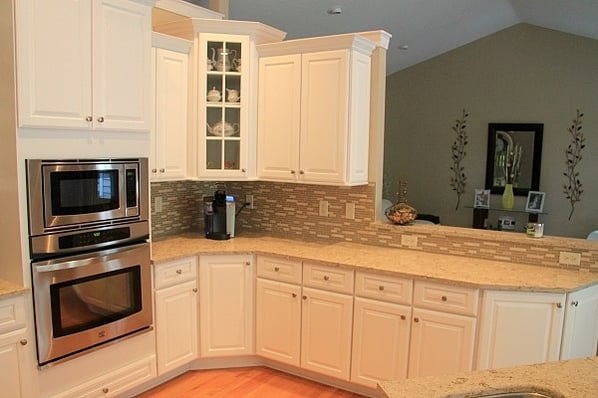 Here is another view of the partial wall shown in the photo above. Note the step down feature from the wall that houses the ovens to the corner cabinet and wall that separates the kitchen and family room.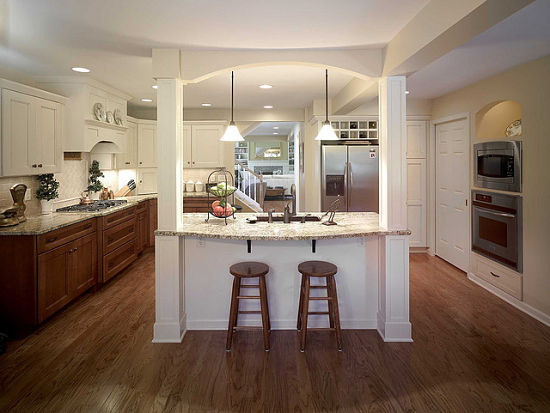 A unique central island design integrates a support beam into this kitchen addition. Other architectural elements include the arch over the walls ovens and the arched vent hood.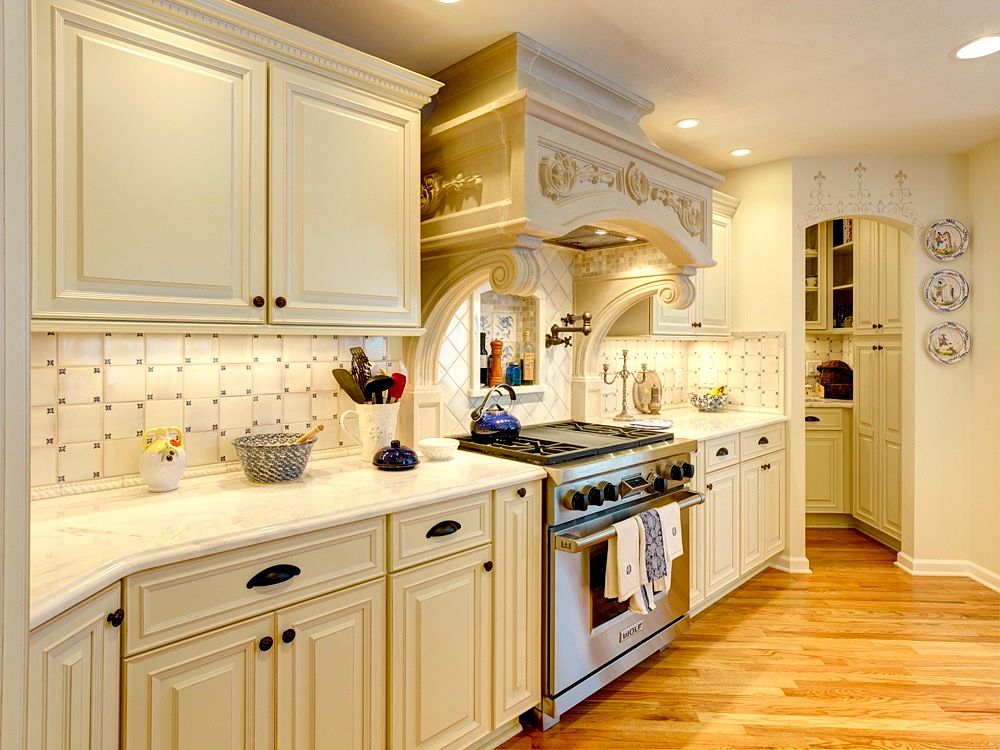 This intricate kitchen addition design made use of a space that once was a closet by converting the area into a beverage center.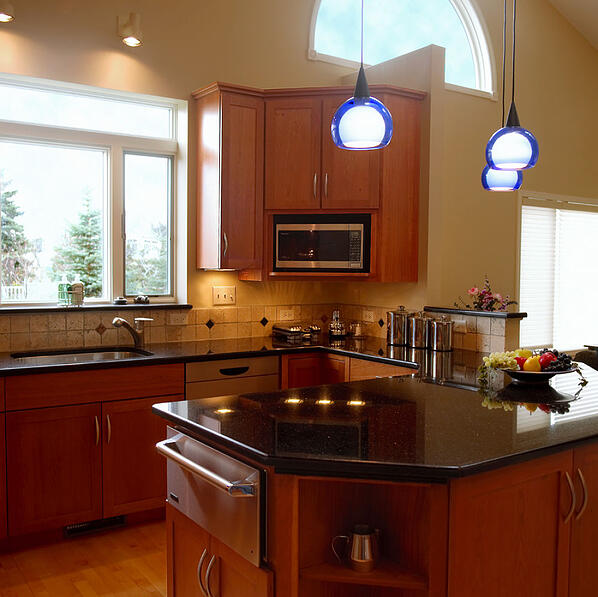 Interior walls are often removed when creating an open concept floor plan for a kitchen remodeling project. This limits walls on which cabinets can be installed. A partial wall was built for the corner cupboard in this kitchen.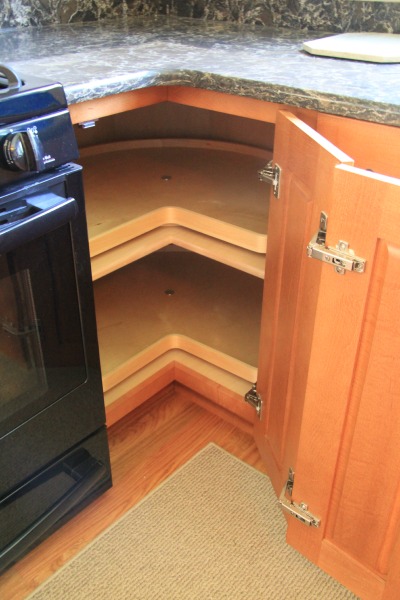 One of the most common irregular spaces in a kitchen is a corner space. A carousel is often the best solution for providing easy access to items stored in these spaces.