If you are planning to remodel your kitchen it's important to choose the right cabinets. Cabinets are an important element and define a kitchen's style. They are also the single highest cost item in most kitchen remodeling projects.
Here are factors to consider to choose the right kitchen cabinets for your remodel.
1. Kitchen Styles and Trends
Both style and function should be considered when selecting cabinets because they determine the look of the kitchen and are the foundation for work areas.
The three most popular kitchen design styles are transitional, traditional and contemporary.
According to the National Kitchen & Bath Association, popular kitchen design trends for 2016 include gray, white and off-white cabinets and simplified cabinet storage with pullouts, tilt-outs, tilt-ins and rollouts.
Accessible design (i.e., Universal Design) is another major consideration when creating plans for kitchens and baths.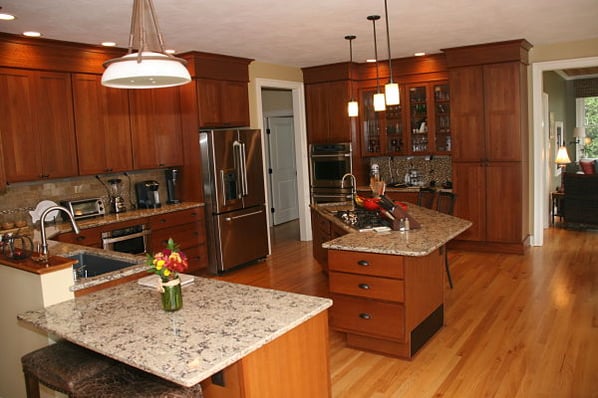 This stunning transitional-style kitchen features Shaker-style wood cabinets with soffits. Cabinets with glass inserts were used for the beverage bar. Universal design features include multi-height counters, deep drawer storage and recessed toe-kicks at the base of cabinets.
2. Types of Cabinets
When you shop for cabinets you have three options:
Stock Cabinets
These are the type of cabinets sold in home improvement stores. They are generally the least expensive cabinets and produced in standard sizes with limited styles and finish options.
Semi-Custom Cabinets
Semi-custom cabinets are just that. They are built-to-order by the manufacturer. Compared to stock cabinets, you will find more options for not only style, color and finish but also function and quality of construction.
Semi-custom cabinets offer accessories that you will not find in stock cabinets such as a variety of glass inserts for cabinet doors, pullout shelves and moldings.
Semi-custom cabinets from Bishop Cabinets are used in most of our kitchen remodeling projects.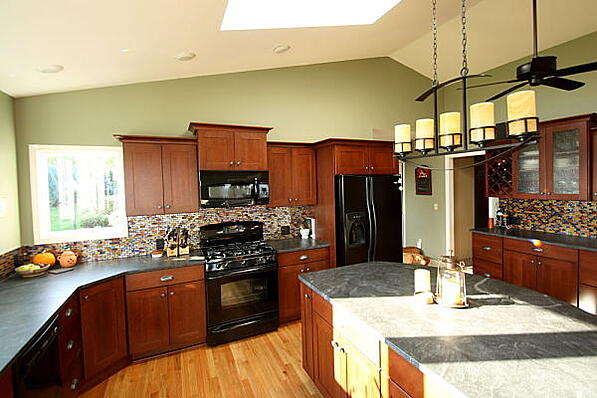 Semi-custom cabinets from Bishop Cabinets were used for this kitchen.
Full-Custom Cabinets
Full-custom cabinets will give you a free hand in designing and defining your kitchen the way you want it.
Custom-made cabinets are also the cabinet of choice when designing for irregular shaped spaces.
Our custom cabinet manufacturer is Elmwood Fine Custom Cabinetry. They are well known in the industry for producing high quality craftsmanship and superior quality.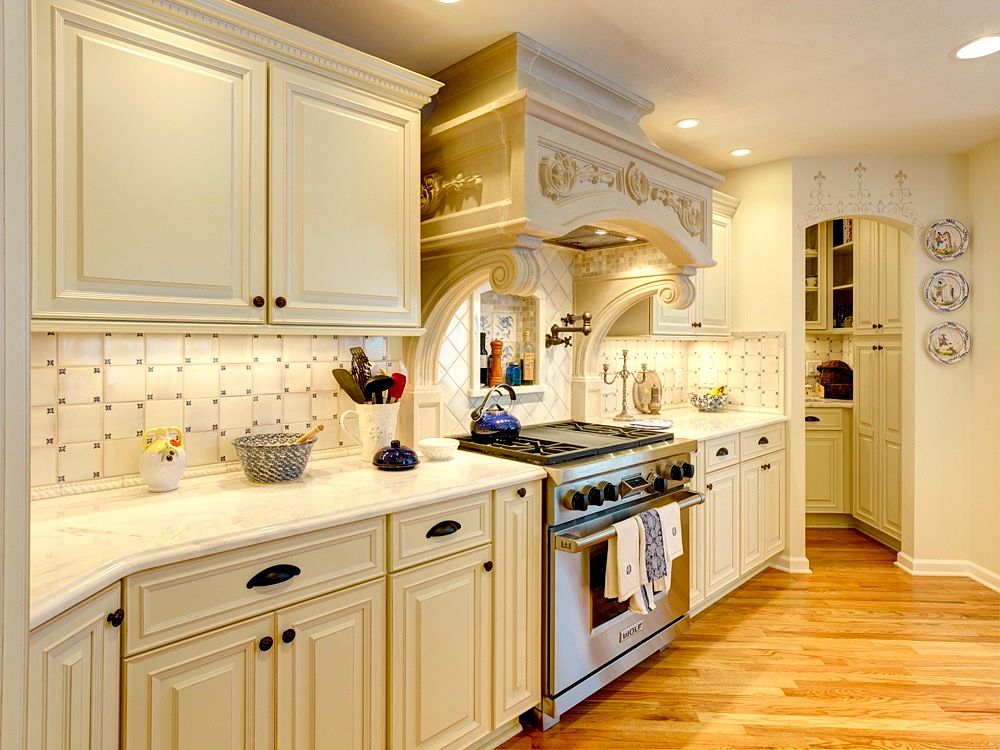 This kitchen features custom cabinets and a carved stone vent hood installed above the range.
3. Types of Cabinet Construction
Kitchen cabinets are constructed in two ways:
Face-frame Construction
Face-frame cabinetry has a solid wood frame attached to the cabinet box. Hinges can either be hidden or exposed. The frame overlaps the door opening so drawers and pullout inserts are smaller than the width of the cabinet.
Partial, full overlay or inset cabinet doors and drawers can be used with face-framed cabinets.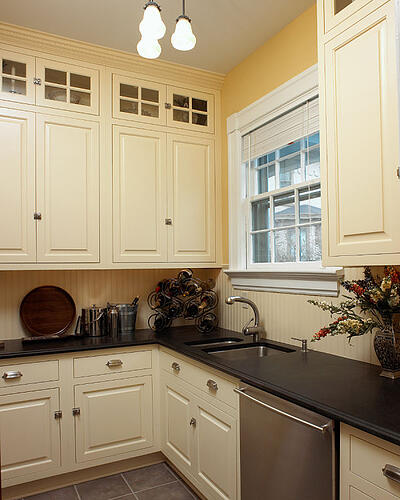 Face-frame inset cabinets were used for this butler's pantry.
Frameless Construction
Frameless construction is most commonly used in contemporary cabinet styles and there is a bit more space inside the cabinet. Door hinges are not visible and are installed inside the cabinet.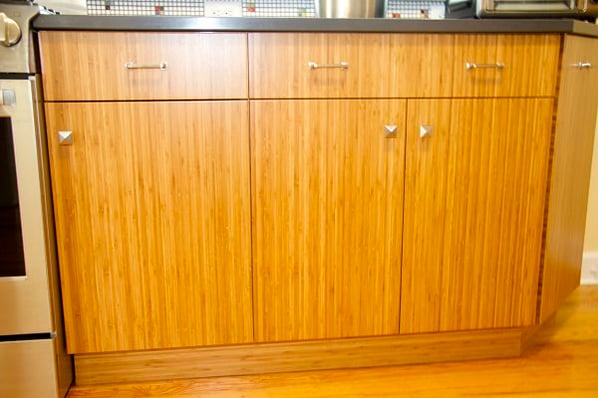 Frameless contemporary cabinets optimize interior storage space.
4. Cabinet Features to Look For
When selecting cabinets you will want quality, durability, function and style. Here are eight features to look for:
Durable Construction
Select cabinets constructed with solid wood face frames, door fronts, door frames and drawers. Look for corner braces. You will find that high quality cabinets will have plywood sides and rear panels in the cabinet box. Particleboard boxes are fine as long as they are installed properly.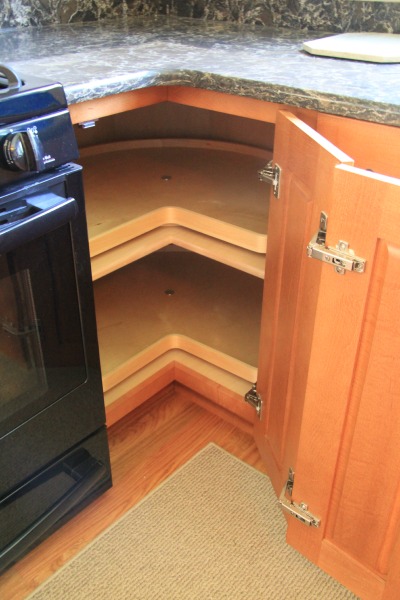 Base cabinet with carousel.
Drawers and Wood Pullouts
High quality cabinets will have drawers with solid wood or plywood sides at least ½ -inch thick. Dovetailed or doweled joints on drawers will stand the test of time. Glued and stapled joints will not be as durable. Self-closing drawers are the best. If your budget permits, drawers with full extension glides are a plus.
Dovetail joining was used for the pullout shelves shown in this photo.
Shelving
Wall cabinets should have adjustable shelves. Consider your options when selecting shelving for lower cabinets. Fixed shelves are standard for cabinets, but pullout tray inserts with full extension glides increase storage space and make it easier to access contents.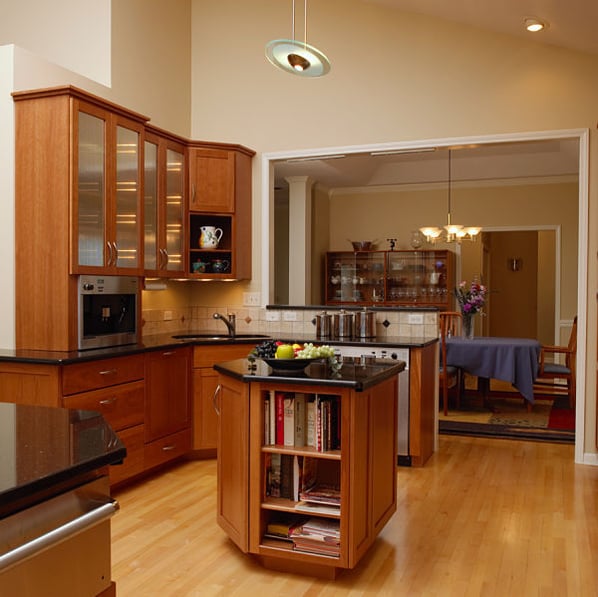 Cabinets with glass doors and open shelves create visible and easily accessible storage. The cabinets are lit to enable a person to readily view contents.
Performance
When you visit a kitchen showroom or a home referred by your contractor, pay attention to the way doors and drawers open. The doors and drawers should open without wobbling or sticking.
Accessories
Cabinet accessories help to improve organization and access in drawers and cupboards. Today, cabinetmakers offer a wide range of accessories that are specifically designed to fit to their cabinets. Popular accessories include pullout trash bins and shelves, drawer dividers and carousels.
Accessories make kitchen organization more functional. In this kitchen a drawer with insets for spice storage is handy for the cook.
Hardware
The knobs and pulls that you choose for your cabinet doors and drawers accentuate décor and complement the style of the cabinets you select. They can also be selected for function, to protect cabinet surfaces, for easy maintenance or as a universal design feature.
In addition to knobs and pulls, you will also need to choose hinges and glides. You may want to consider "soft close" hinges for cabinet doors, especially for cabinets that will be used to store glassware and soft close glides for drawers.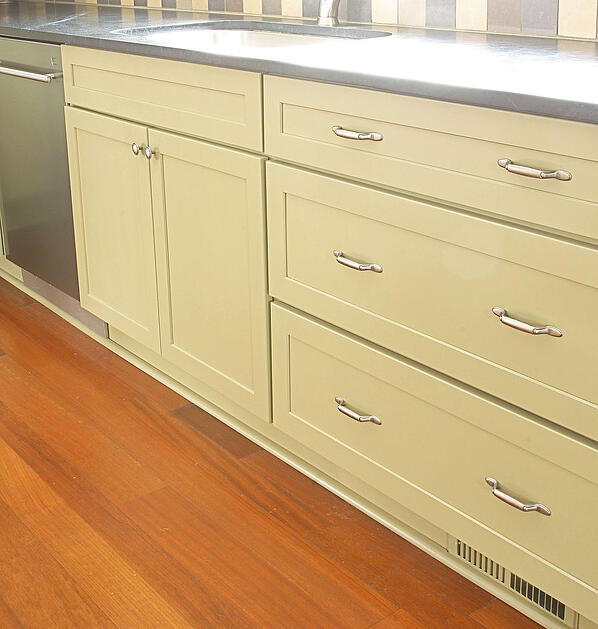 C-shaped pulls and round knobs from Top Knobs complement white painted wood cabinets.
Finishes
There are a variety of options for cabinet finishes. The most popular finishes for wood cabinets are painted, stained, glazed, distressed, crackle and antique.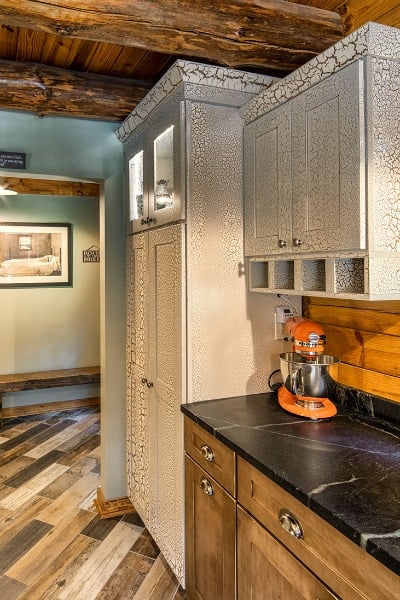 A crackle finish was used on the cabinets of this rustic-style kitchen.
Warranties
Make sure to review the manufacturer's literature particularly as it pertains to extended warranties and product guarantees.
Check out more kitchen cabinet design ideas on our website. We also have cabinet and hardware samples, catalogs and product displays.