If you have been thinking about updating or remodeling a kitchen or bathroom, the knobs and pulls that you choose for your cabinet doors and drawers will make an impact in the room. Knobs and pulls add sparkle and accentuate décor. They can also be selected for function, to protect cabinet surfaces, for easy maintenance or as a universal design feature.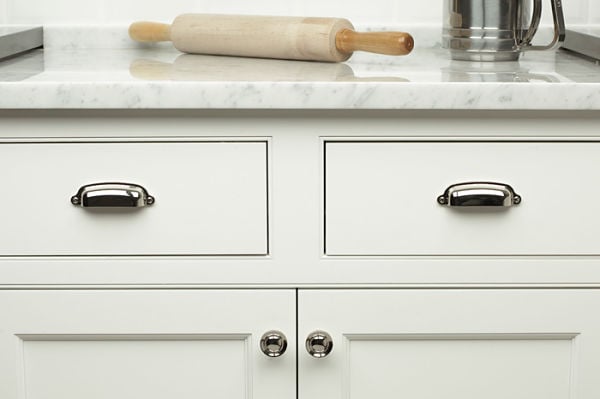 Kitchen island with cup drawer pulls and round cabinet knobs in chrome from Top Knobs.
Recently, we became a dealer for Top Knobs, a manufacturer of cabinet knobs and pulls, in response to needs presented by our customers. If you're not familiar with the product, Top Knobs offers a range of styles, materials and finishes in their line of knobs and pulls that will complement any style of cabinetry from contemporary to traditional. Over the years, we've worked on many kitchen and bath projects and installed countless knobs and pulls. We've been pleased with the quality of Top Knobs' products and the company's customer service.
Top Knobs' website has a guide with excellent advice for consumers who are selecting knobs and pulls for their homes. It's worth reading if you plan to replace cabinet hardware or are choosing knobs for a kitchen or bath remodeling project.
Here are some tips about what to look for when shopping for cabinet hardware:
Look for Quality and a Smooth Finish
Better quality knobs and pulls will be solid, heavier, have a smooth consistent finish, will have an anti-twist pin on oblong shaped knobs and be packaged individually to prevent scratches and imperfections. Lower quality knobs and pulls will not stand the test of time. They are typically less expensive and lighter.
Look for the following to help identify a knob or pull that that may dent, bend or has a thin finish that will wear down:
Feel the back of the knob or pull to determine if it's open. Check the thickness of the metal. Lesser quality knobs and pulls are hollow and thin.
Feel the knob for sharp edges and for roughness on the finish.
Check the screw holes on pulls. Lower quality pulls may have inconsistencies in the distance between the holes. Hold several together and see if the holes line up.
If you're considering a knob with an oblong shape, look for an anti-twist pin that will keep that knob from spinning. Lower quality knobs will not have an anti-twist pin.
Also, look for knobs and pulls that come with a "Lifetime Warranty" to assure that you are buying a product that will not deteriorate with years of use.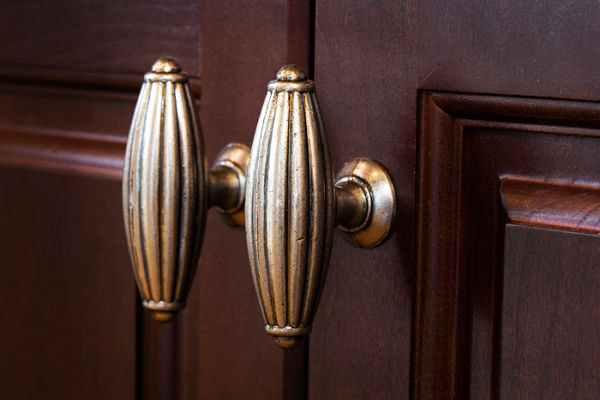 Oblong knobs from Top Knobs.
Choose a Style
Makers of cabinet hardware classify their products in three broad design categories that correspond to cabinet styles: contemporary, traditional and transitional.
Bar pulls work best on the smooth flat surface of contemporary cabinets.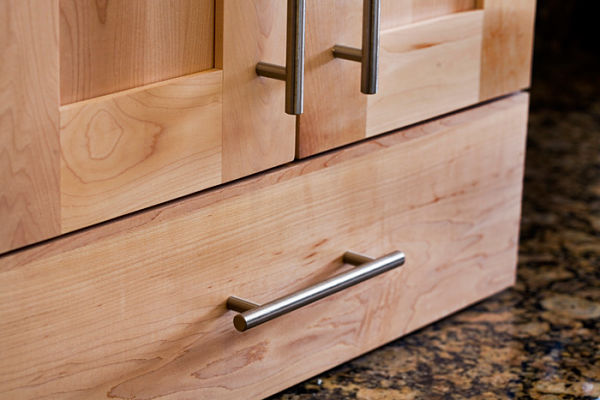 Sleek contemporary bar pulls from Top Knobs.
Traditional cabinets are more ornate and may include arches, turnings and embellishments.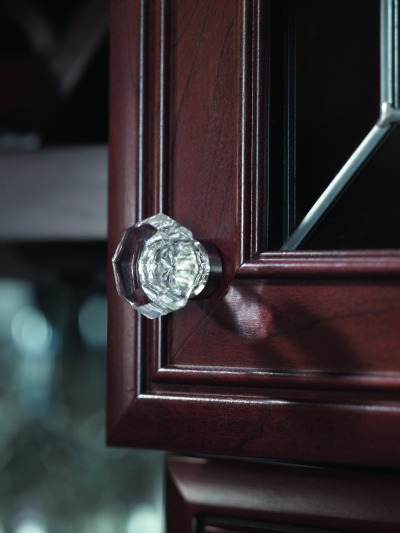 Traditional style Country French cabinet door with leaded glass insert and glass knob from Top Knobs.
Transitional cabinets combine both elements. They are less ornate like the popular Shaker style cabinets that we are seeing in painted and stained finishes in many homes today.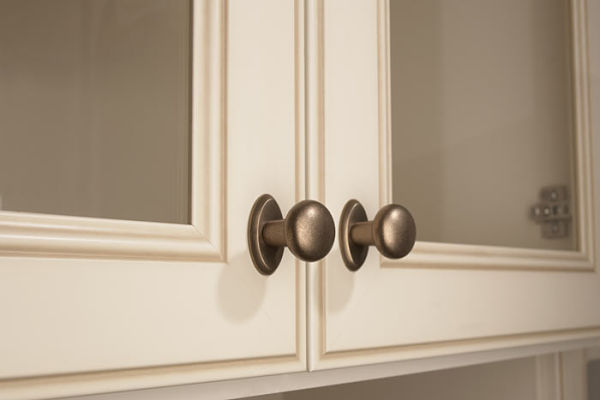 Transitional cabinet door with a round knob and plate by Top Knobs.
Manufacturers have design collections of pulls and knobs with pieces that you can coordinate to create the look you want in your room.
Try Before Buying
The best way to finalize your selection of knobs and pulls is to try the product out product by grabbing it with your fingers and view it up close with the cabinets you have selected. As a Top Knobs dealer, we carry display boards of knobs and pulls which make it easy to view all of the product and finish options in each collection.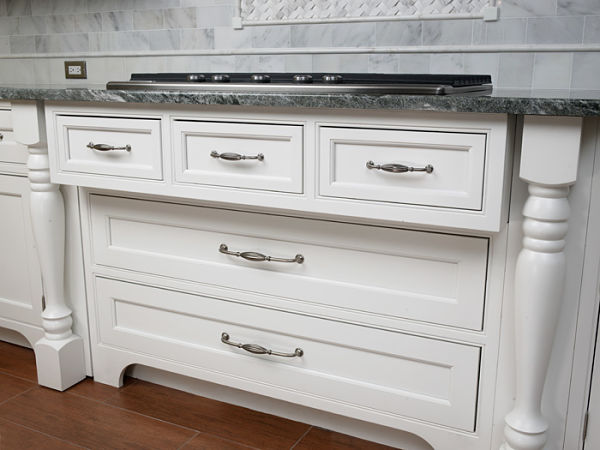 Traditional kitchen cook top with ornate c-shaped pulls from Top Knobs.
Photos courtesy of Top Knobs.