Small details count when you are planning to remodel a kitchen. We are seeing a growing interest in "Universal Design" features that make a kitchen stylish, safe and functional for people of all ages and stages of life. Even if you are not planning to live in your home for a long period of time, these features make sense by creating a kitchen that is comfortable for your use and will appeal to a wide range of buyers at resale.
It's important to know that with the right planning and design of your kitchen (or bath) remodel, it will not cost any more to make it accommodating for all ages and life changes.
Universal Design is simple and intuitive. Here is a list of things to consider in your kitchen design plans:
1. Appliances
When choosing appliances, consider ease of operation:
Stoves and cooktops with front controls are user-friendly.
Microwave ovens can be installed under a counter for easy access or at a height convenient for a cook. This height is safer for both children and older adults. Hot dishes can be removed easily and the risk of spills is lessened.
Consider dishwasher drawers that can be raised from the floor for easy loading.
Refrigerators with a freezer drawer and side-by-side doors are more accessible. The lower height of the freezer makes it easier to view items and organize them for storage.
Ovens with side opening doors are available.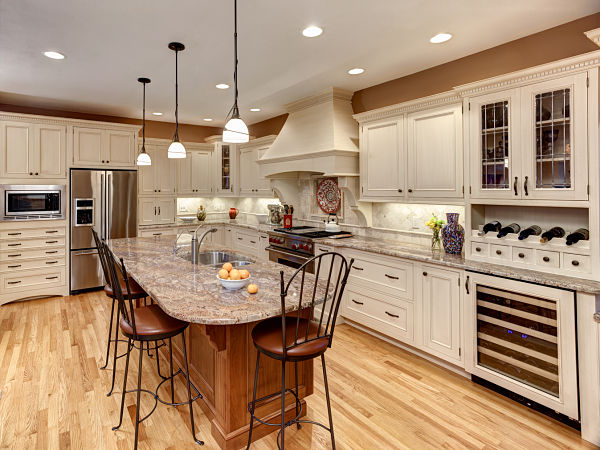 2. Cabinets
Open shelving can be used for reachable storage. Cabinets with full extension drawers, full-extension pullout shelves, carousels and adjustable height shelving will keep you off your knees and from losing your balance when you reach in the back for contents. Glass door cabinets help you to view the contents and keep items organized.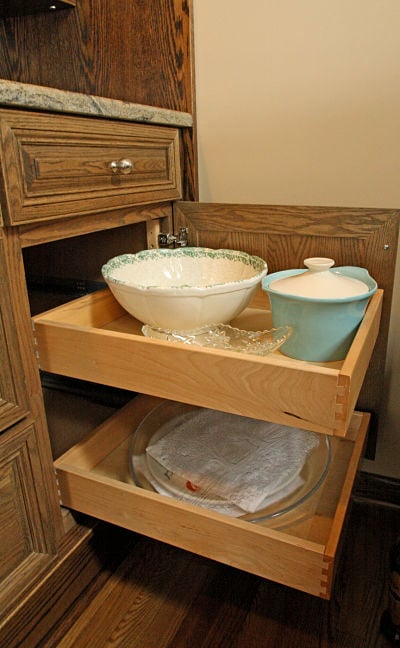 3. Counters
Multi-height counters create a surface for household members to work either standing or sitting. Smooth rounded edges help to prevent injuries. Multi-height counters are great if you have small children in your home and create architectural interest in a kitchen.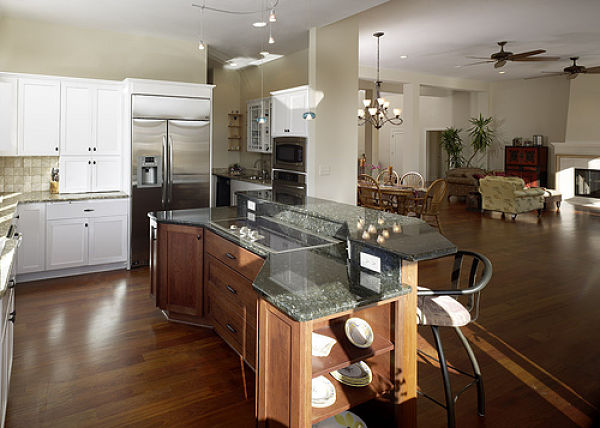 4. Hardware
Use over-sized hardware on cabinets. D-shaped or cup-style pulls are stylish and easier to open than cabinets with round pulls. Consider self-closing drawer glides and soft close door hinges on cabinets. Use a lever handle faucet for the sink.
5. Lighting
As we age, lighting becomes more important especially for people age 60 and older. Enhance general lighting in a kitchen with ambient and accent lighting. Install bright non-glare task lighting over work areas including the sink, stove and counters. Lighting inside of storage cabinets and pantries makes it easier to see the items stored there and to read labels.
6. Flooring
Level thresholds between the kitchen and adjacent rooms make a home safer and reduce the probability of tripping and falling. Select slip resistant or cushioned flooring. Take the time to consider the traffic patterns and the way you move around in a kitchen to alleviate barriers. Good planning and design will provide level thresholds between the kitchen and adjoining areas.
7. Open Spaces
Maneuvering space is important in any kitchen. For people who use a wheel chair or ambulatory support a clear space in the room with a 5-foot radius is recommended. Door openings into the room should be at least 36 inches wide. Many manufacturers now offer "easy access thresholds" for exterior entry doors, sliding glass doors and patio doors.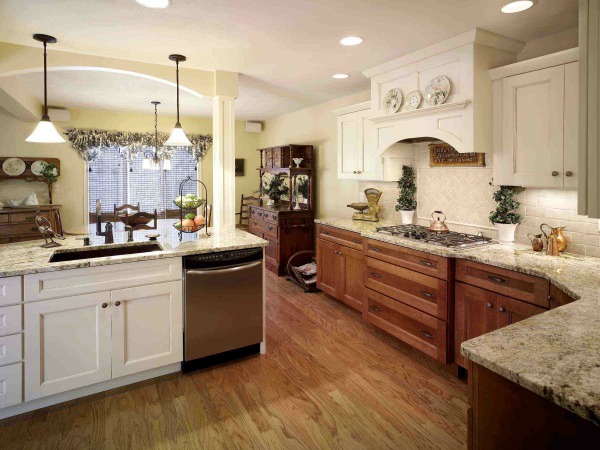 8. Windows
If your kitchen remodel involves adding new windows consider crank out windows with controls placed at waist level.
9. New Innovations
Some relatively new products to look into if someone in your home has impaired mobility are adjustable sinks, stove tops, counters and cabinets that can be raised and lowered.
10. Working with an Aging-in-Place Specialist
If you have a household member with special needs, it helps to consult a Certified Aging-in-Place Specialist as you plan your project. A CAPS contractor can advise you on the best options to make your kitchen stylish, accessible, functional, safe and comfortable for all users.