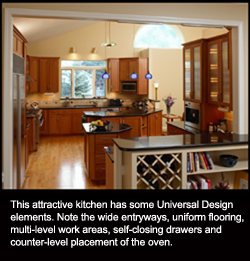 Recently I met with a client who wanted to remodel a kitchen. Her house was built in 1958 and the kitchen layout and cabinets were original to the home. She told me it wasn't a practical design. She had to get down on her hands and knees to access the lower cupboards, the work triangle didn't provide for modern appliances, food prep space was scarce, the sink had an old fixture that lacked a spray to clean dishes, and the faucet was too low to fill large pots. When she was preparing meals, she often banged her head on an exhaust hood placed over a cook top on a peninsula.
This homeowner, who is a "Baby Boomer", plans to live in the house for another 20 years. She wants the kitchen to work for her today and in the future. She's also concerned about installing any "accessibility" features that might affect the resale value of her home.
If you can relate to this situation and are planning to remodel your kitchen, consider the following ideas to enhance the function, safety and value of your home:
If your plans include "gutting" a kitchen, reframe doorways and allow at least 36 inches for clearance and easy access.
Install multi-height, rounded edge countertops so household members can work either standing or sitting.
Install storage with pull-out shelves, carousels and adjustable height shelving to keep you off your knees and from stretching on your toes and losing your balance when you reach in the back of upper cabinets for stored goods and dishware.
Add a stove top "pot filler" water fixture to your cooking area so you won't have to lift heavy water filled pots and carry them from the sink to the stove.
Place your garbage disposal switch in a location where it is easily accessible.
Install built-in storage space for recyclables and trash.
Add anti-scald faucets with lever handles to your sinks.
Use D-shaped or pull-style cabinet and drawer pulls.
When selecting a refrigerator, consider an easy access side-by-side model or an under-counter drawer-style unit.
A drawer-style dishwasher will reduce the need for bending.
Add extra electrical outlets for small appliances, including under the counter for easy access.
Install bright non-glare task lighting over work areas, -sink, stove and counters.
Before you remodel, consult a kitchen designer or a Certified Aging-in-Place Specialist about your needs and options. They are knowledgeable about aesthetics and details that you may not have considered. More information about "Universal Design" ideas for kitchens is available on the American Association of Retired Persons Web site.