There was a time when many homeowners purchased entertainment centers for the convenience of having a place to hold their media equipment and keep wires out of sight. Today, homeowners are looking for much more. Built-in entertainment centers are designed to define the look you want in a room and add beauty, style and character. They can be customized to house the latest electronics and provide an elegant display setting for artwork, collectibles and books.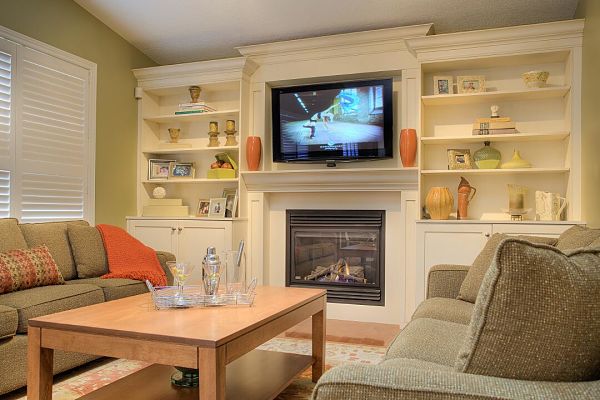 A built-in entertainment center encases a gas fireplace and a flat screen television. Cabinet doors hide video components. Open shelves provide a place for photos, books and collectibles. Crown molding adds architectural detail to the room. Photo courtesy of Elmwood Fine Custom Cabinetry.
If you are considering a custom built-in entertainment center, here are some design ideas and tips to help you explore your options:
Audio and Video Equipment
Today's electronics require ventilation and have components that you'll want to camouflage or conceal. Built-in entertainment centers are designed for both function and aesthetics. Shelving can be customized to fit almost anything. Doors and pullout shelf units can be added to conceal clutter and protect contents when not in use.
Storage specifications for media equipment.

Storage space within an entertainment center should include ventilation so that electrical components such as TVs, DVRs, DVD players, cable boxes and satellite receivers don't get too hot. Don't stack components. Space them on shelves a few inches apart. If you are placing these items in cabinets, there may need to be vents in the back for airflow. You should check with your electrical component supplier for the specific requirements of your components.
Creating a home theater experience. To create a surround sound effect, the room will need at least five speakers. Two or three of these speakers can be placed within an entertainment center depending on its size and the size of the room. Speakers can be camouflaged behind a fabric screen or integrated into the room by the color choice you select.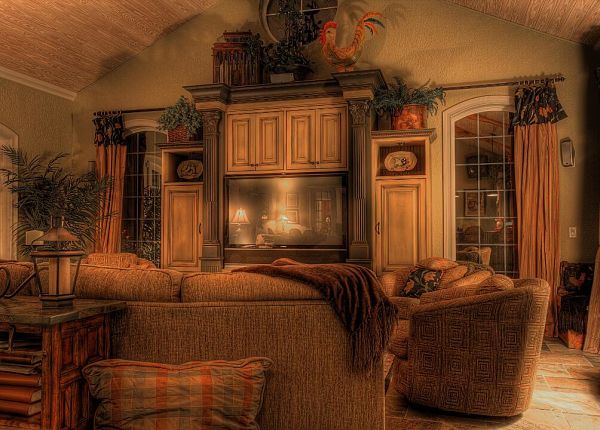 Custom cabinets hold a flat screen television and speakers. The placement of the screen is ideal for viewers seated in the room. Cabinets hide components. Collectibles and greenery are displayed on top of the cabinets by design. Photo courtesy of Elmwood Fine Custom Cabinetry.
Photos and Books
Open shelving is traditionally the best way to display books and keep them at hand. When storing books on open shelves in an entertainment center, try stacking them in small groups. This may help solve the problem of an oversize book that won't easily fit vertically on a shelf. Display photos, pottery, artwork and other collectibles with them. Magazines can be stored in baskets on lower shelves. Don't forget to cull them out every now and then to keep clutter under control.
Store board games near areas where you use them. An entertainment center that includes cupboards with doors can help keep games contained until you're ready to play.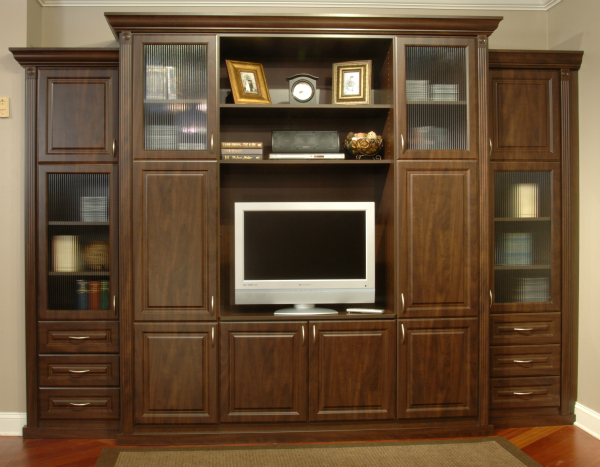 This multi-cabinet entertainment center has ample storage space for books, collectibles, games, DVDs and media equipment. Ribbed glass doors are transparent enough to view the contents and accent the unit.
Artwork and Collectibles
Storing collectibles can be a creative challenge. Collectibles are those things that reflect our lifestyle and passions. Collectibles can either create clutter or be an item of interest to those who visit your home. Collectibles look best displayed in an entertainment center with open shelves or cabinets with glass doors. Puck lights can be added to make the items a focal point in the room. Organize your collections and display them in groups. Consider the shape, size and colors of items as you arrange them for display.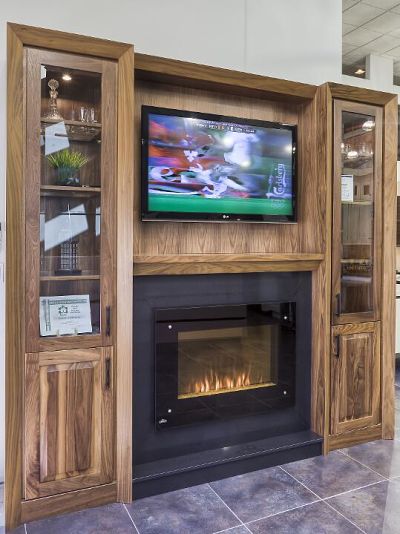 Glass door cabinets with wood edged glass shelves are used to display collectibles in this custom built-in entertainment center that provides an area for a television and a surround for a gas fireplace. Glass shelves allow the light to filter through the unit. Photo courtesy of Elmwood Fine Custom Cabinetry.