Cabinets are the primary design element in a kitchen remodel. The selection of cabinet style, finish and hardware (i.e., pulls, knobs and hinges) will define the look and functionality of the new kitchen. Other design elements, including countertops, backsplashes and appliances, can be selected to complement the cabinets.
If you're considering a kitchen update, refinishing your existing cabinets and adding new hardware can provide a whole new look to your kitchen.
Many of the cabinets featured in this article are made by two of the industry's most respected cabinet manufacturers – Bishop Cabinets, a semi-custom cabinet maker, and Elmwood Fine Custom Cabinetry, which makes custom cabinets. Both manufacturers meet our stringent standards for superior craftsmanship and exceptional quality.
Here are six design ideas for kitchen cabinets and cabinet hardware:
1. Farmhouse Style Kitchen Cabinets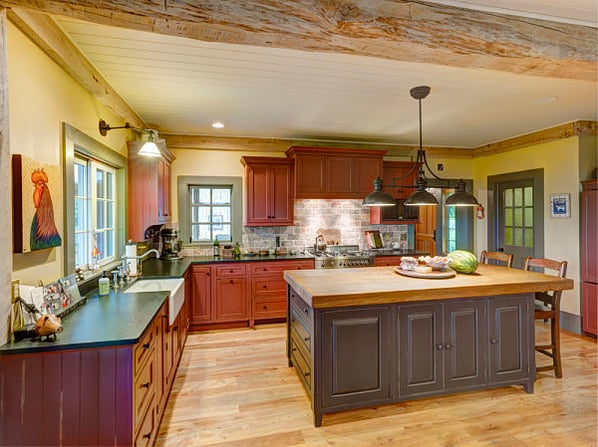 This colorful farmhouse style kitchen was carefully planned. Three different types of cabinet finishes were used in the design: red for the perimeter cabinets, espresso for the island and natural maple for a pantry cabinet (not shown in photo above - click here to see it).
A brick backsplash tile was used to add warmth to the rustic look. Round black flat finish knobs were used on the red cabinets. Burnished bronze knobs were selected for the island.
2. Full Access Contemporary-Style Cabinets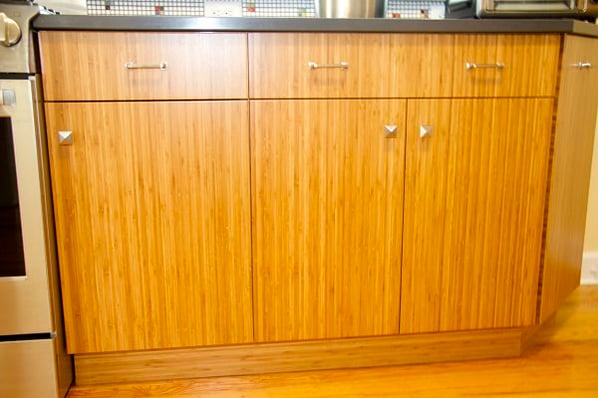 Full access cabinets with slab doors and drawers provide a sleek contemporary look to this kitchen. Full access is a frameless cabinet style where doors and drawers cover the entire cabinet frame.
A natural stain finish was applied to these cabinets. Classic bar pulls were used for the drawers and a square knob in a brushed satin nickel finish accents the cabinet doors.
3. Painted Shaker-Style Cabinets with Recessed Panel Doors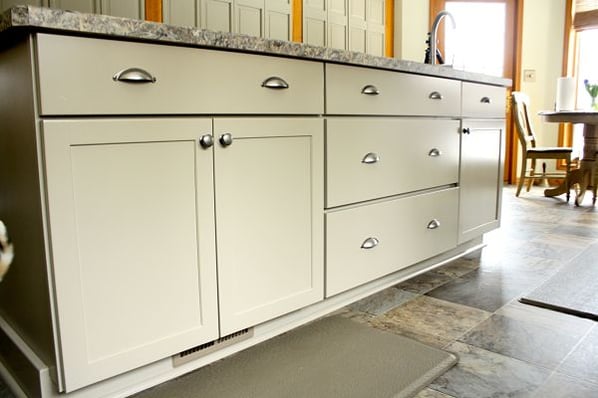 The Shaker-style cabinets with simple, clean lines used for this kitchen are Bishop Cabinets "Shakerstown" maple wood cabinets in a unique light olive green finish.
These are framed cabinets, which means the cabinet frame surrounds the doors and drawers and is visible when the doors and drawers are closed. Framed cabinets are among the most common cabinet styles. The cabinet door style is recessed panel, which has a flat panel inserted into a rectangular frame.
The counter surface used for the island is a granite-look laminate from Wilsonart with a beveled edge. Classic cup drawer pulls and round brushed satin nickel knobs from Top Knobs complement the cabinetry and counters.
4. Painted Cabinets with Raised Panel Doors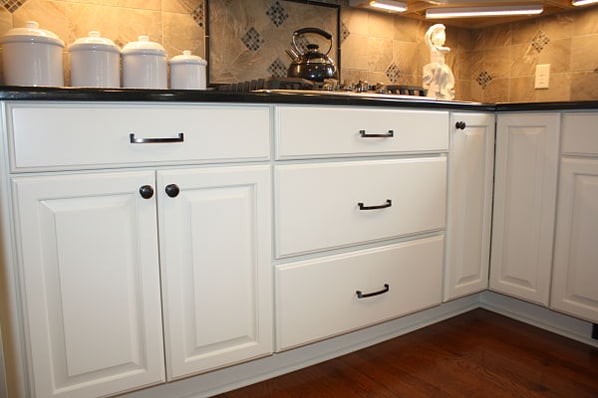 Cabinets with raised panel doors are often used in traditional-style kitchens. The white cabinets selected for this kitchen are accented by drawer pulls and knobs in a gun metal finish.
5. Wood Stain Cabinets with Raised Panel Doors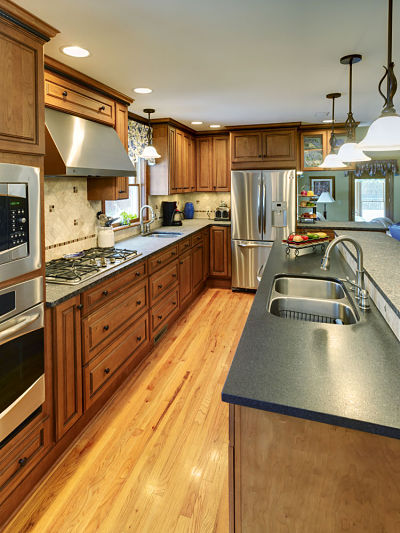 The classic look of cherry cabinetry is timeless. These cabinets have raised panel doors that optimize the grain and beauty of the wood. Dark metal knobs were used on the doors and drawers. The crown molding used to finish the cabinets creates an illusion of height in the room.
6. Mixed Finish Cabinets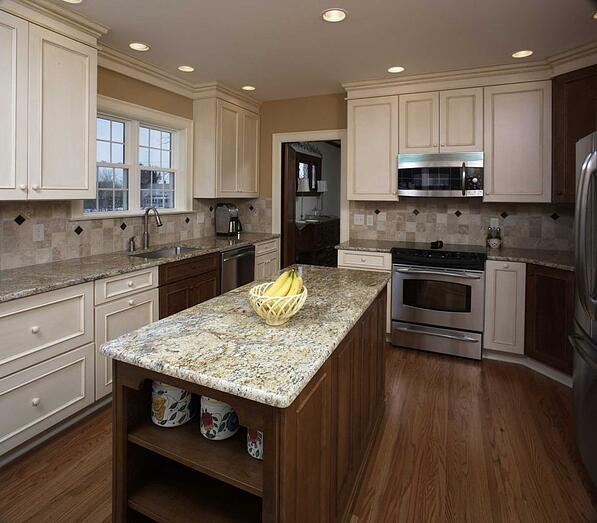 A popular design trend has been to mix cabinet finishes and styles. Mixing allows you to add interest to a kitchen by distinguishing architectural elements such as an island or peninsula, or to define work areas.
Two types of cabinet finishes were used in this kitchen. The perimeter cabinets are painted white. The cabinets for the island, sink area and cooking area are finished with a wood stain. Porcelain knobs are used for the doors and drawers. Granite counters unite the elements.
For more design ideas, visit the kitchen cabinets gallery and cabinet accessories gallery on our website. Also, check out our article "Tips for Selecting Knobs and Pulls for Cabinet Doors and Drawers."