Cabinets are the primary architectural element in a kitchen or bathroom remodel. What makes cabinets stand out is the finish. The color, sheen and texture of a cabinet finish will anchor all of the other features in a kitchen or bath including counters, flooring, tile, fixtures and appliances. Kitchen and bathroom cabinets should be durable with a finish that will stand up to the wear-and-tear of daily use. The type of paint and stains used by a manufacturer and the way they are applied in the factory contribute to the appearance and durability of the cabinets.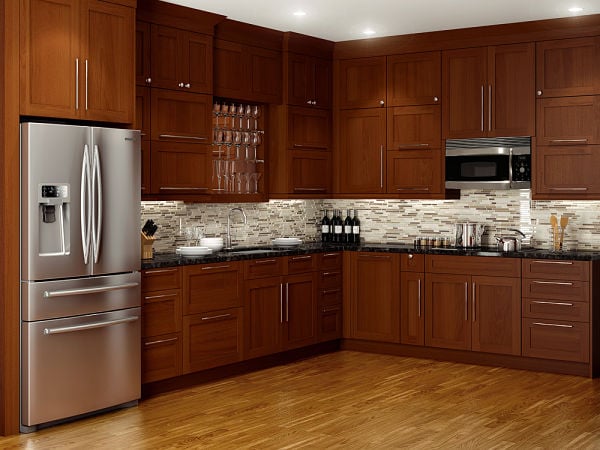 Stained wood Shaker-style cabinets from Bishop Cabinets set the stage in this kitchen.
Cabinets can be made of wood, Thermofoil (vinyl pressed onto medium density fiberboard "MDF"), painted MDF, laminate and veneer pressed over particle board, or new acrylic products PARAPAN and Zenolite. Each has advantages and disadvantages.
One of our suppliers, Bishop Cabinets, manufactures semi-custom cabinets in all of these materials. With semi-custom cabinets you will have a lot of options for finishes.
Wood and acrylic cabinets are currently the most popular among homeowners for kitchen and bathroom remodeling projects. Acrylic cabinets are used for contemporary kitchens and baths, which the National Kitchen and Bath Association has identified as one of the hottest trends in interior design. When it comes to selecting finishes for these cabinets, here is what you can expect to find:
Wood Cabinet Finishes
Wood remains the most popular material for cabinets. Most wood cabinets are made from maple, oak, cherry, ash or hickory. Finishes include paint, stain and special treatments.
Painted Finish. Paint is opaque and provides a smooth finish to the wood. White and gray are classic colors but now there is a range of colors to brighten today's kitchens.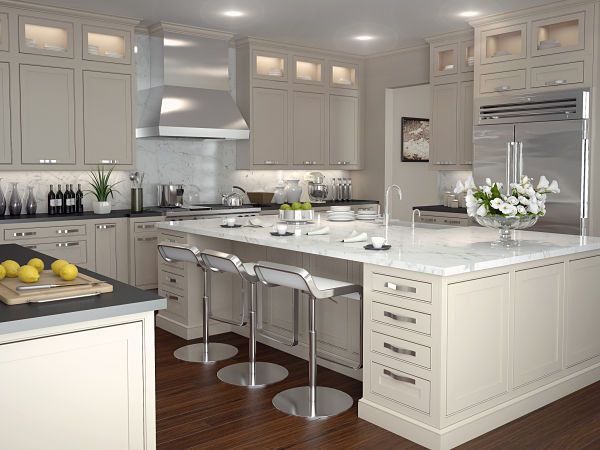 White painted cabinets by Bishop Cabinets in a transitional-style kitchen.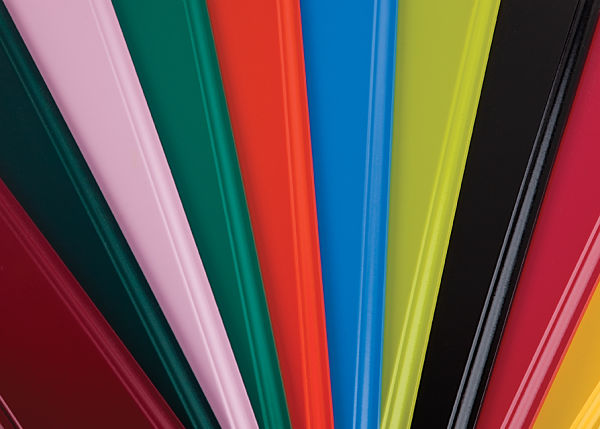 Sample of paint color finishes from Bishop Cabinets.
Stained Finish. Wood stain comes in many rich and neutral colors. Stain is semi-transparent and allows the beauty of the wood grain to show through, enhancing its patterns.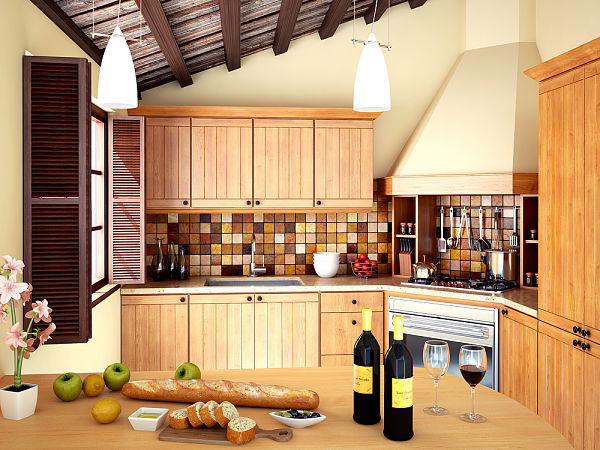 Wood cabinets with a natural stain finish from Bishop Cabinets.
Glazes. A glaze is a semi-transparent color used over paint or stain to add definition to cabinets. On a painted cabinet, a glaze will darken the color and accentuate the relief of doors and drawers. Glazes give stains a richer look and will enhance the appearance of the wood grain.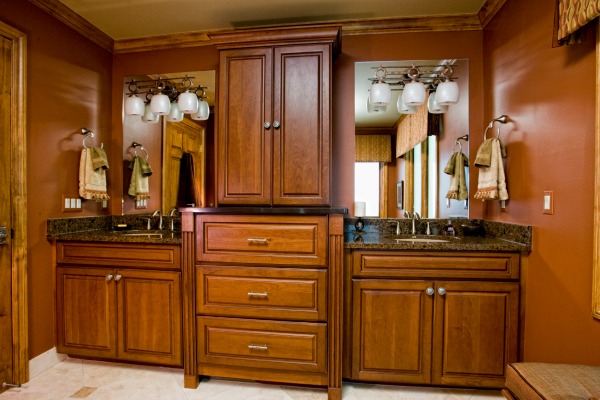 Bathroom cabinets with a glaze over a stained finish from Bishop Cabinets.
Distressed Finishes. Distressed finishes provide the look of aged wood. The finish can be achieved by rubbing off paint or stain from the wood. Several colors of paint can be used on the wood to create the look.
Crackle and Antique Finishes. Crackle and antique finishes use a special medium to create an aged look. A basecoat of paint is applied to the wood, then the medium is applied. A topcoat of paint is applied over the medium, which shrinks the paint as it dries to create the effect.
Acrylic Cabinet Finishes
PARAPAN is a relatively new product for cabinets introduced to the market over the past decade. It is a high gloss solid acrylic with a finish that will not delaminate or fade. Colors are applied to PARAPAN when it is manufactured and the finish is glossy and reflective.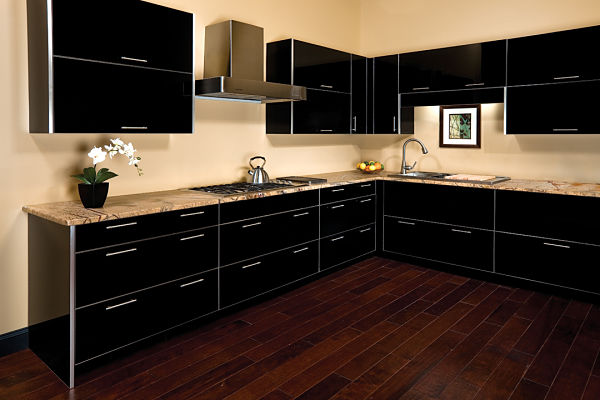 Black PARAPAN Kitchen from the Bishop Cabinets.
Zenolite is another new product introduced in 2008. According to the manufacturer, the product is inert and environmentally friendly. The manufacturer offers a variety of colors. Both Zenolite and PARAPAN are green products that are hygienic, easy to clean and waterproof so they will not warp.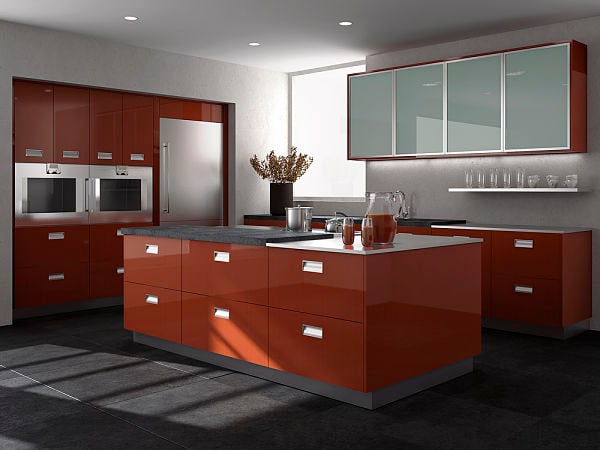 Red acrylic kitchen cabinets with high gloss sheen from Bishop Cabinets.
Selecting Finishes
When selecting cabinet finishes, request a sample of the product you are considering and take it home to view it in your kitchen. The look of a finish will change in both natural and artificial light. It is also helpful to have a sample of the cabinet finish in hand when you are selecting other products for your kitchen, including appliances, to be able to visualize the way the elements will work together.
Photos courtesy of Bishop Cabinets.