A kitchen update refers to work that's done within the existing configuration and floor plan of the room. Some of the changes may be cosmetic, such as repainting cabinets, while other updates may include replacing appliances, counter surfaces and fixtures. An update is different than a kitchen remodel, which involves redesigning the space and installing new cabinets, flooring, lighting, mechanicals and other features.
Small changes can make a major impact, which is why kitchen updates are popular. The photos below are from a kitchen in Fayetteville that we recently updated. They show how refurbishing existing cabinetry, replacing appliances and countertops, and designing a new tile backsplash can transform a kitchen's appearance and utility. Note that the layout remains unchanged.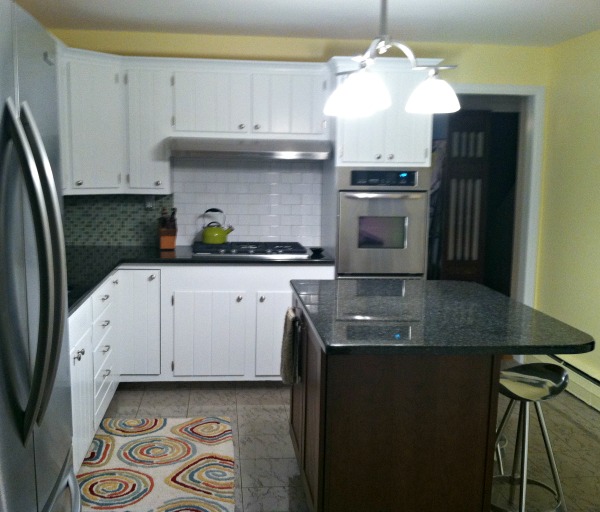 This kitchen update features refinished cabinets with new hardware, new counter surfaces, new backsplashes and new appliances.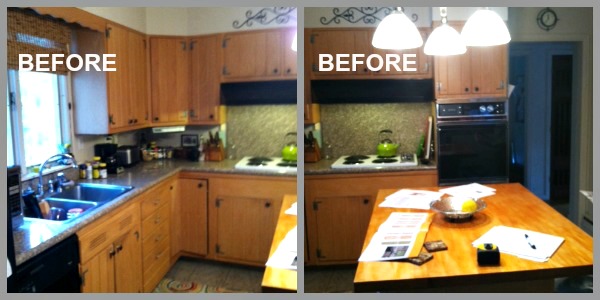 The cabinets were in good condition and could be updated with a painted finish. Countertops and soffits were to be removed without damaging the cabinets to make the room appear larger and open. The flooring, which looked out of place in the old kitchen, became an important element in the update. Special care was taken during the remodel to protect the flooring. The sink faucet and light fixture over the island were removed and re-used.
Here are 10 elements to consider in a kitchen update:
1. Salvaging and Blending the Old with the New
Look around your kitchen and make a list of the things you want to change and the things you want to salvage. Faucets, appliances, light fixtures and cabinets can be reused in an update and can become important to the design.
2. Updating Existing Cabinets and Hardware
Cabinet replacement is often the most costly item in a kitchen remodeling project. If cabinets are in good condition they can be revived by removing soffits, adding molding and by a fresh coat of paint or stain. Changing cabinet hinges and hardware can help to redefine and modernize the style of the room.
3. Replacing Countertops
Counter surfaces have changed dramatically over the past decade and define the era of a kitchen. For example, white laminate counters with wood edging were popular in the 1980s but after 30 years have become timeworn and outdated. Today, many homeowners prefer stone or quartz kitchen countertops for the beauty and durability. Counters can be replaced without causing damage to existing cabinets and have a dramatic effect in the room.
4. Replacing the Backsplash
A backsplash is a focal point in a kitchen. We work with homeowners to design a backsplash expressly for their kitchens. There are many options. Classic designs include using white subway tile, which is practical and easy to maintain. Glass mosaic tile is another popular look and can be applied in sheets or as an accent.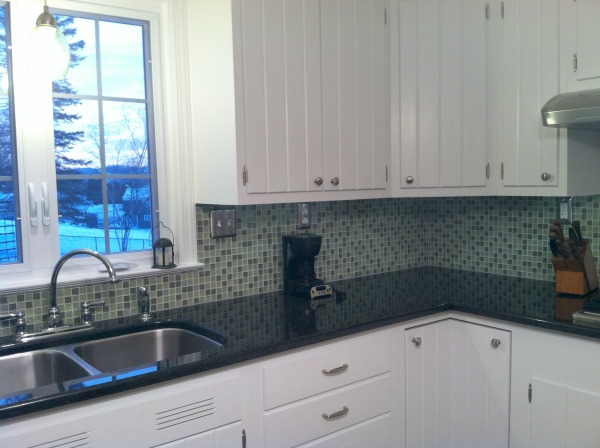 A new countertop and backsplash transform the appearance of this kitchen.
5. Replacing Appliances and Fixtures

Many homeowners are motivated to update a kitchen when it's time to replace appliances. In older homes, this may require re-working mechanicals to switch an electric cooktop to gas, accomodate a refrigerator with on-the-door ice and water features, or install a more efficient venthood. When choosing appliances for a kitchen update consider models that will fit into the existing cabinet openings. New sinks also update a kitchen. Drop-in sinks are being replaced by undercounter sinks that are streamlined and easier to clean.
6. Improving Lighting
The way we illuminate kitchens is changing. Incandescent fixtures are being replaced by fixtures using compact fluorescent and LED lights. When updating your kitchen consider both functional and decorative lighting in your plans.
7. Painting Cabinets, Walls and Woodwork
Painted cabinets are one of the "hottest trends" in kitchen design today. While white predominates, many homeowners are mixing finishes on cabinets as they update their kitchens. Paint colors can work wonders in changing the look of any room.
8. Unifying the Space
Since we spend so much time in a kitchen, aesthetics are important. Elements that work together are essential in interior design. In updating a kitchen, moldings and trims can be used to unify cabinetry, windows, flooring and ceilings in the room. The finish selected for appliances, fixtures and hardware can also make a major visual impact and will unify the space. Wall tile used for backsplashes should complement counter surfaces.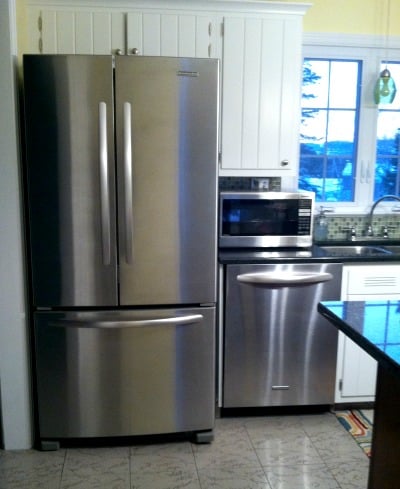 Soffits above the cabinets were removed to open up the room visually. Crown cabinet molding from Bishop Cabinets was installed directly onto the cabinets to give them an updated look. The old maple finish was painted white. The cabinets were re-hinged and new brushed nickel hardware was added. The window over the sink was updated with accent molding to complement the painted cabinets. The old granite perimeter countertop and the butcher-block countertop on the island were replaced with black granite counter surfaces, which unified the look of the room. A new stainless steel double bowl sink was mounted under the counter.
9. Refurbishing or Replacing Flooring
An update can include refinishing, repairing or replacing flooring.
10. Adding New Furnishings
New rugs, window treatments, seats and kitchen accessories help to complete the update. In the project shown here, a colorful rug and the new stools selected for the island add style. The re-used green tea kettle on the cooktop adds a pop of color and stands out in the updated room.