Quartz surfaces and countertops are rapidly gaining popularity among homeowners as well as kitchen and bath designers. Quartz is easy to maintain and is available in a wide range of colors, patterns and even textures. While primary uses of quartz continue to be kitchen and bath counters, it can also be used for backsplashes, shower stalls, shower entries, tub decking and even fireplace surrounds.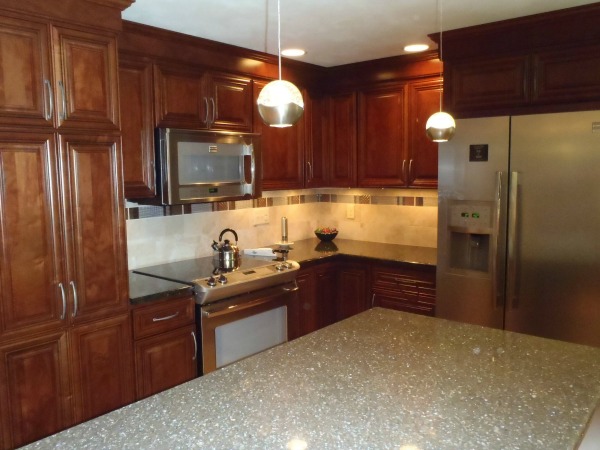 This remodeled kitchen has a new configuration that provides more counter and storage space. The counters of the perimeter are granite ("Verde Peacock"). The island has a quartz surface (Cambria in "Minera").
Quartz surfaces are made from ground quartz with polyester resin used as a binder. Quartz is nonporous and antimicrobial making it resistant to stains, odors and bacterial growth. Quartz can be installed as a slab or cut into tiles. The only limitation is that it cannot be used for outdoor projects since it is susceptible to fading by intense sun, it will not withstand exposure to the elements and outdoor use may invalidate warranties.
Here are four tips to help you find the perfect quartz surfaces and countertops for your kitchen, bath and other home remodeling projects.
1. Choose Colors, Patterns and Texture
Over the past several years, manufacturers of quartz surfaces have significantly changed the look of their products. One of the most stunning products on the market today is Cambria quartz. Cambria is manufactured in the United States. Many of the new patterns look like granite or marble. Cambria comes in a host of colors. Check out their online "paint match" tool that helps you match Cambria products with complementing Benjamin Moore wall and accent colors.
Caesarstone is a quartz manufacturer that is introducing revolutionary new patterns in its line that resemble Calacatta marble, cement and black granite. One of Caesarstone's most beautiful designs is the "Concetto Collection" of semi-precious stone quartz surfaces that look like geodes.
Silestone quartz countertop products now come in three textures: polished, matte and rugged. The company has also been creating new color patterns that include flecked, veined and granite-look surfaces in addition to bright colors used in contemporary design.
DuPont Zodiac has a more limited range of colors for its quartz products but its palette includes some great neutral colors and marble patterns.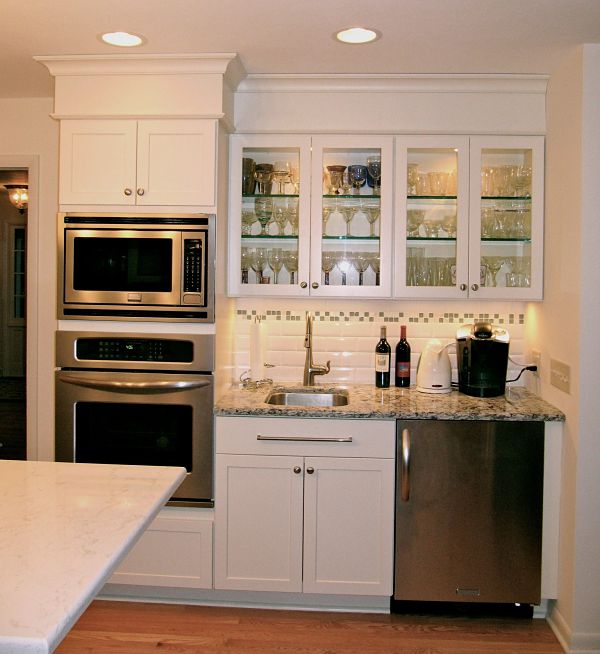 Two patterns of Cambria quartz were selected for this kitchen. "Praa Sands," which looks like granite, was selected for the perimeters and "Torquay," a marble pattern was used on the island.
2. Select the Right Thickness
When selecting quartz it's important to consider the thickness that you will need for the application. The standard thickness of a slab of quartz is 1¼-inch. Generally, this is the thickness recommended for kitchen counters and bathroom vanities. Quartz comes in ½-inch, ¾-inch and 1½-inch thickness. Cambria offers a slab that's 1-centimeter thick that can be used to create layered edging profiles.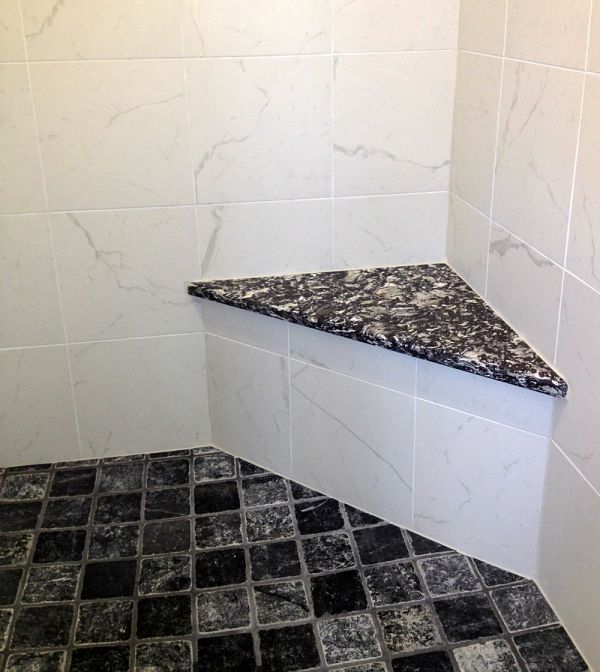 Quartz surfacing can be used for many applications. This custom-built walk-in shower features a quartz corner seat. Products for this project include marble wall tile (Dobkin Tile- Elegance: Perseo Statuario) accented by glass listello tile (Best Tile "Precious Gems"), quartz shower seat (Cambria "Braemar") and slip-resistant black tile floor (Dobkin Tile "Toros" Black Tumbled Marble).
3. Choose Edging
Edging helps to determine the style of a counter or vanity and effects pricing. Standard edges are straight (squared) and waterfall edges. These edges can be applied to quartz that is 1¼ inch thick. More intricate edging options include ogee (a curved edge), pencil, beveled, bullnose (a rounded edge) and "laminated edging" profiles which add an extra layer of quartz to achieve a dramatic look. For more information, download Cambria's 19 edge profiles.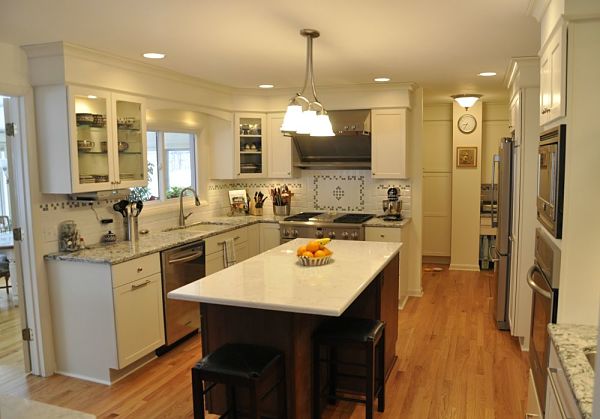 A rounded "waterfall" edge profile was used on the quartz counters and island in this kitchen remodel.
4. Select Appliances and Plumbing Fixtures Before Selecting Your Quartz Surface
Prior to fabrication measurements will be taken of the area where the quartz will be installed. If you are planning to surface a kitchen or bathroom, it's important to select your sinks and faucets prior to fabrication. The fabricator will need to know the dimensions the number of holes required for installation. If you plan to install a cooktop, a cutout will also be needed.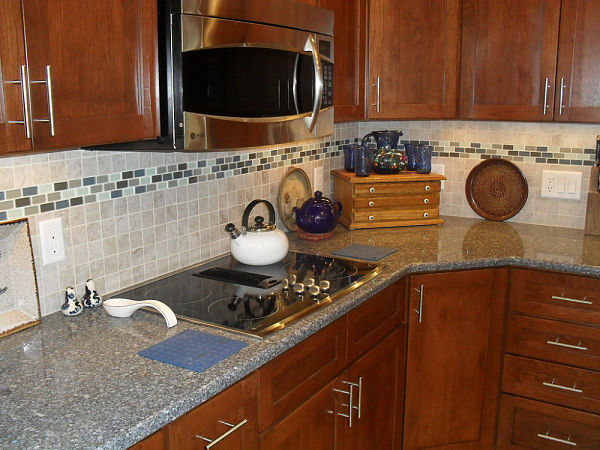 A glass cooktop was installed with this quartz counter. Precise cuts were made during fabrication to accommodate the cooktop and provide a counter edge.