One of the hottest looks in today's kitchens and bathrooms is marble counters. The white and gray tones of marble complement almost any style of cabinetry and a multitude of finishes. While the look is hot, quarried marble is more porous than other popular stone surfaces (granite and quartz) and requires more TLC.
If you like the look of marble for your home here are some helpful facts to know about marble and marble-look countertops:
Quarried Marble
Marble is mined in many places throughout the world but most of the products sold in our area come from Italy or Vermont. Each type of marble has unique characteristics due to the geology of the region. Veins are created by sand, clay, silt, iron oxides and chert that form layers of grains in limestone to create crystals.
Three of the most popular types of marble used in homes are Calacatta, Carrara and Danby.
Calacatta. Calacatta marble is mined in Italy and is considered a luxury stone. It has the whitest color and most dramatic veining. Calacatta marble has prominent dark or gold markings. It can be mined in Carrara, which creates confusion between the two Italian marble stones.
Carrara. Carrara marble has blue gray tones and is mined in Carrara, Italy, part of the Tuscany region. It is hard and durable and can be more affordable than other types of marble.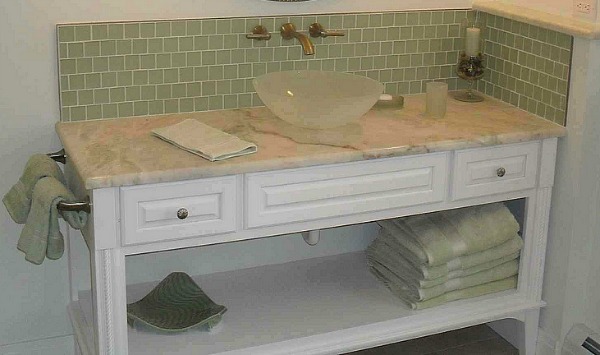 Danby. Danby marble is mined in the largest underground marble quarry in the world located in Danby, Vermont. It has been used in building Washington landmarks, buildings designed by America's most famous architects and in homes. The prime producer of Danby marble is Vermont Quarries. There are a number of lines of Danby marble and color variations, which distinguish it from Italian marble. For kitchens and baths you will find Danby white marble with dark black and gray markings and also with gold, brown and green markings. If you're looking for a unique counter, Vermont Quarries mines a dark green marble indigenous to the region.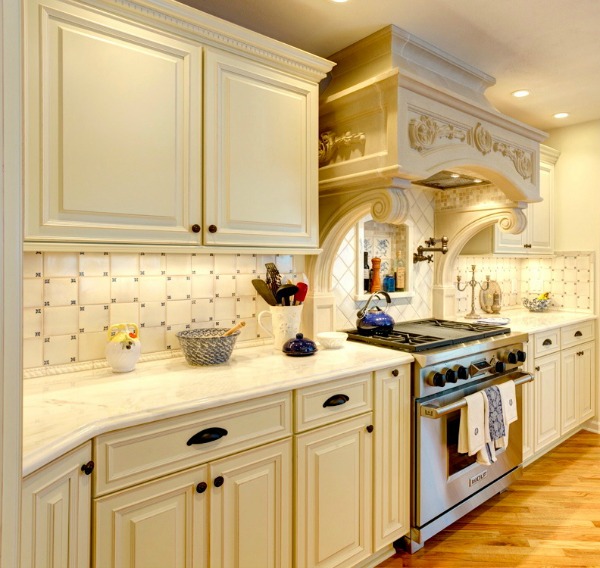 How to Care for Marble
While marble looks stunning in a kitchen or a bathroom it requires protection and special care. Many cooks like a marble surface in their kitchens for baking. When they are preparing pastry crusts the cool surface helps dough to remain workable. However, to preserve the marble surface it's important to take precautions when preparing food. Marble can etch so you should always use a cutting board for food prep. Spills should be wiped immediately and many food products such as orange juice, wine, vinegar and oils can stain the surface. You should never place a hot pot or dish directly on marble – use trivets. Marble should also be sealed periodically. Over time, marble will develop a patina.
Marble-Look Products
Quartz. Quartz manufacturers follow trends and know that consumers like the look of marble and appreciate the easy care of quartz. Cambria has been at the forefront, introducing designs with veining that most closely resemble marble (Torquay and Waverton). Caesarstone has three designs in its pallet that emulate marble (Frosty Carrina, Misty Carrera and London Grey) and Silestone has two marble look-a-likes in its "Nebula Series" (Lagoon and Lyra). Zodiaq by DuPont also has a white marble design. Unlike "the real thing", quartz is very durable, much less porous, resists stains and is easy to maintain. However, you will need to protect the surface from hot pots and scratches by using trivets and cutting boards.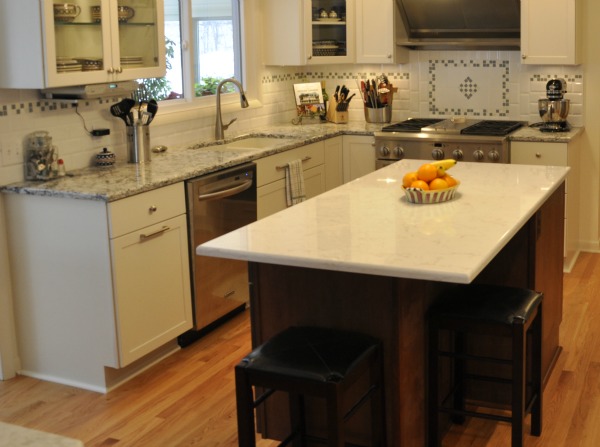 Solid Surface. Corian by DuPont offers an alternative to natural stone that is less costly and easy to maintain. It has virtually no seams and holds up well over time. For use in a kitchen or a bath it can be shaped for an integrated sink. Corian can be cleaned with soapy water or an ammonia based cleaner, not a window cleaner. The surface will dull if liquids are allowed to dry on it so spills should be wiped right away.
Laminates. Formica's 180fx series represents an amazing evolution in laminates. Formica is producing laminates with the look of marble, quartz, granite and wood that provide a cost effective option for homeowners. Edging can be formed into popular bullnose and ogee edging of stone. Wilsonart also offers two marble-look laminates, "Calcutta Marble" (not to be confused with Calacatta) and "Carrara Santorini". Wilsonart features three different edging options: cascade, crescent and beveled.
If you are planning a kitchen or bathroom remodeling project and considering marble counter and vanity surfaces, take some time to compare products. Suppliers will provide samples and you may want to test them out at home. Try spilling wine, vinegar and oil on the sample to see what happens, then try cleaning the spill to get an idea about how the product will function in your home.