Countertop surfacing is often a big cost item for a kitchen or a bath remodeling project. While homeowners have a wide range of countertop options, one of the latest advances in counter products is laminate surfacing. Laminate is being talked about by kitchen and bath designers and home magazine writers because of the colors, patterns, finishes and the quality of products that manufacturers now offer.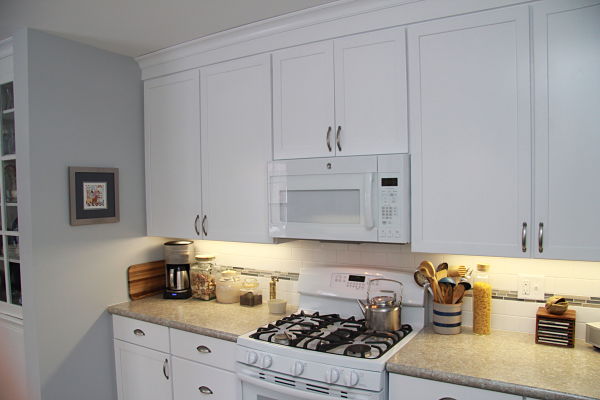 Wilsonart "Sedona Spirit" laminate countertops with a crescent edge that resemble granite were used for the project. Laminate has been improved over the last decade in both style and durability. It was a good choice for this remodel.
High Definition Laminates
Two of the industry leaders that are changing the look, style and texture of laminate counter surfaces are Wilsonart and Formica. These products are a great alternative if you have a tight budget for your kitchen or bathroom remodeling project. Both companies offer high definition laminate countertop products that simulate the look of granite, marble, soapstone and popular solid surface countertops. Glossy surfaces of high definition laminates provide the look of polished granite and honed surfaces have a texture that replicates stone.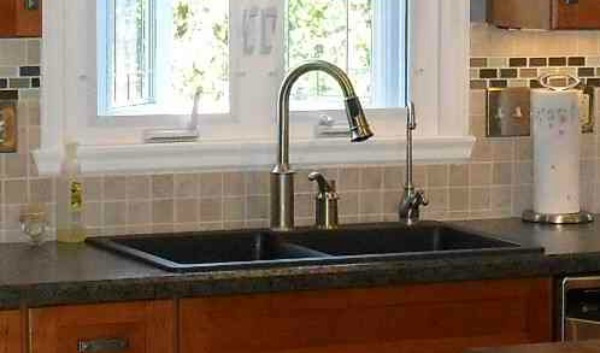 A dark brown cast iron drop-in sink blends with the laminate counter surface of this kitchen and becomes an architectural element.
Wilsonart
Wilsonart offers 41 granite-look patterns in its high definition "HD" line in addition to 101 patterns in its "Premium" line and 184 patterns in its "Standard" line. One of Wilsonart's latest innovations is SOLICOR™, a specialty laminate with a solid color core that offers an alternative to the traditional laminates with troublesome "brown lines." It is available in black, white and Calacutta marble.
Formica
Formica continues to add exciting new patterns to its line. Formica's 180fx Laminates include 28 patterns that replicate the look of quartz, marble and petrified wood. The product comes in four finishes. Formica has also engaged renowned home product designer Jonathon Adler to create a new line of patterned laminates that can be installed on counters and cabinetry.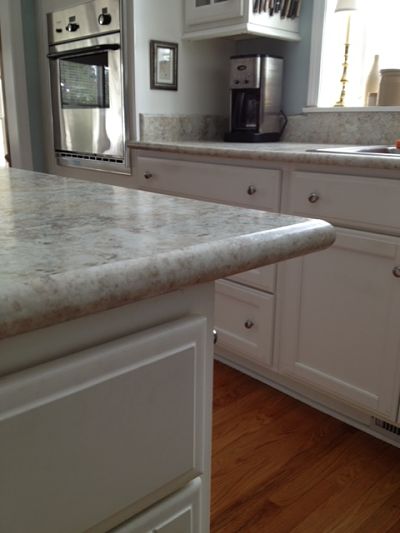 The laminate product used for the counters in this kitchen is "Creama Mascarello," with a "Radiance" finish and a crescent edge from Formica.
Edge Options
Edge options for laminate countertop products have changed and now eliminate the "lines" of traditional laminate countertops. As manufacturers have developed the product over the years, consumers have more design options when it comes to edging. A square edge is the simplest and least expensive. Laminates can be fabricated in a shop or factory to include a post-form cover or to create a 4-inch backsplash. Bullnose and ogee edges can also be created in a shop. Wood or metal edges are additional options that can be applied to laminate to create a custom look.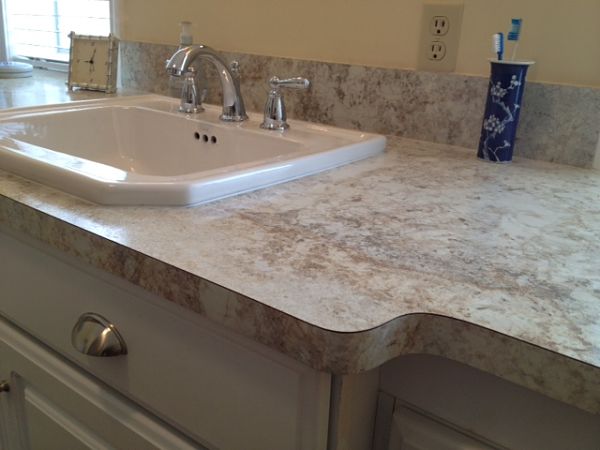 Formica's "Creama Mascarello" counter surface was installed on this vanity in a half bath. Traditional square laminate edging was used. Note the brown lines.
Wilsonart offers beveled edges and crescent edging that simulate stone edging and eliminate lines. Formica also offers two edge options – rounded bullnose edging and curved ogee edging.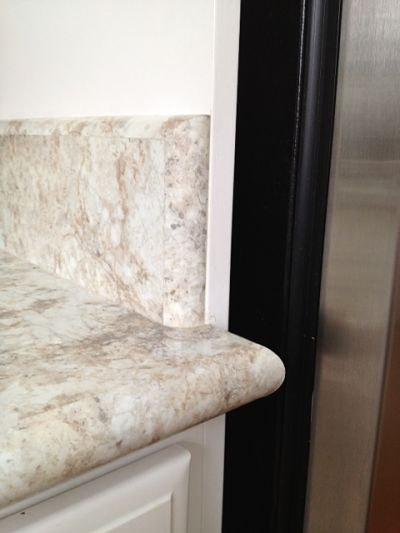 Here is a close-up photo of Formica "Creama Mascarello" installed in a kitchen as a counter surface with a bullnose edge and 4-inch backsplash.
Care Information
Laminate counter surfacing continues to gain popularity with homeowners because it is versatile, easy to care for and is much less costly than stone, quartz or solid surface counters. While laminates are stain and water resistant, easy to install and easy to clean, there is one disadvantage, the top layer is not scratch resistant and the surface will not withstand high heat and should be protected. Never place a hot object or cut directly on the surface of a laminate counter. Do not use abrasive pads such as Scotch-Brite because they will scratch the surface. Formica recommends using a clean cloth and a mild liquid detergent or household cleaner to clean the surface. Rinse off the cleaner with water, then wipe the counter dry with a clean cloth.