Remodeling a kitchen or bathroom requires a homeowner to make many decisions about products to be used in their project. Our customers will ask for our advice and opinions about construction products that are new to the market or how to save money on their projects. Countertop surfacing is often a big cost item for a kitchen or a bathroom and homeowners have a wide range of options. One of the latest advances in product offerings is laminate surfacing.
Laminate Basics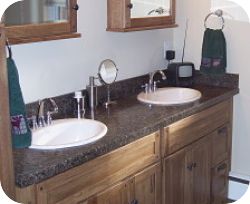 Laminates are gaining new popularity. Laminate is versatile, easy to care for and is much less costly than stone, quartz or solid surface counters. Laminates are being talked about by kitchen designers and home magazine writers because of the colors, finishes and the quality of products that manufacturers now offer consumers. Two manufacturers to check out are Wilsonart and Formica. These products are a great alternative if you have a tight budget for your project.
High definition laminates mimic the look of granite and popular solid service countertops. Edgings have changed and laminate can be installed with integrated sinks. Glossy surfaces provide the look of polished granite but that's just the beginning. High definition laminates can replicate wood finishes and products like quartz, marble, soapstone and solid surface. They can also appear to be polished.
According to Wilsonart, the process for making high definition laminates is as follows:
"Decorative surface papers impregnated with melamine resins are pressed over kraft paper core sheets impregnated with phenolic resin. These sheets are then bonded at pressures greater than 1000 pounds per square inch at temperatures approaching 300oF (149oC). Finished sheets are trimmed, and the backs are sanded to facilitate bonding."

Edging Options
As manufacturers have developed the product over the years, consumers have more design options when it comes to edging. A square edge is the simplest and least expensive. Beveled edges can simulate stone. Laminates can be pre-formed in shop or factory to include a post-form cover to create a 4 inch backsplash. Bullnose and ogee edging can also be created in a shop. A wood edge or metal edge can also be applied to laminate to create a custom look.
While laminates are easy to install and clean and are both stain and water resistant, the top layer is not scratch resistant and the surface will not withstand high heat.
If you've checked out high definition laminates, what are your thoughts about the product?