When we meet with homeowners to discuss a kitchen or bathroom remodeling project we are often asked our opinion about countertop options. Countertops can be a costly item. Two of the most popular are granite and quartz. Here's how they compare:
GRANITE: Granite is natural stone that is mined, polished and cut into slabs.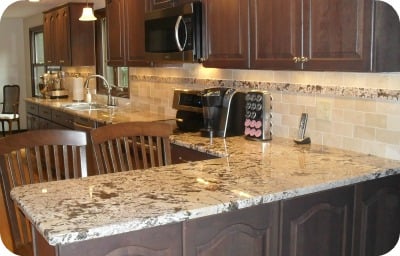 Advantages:
Granite countertops continue to be the product that most people favor in their homes. Its beauty and durability are unsurpassed.

Granite is available in a variety of colors.

It is water resistant.

It is scorch resistant.

It is durable and it is an investment.

Granite is a hard surface for food prep and can be wiped clean easily. For regular cleaning, it can be wiped with a mild soap solution. Once a year, a sealer should be applied to the surface. This takes about 15 minutes.
Disadvantages:
Granite is more expensive than other counter surfaces. Pricing is determined by the thickness and color. The type of edging you choose for your granite countertop and the thickness of the granite will also influence the price.

When installed, there will be visible seams.

Granite is vulnerable to staining. Oils will stain granite if left on the surface for any period of time. Most oil stains can be removed with a paste or poultice that draws the oil out of the surface.

Placing hot pans or dishes directly on granite can cause damage. We recommend using a hot pad or trivet even with granite counters.

If you do damage granite, it is very costly to repair. Because of the uniqueness and variation of each slab, it cannot be patched to match the original surface.
QUARTZ: Quartz is also real stone but is combined with resin and other manmade materials to reinforce its durability and performance.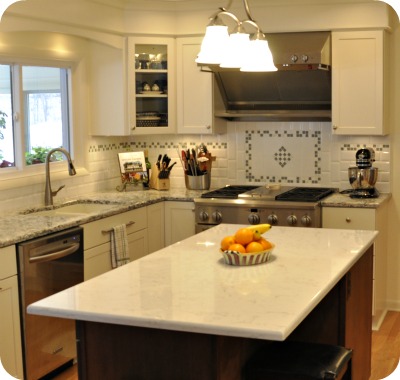 Advantages:
Quartz is one of the most durable counter surfaces available. It is harder than granite, non-porous which helps to reduce bacteria growth on food prep surfaces, and is easy to care for.

Quartz countertops are scratch, scorch and mildew resistant and, depending on the quartz pattern, can have a seamless appearance.

Quartz countertops, unlike granite, do not require sealing.

Silestone and DuPont Zodiac quartz countertop products offer 15-year warranties.

Manufacturers of quartz countertops have significantly changed the look of their products over the past year. One of the most stunning products on the market is the new look of Cambria quartz. Cambria is manufactured in the United States. The new patterns look like granite or marble and come in a range of colors.

Seams are less visible.

Repairs can be done to match, if there ever is a problem.
Disadvantages:
Quartz can cost almost as much as granite and may not provide the return on investment that granite will.

Placing hot pan or dishes on quartz counters can cause damage. We recommend using a hot pad or trivet even with granite counters.

Long term exposure to direct sunlight can discolor quartz.

Seams are still evident although they can be better camouflaged.
So which is better? You be the judge. Granite is sill that most popular for kitchen projects but quartz is rapidly gaining in popularity.