Kitchen backsplash tile is an essential element in the design of any kitchen. Its function is to provide a surface for water and cooking spatters that can be cleaned easily. A tile backsplash is often a focal point in a kitchen that adds aesthetic appeal to the room
Kitchen backsplash tile should complement counters, cabinets, appliances and flooring. When selecting tile it helps to have samples of the counter surface and cabinets on hand to match. It is also helpful to work with a kitchen or tile design professional because the placement of cabinets, the sink and appliances will be important to the design.
In tile design there are two components to consider: field tile and accent tile. Field tile is the predominate tile in the design. Accent tile includes contrast tile used within a field tile pattern and border tile. Both types of accent tile add interest to the design.
Field tile can come in mesh backed sheets to simplify layout or individual tiles that can be set in a variety of patterns. Small tiles, two inches or less, often come in 12-inch square sheets. Common sizes of individual wall tiles used for backsplashes are 4-by-4 inch squares, 6-by-6 inch squares and 3-by-6 inch rectangular tile. For these types of tiles there are five basic wall tile patterns:
1. Grid Pattern
A grid pattern is made up of square tile laid in a line. The tile can be uniform or mixed in color but the pattern is linear. Each tile on a wall is lined up with the next, horizontally and vertically.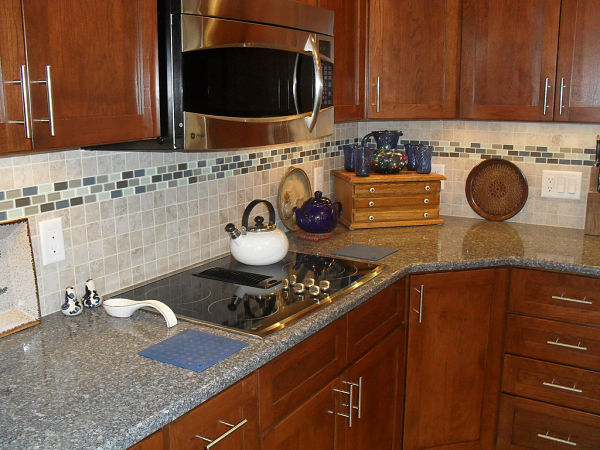 2. Checkerboard Pattern
Two square colored tiles can be used alternately to create a checked pattern. A checkerboard pattern is a variation of a grid.
3. Diamond Pattern
A diamond pattern is created by laying out square tile on a diagonal.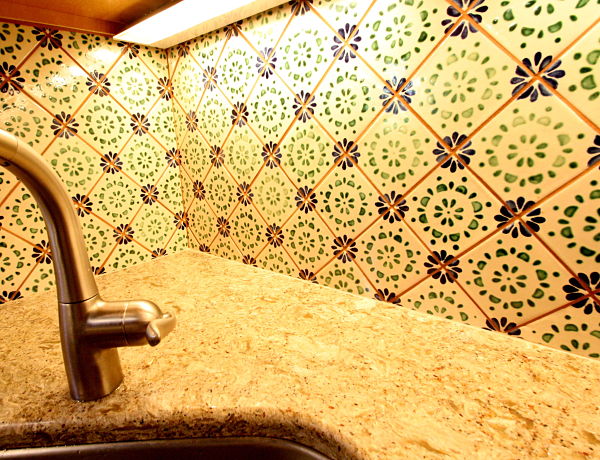 4. Herringbone Pattern
Rectangular tile placed in a v-shape creates a herringbone style design. Wall tile and floor in a herringbone pattern is often sold in mesh-backed 12-by-12 inch sheets ready to set.
5. Brick or Subway Pattern
A brick pattern wall tile was used in the early 1900s to decorate the walls of subway stations in New York and came to be known as "subway tile". Subway tile is a 3-by-6 inch rectangular tile that is commonly used for kitchen backsplashes because the typical height of a backsplash under cabinets is 18 inches. A subway pattern is an off-set layout of the tile.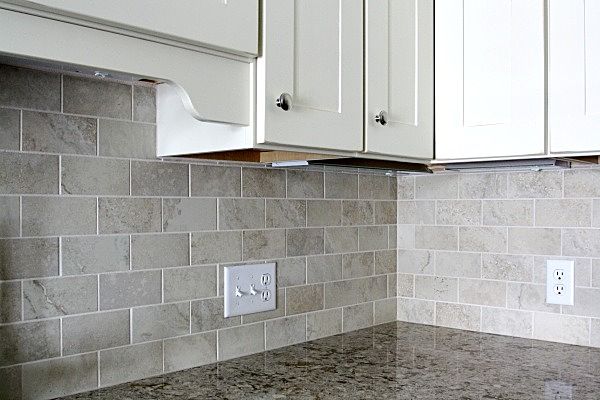 Tile patterns can also be laid in combination to create a stunning effect in a kitchen.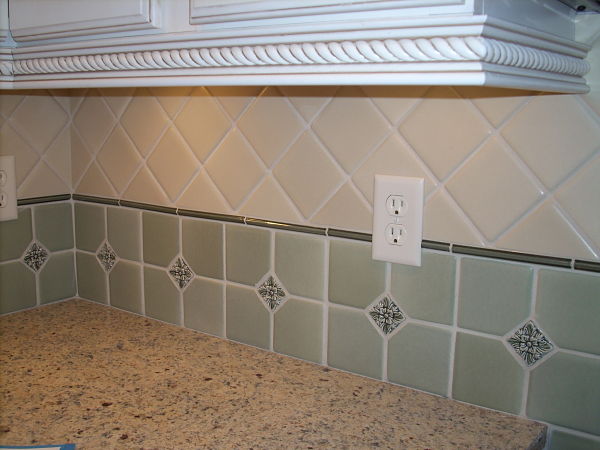 One of today's most popular trends in backsplash tile design is the use of glass mosaic tile either as a border or as a field tile. Glass mosaic tile glistens in a kitchen. It can be colorful or lustrous and is always eye-catching.