Many homeowners want to improve storage when they plan a kitchen remodeling project. Storage should be practical and accessible.
Cabinet selection and placement are important considerations. The right cabinets can make a kitchen more functional kitchen and provide needed storage space.
Here are eight kitchen storage cabinet ideas to help you plan your project:
1. Cupboard Storage
Kitchen cupboards can be made more easily accessible if they are installed at a lowered height. Cupboard doors with glass inserts and cabinet lights make the contents visible.
Carousels can be installed inside cupboards to keep items organized and easy to find.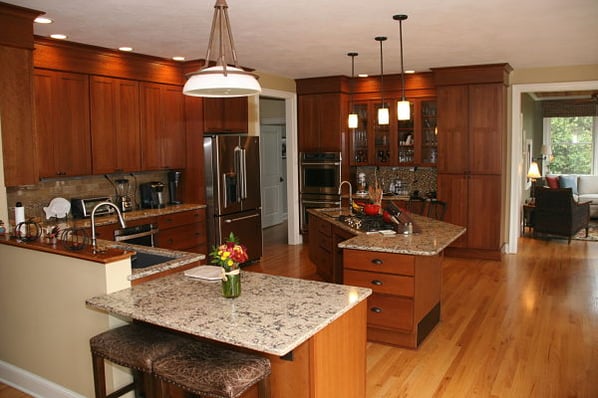 The cabinets in this kitchen are from Bishop Cabinets. Upper cupboards were installed at a lowered height for the homeowners and are trimmed with soffits that fill the space between the cabinets and ceiling. Other features include a beverage area with lit cupboards and glass doors. There is a pantry and large storage drawers on an island and along the perimeter of the kitchen.
2. Pantry Space and Organization
A kitchen pantry is often included in new homes and added or updated in remodels. Sometimes a nearby closet can be converted to a pantry.
Pantry inserts on full-extension slides or swing out shelves can be installed in tall cabinets to make it easy to reach items and keep them sorted.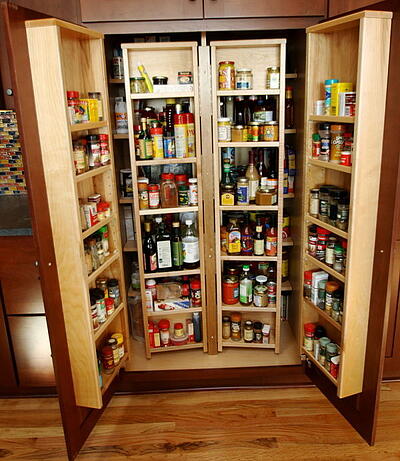 This chef's pantry unit has multiple shelves that open on hinges and is a convenient way to keep items at hand and organized. The doors of a chef's pantry can be matched to cabinetry so that it blends in with the kitchen.
3. Deep Drawers
Storage drawers provide an alternative to base cabinets with shelves. Deep drawers can be equipped with organizers to control clutter. Plates, bakeware, mixing bowls, pots and pans are some of the items you may want to store in large drawers. Drawers with full-extension slides make contents easy to access and visible.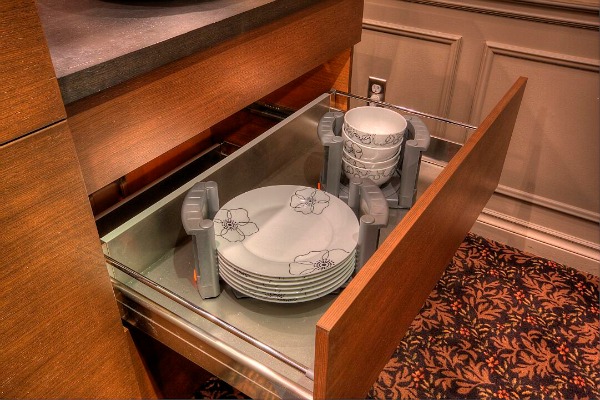 A deep drawer from Elmwood Fine Custom Cabinetry with organizer inserts provides handy storage for plates and bowls.
4. Drawer Inserts
Many cabinet manufacturers offer a range of inserts for drawers. Deep drawers can be equipped with organizers to separate contents. There are also drawer inserts available for storing cutlery, utensils and spices.
Inserts for spice storage were placed inside a drawer near a commercial range for convenience.
5. Pullouts
Pullout organizers are one of the best inventions for kitchen storage. Pullouts are installed with full-extension slides. No longer do you have to reach in the back of a cabinet to locate items.
Pullouts can be installed inside of tall cabinets, base cabinets or upper cupboards. The depth can be as small as ten inches or as deep as 39 inches.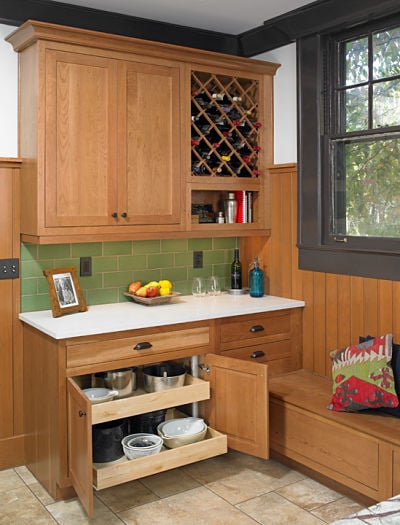 Pullout shelves installed in this base cabinet enable you to view the contents with a glance, locate the item you need in seconds and neatly store it away for future use.
6. Open Shelving
Open shelving can be used for items you want to have at hand, items you want to display, wine storage or for cookbooks.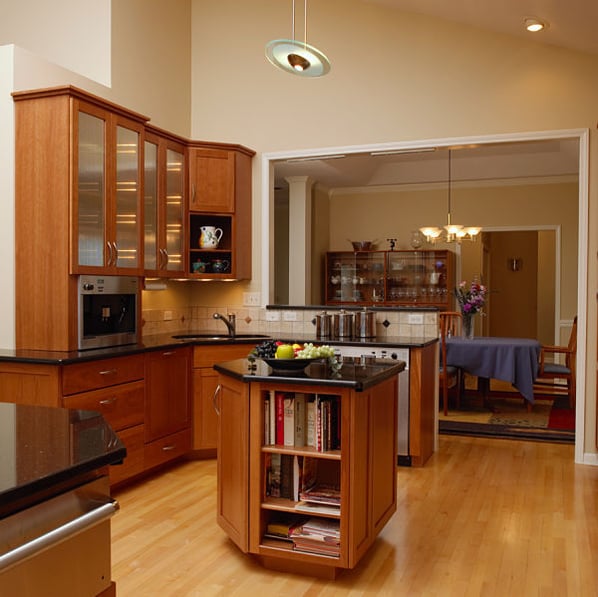 Open shelves create visible and easily accessible storage. In this kitchen there are open shelves for display and on an island for cookbook storage.
7. Island and Peninsula Storage
Designing storage for an island or a peninsula should take into account the way a person will work in a kitchen and the items that will be stored. When determining the configuration of an island and selecting from cabinet options, it's important to consider space clearances for appliance doors, base cabinet doors and drawer extensions.
Some of the storage options for islands and peninsulas include:
Open shelving
Narrow cabinets placed on the end
Wine storage
Overhead hanging storage
Storage drawers for utensils, pots, pans, baking dishes
Base cabinets with pullout shelves or inserts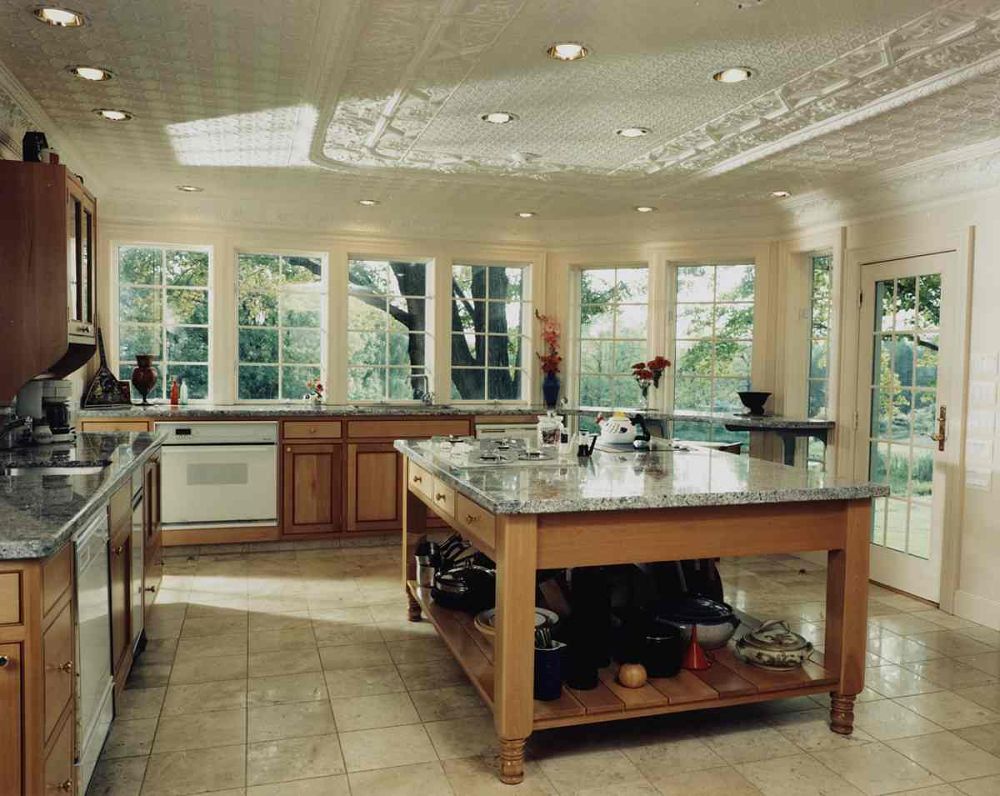 This kitchen was designed for people who enjoy cooking. The large island has two cooktops: a gas cooktop and a glass cooktop. There is open storage space beneath the island for storing cookware and drawers for utensils.
8. Storage for Small Appliances
Small appliances such as coffee makers, toasters, mixers are often stored directly on a countertop. Counters can become cluttered. Having a place to store less frequently used appliances such as mixers and bread makers will free up counter space.
Appliance garages come in many forms and styles. Cabinet inserts also provide solutions for storing appliances.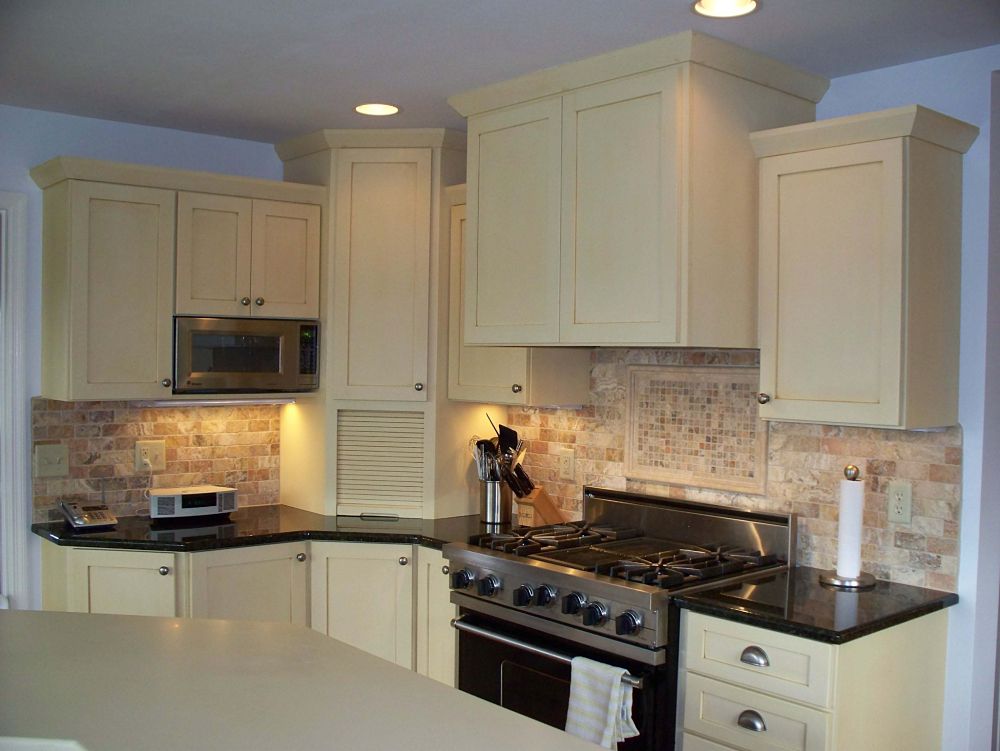 The corner appliance garage in this kitchen matches the cabinetry and provides storage for a mixer in the cooking area and helps to reduce clutter on the counter.
For more kitchen design ideas and remodeling solutions check out the kitchen photo gallery on our website.