Homeowners often tell us they want to add more storage space or improve storage when they plan to update or remodel a kitchen. Here are six kitchen storage design ideas that you may want to consider for your home.
1. Island and Peninsula Storage
Designing storage for an island or a peninsula takes into account the way a person will work in a kitchen and the items that will be stored in these areas. When determining the configuration of an island it's important to consider space clearances for appliance doors, base cabinet doors and drawer extensions. The minimum space allowance for an aisle surrounding an island is 36 inches. Some of the storage options for islands and peninsulas include:
Open shelving
Narrow cabinets placed on the end
Wine storage
Overhead hanging storage
Storage drawers for utensils, pots, pans, baking dishes
Base cabinets with pullout shelves or inserts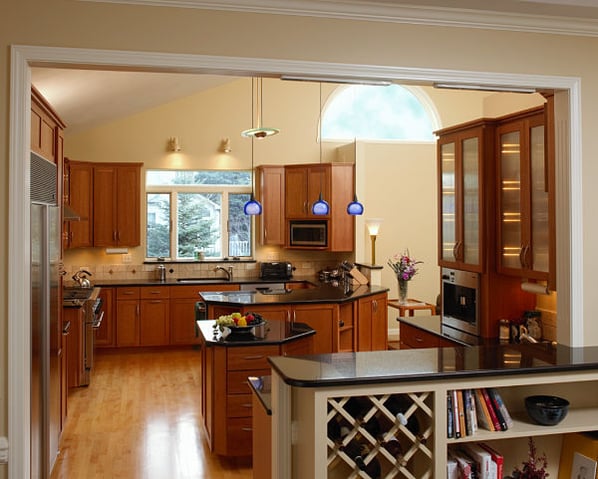 This kitchen with cherry cabinets features two islands and a peninsula with granite counters. Storage was carefully planned and includes base cabinets, drawers, open shelves and an insert for wine storage.
2. Appliance Storage
Small appliances such as coffee makers, toasters, mixers are often stored directly on a countertop. Counters can become cluttered. Having a place to store less frequently used appliances such as mixers and bread makers will free up counter space. Appliance garages come in many forms and styles. Cabinet inserts also provide solutions for storing appliances.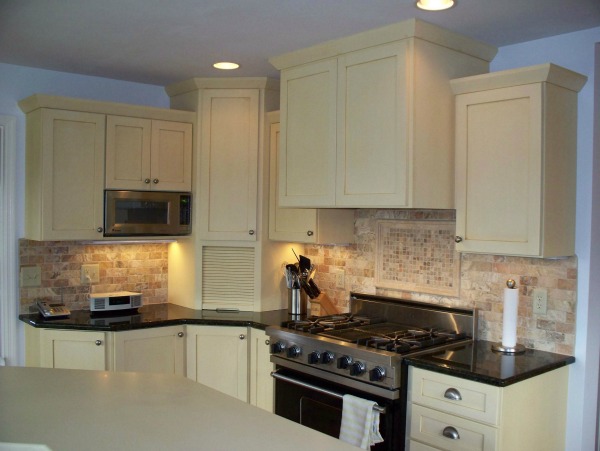 An appliance garage that matches the cabinetry in this kitchen provides storage for a mixer in the cooking area.
3. Visible Storage
Cabinets with glass doors and open shelving are great for storing items you want to display in a kitchen or need to keep at hand. Adding lights to cabinets so that you can easily view contents is a "Universal Design" feature recommended for kitchens. Lights in a pantry also make it easier to locate items and read labels.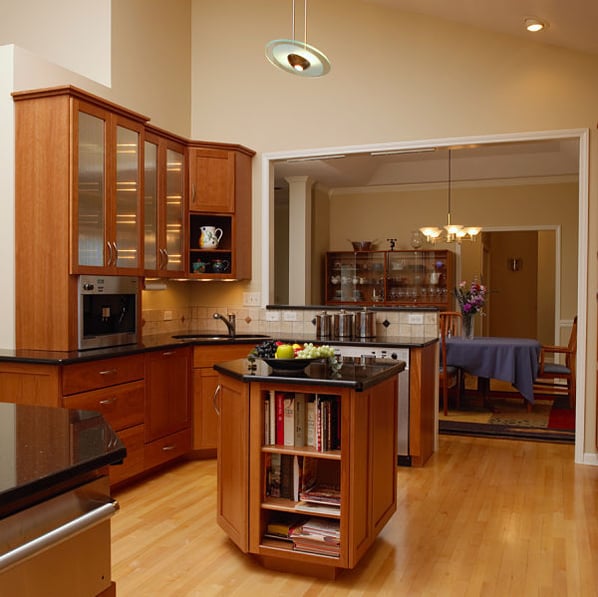 Cabinets with glass doors and open shelves create visible and easily accessible storage. The cabinets are lit to enable a person to readily view contents.
4. Pantry Storage
A kitchen pantry is often included in new homes and added or updated in remodels. Sometimes a nearby closet can be converted to a pantry. Pantry inserts on glides or rollout shelves can be installed in tall cabinets to make it easy to reach items and keep them sorted. If your space is limited, use pullouts and Lazy Susan inserts in base cabinets to store cans, bottles and box food items.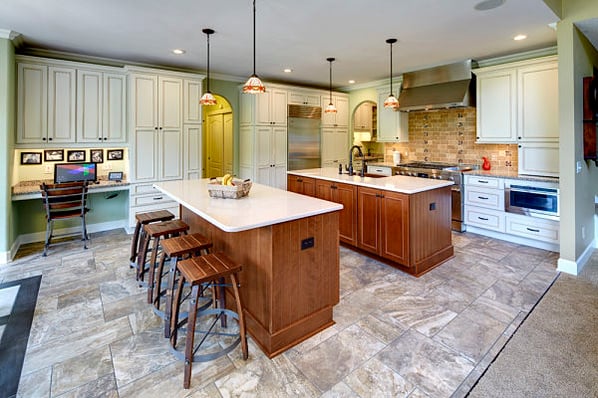 This kitchen was completely remodeled to include more efficient pantry storage. Two tall pantry cabinets were placed on either side of the refrigerator.
5. Built-in Shelving
Custom built-in shelving can be designed and built to optimize kitchen storage. Shelves can be recessed into a wall or built to conform to spaces where standard cabinets and shelving could not be used.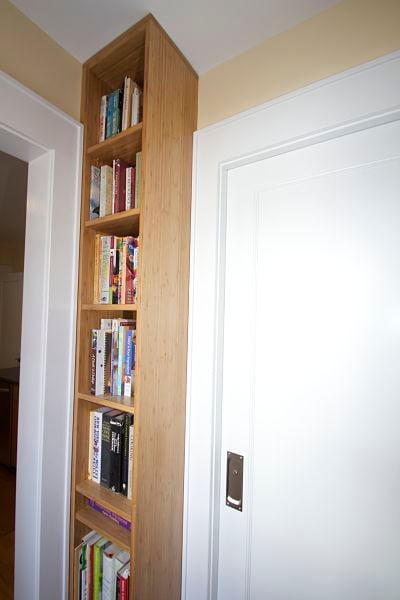 A custom open shelf unit was built for the space between a door and corner to provide storage for cookbooks.
6. Desk Storage
Many homeowners like to have a desk area in the kitchen for a laptop, charging devices, paying bills, sorting mail or as a place where kids can do their homework.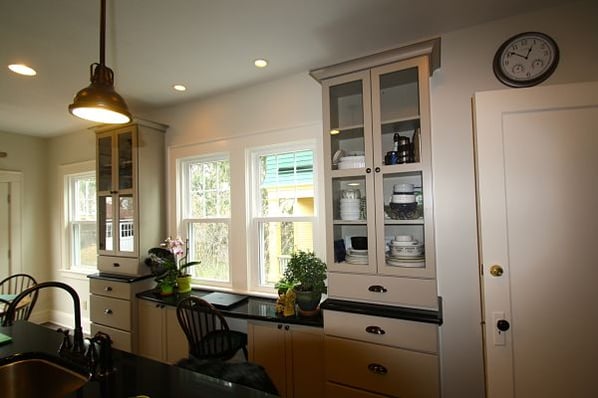 This kitchen counter extends over a kneehole space allowing enough room for a chair and creates an area where the homeowners can work on a laptop computer.