7 min read
Remodeling Your Kitchen: An A-to-Z Wish List Guide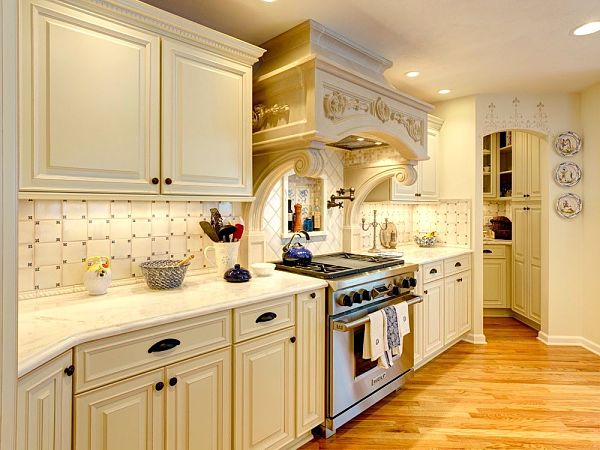 Most people begin a kitchen remodeling project with a "wish list" – everything you NEED and WANT in your dream kitchen. To help start your wish list, we've developed this handy A-to-Z list of features you'll want to consider as you plan and budget for your project:
A. Appliances. Do your homework and research kitchen appliances before you buy. Your choices will impact the design of your kitchen and your budget. Consider the size of the appliance, including height, width, and depth; door swings; placement and installation requirements.
B. Built-ins. Make a list of items you would want built into the design of your kitchen. Appliances are now made in counter-depth sizes that will fit into standard cabinetry. Other types of built-ins to consider are banquettes for breakfast areas and appliance "garages" to house microwave ovens, coffee makers, and mixers.
C. Cabinets and Countertops. Visit showrooms to identify the type of cabinets and countertops you want to use in your project. Note the manufacturer, door style, material, color, and finish for cabinets and type of material, edging, and colors for countertops.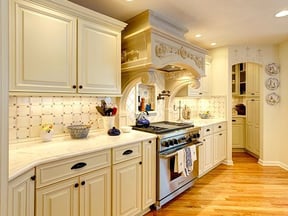 D. Deep Storage Drawers. Large pullout drawers are great for under-the-counter storage. Pots, pans, lids, bowls, dishes, and cookware can fit well into deep drawers. Check out storage drawer sizes, glide options, and accessories that help to keep items organized when you visit kitchen showrooms or browse through catalogs.
E. Electronics. Laptops, tablets, cell phones, flat-screen televisions, audio systems, and security systems have found a home in the kitchen. There are flat-screen televisions made to fit under a cabinet and fold up when not in use. Technology is changing rapidly. Talk with your contractor about installation requirements.
F. Flooring. Kitchen flooring includes wood, ceramic tile, vinyl, laminate, concrete, and carpet. Other materials used are granite, bamboo, and marble. Flooring should not only be attractive but easy to maintain and practical. Be sure to consider thresholds and transitions to other rooms when selecting flooring.
G. Galley or Gathering Space. An efficient galley kitchen is a great asset for a serious cook and space for informal meals and family gatherings is important to households with children and for those who like to entertain. To achieve extra space you may have to extend the kitchen by adding an addition or reconfiguring an underused dining or living room in your plans.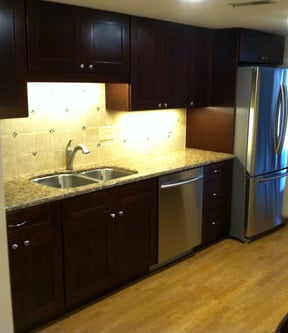 H. Hardware. Select hardware that is attractive, easy to clean, and fits within your budget. If you're planning to live in your home for a long time consider easy-to-use products like cup-shaped pulls on drawers and lever handles on doors where appropriate. "Universal Design" ideas can be implemented in your project to create a space that can be used over the course of a lifetime.
I. Islands and Peninsulas. Islands and peninsulas are the workstations of a kitchen. Generally, they are designed for food prep, informal dining, and storage. They can also be designed to accommodate a sink or appliances such as a cooktop, microwave oven, or beverage refrigerator.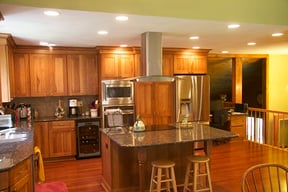 J. Jewels of the Kitchen. "Jewels" of a kitchen are items you add for aesthetics such as pendant lighting, glass cabinets, custom tiles on backsplashes, and areas for display of collections.
K. Kitchen Triangle. The kitchen triangle considers the placement of the stove, refrigerator, and sink/dishwasher area in the design of a kitchen so that a cook can work efficiently. Read our kitchen triangle article for more information.
L. Lighting. Lighting is essential to the function of a kitchen. In your plans, address both natural light and electric illumination. If your kitchen needs more sunlight, consider skylights and sun tunnels. Your plans should also take into account lighting over work and dining areas and under cabinets. Options for electric lighting are fluorescent, halogen, and LED lights. Incandescent lights are being phased out. Popular light fixtures for a kitchen include pendant lights, under cabinet units, and recessed lights.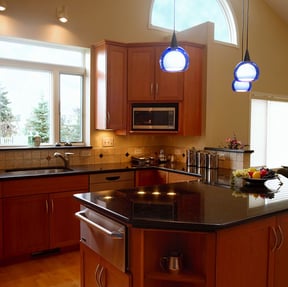 M. Moldings. Moldings add architectural interest to a kitchen but also finish off cabinetry, doors, and flooring. Pay attention to ornamental moldings and molding profiles when you look at photos of kitchens. Crown molding can be used to create an illusion of height in a room by its profile and placement on a ceiling.
N. Nooks. Nooks or alcoves are recessed areas of a room that can be used for dining, storage, or displays. They add interest to a kitchen but also provide functional space.
O. Outlets. Add extra outlets to your wish list. If you don't, you'll wish you had. Consider the height and placement of outlets as well as the number you need to operate small appliances and gadgets in your kitchen.
P. Pantry, Pullout Storage. Cabinets can become cluttered. There is nothing more frustrating than reaching into the back of cabinets to find food, pots and pans, and dishware. Look for drawers and cabinets with pullout shelves that provide easy access to these items.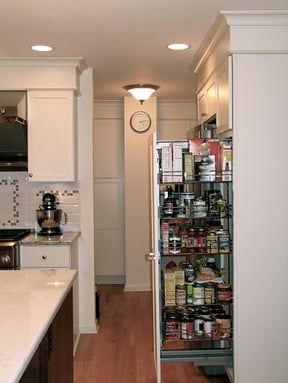 Q. Quick Access. Consider adding carousels (Lazy Susans) to corner cabinets for spice and food storage. Under-cabinet trash receptacles and recycling pullouts should also be included in your plan.
R. Recipes and Cookbooks. Include storage and shelving for your cookbooks. Computerize your recipe files or keep an iPad on hand in the kitchen to research a recipe.
S. Sinks. Sinks are the most important fixture in a kitchen. Choose them wisely. A popular trend is adding a second sink in a kitchen to serve as a bar sink or prep sink. Consider depth, faucet styles, utility, and ease of cleaning. Don't forget to select waste disposal that is compatible with your sewer or septic system. If you have children, choose waste disposal with safety features.
T. Tile. Floor and backsplash tile can add decorative detail and a focal point to a kitchen. If you are using tile on the floor, consider non-skid products. When you're choosing a tile, don't forget to select the grout color as well.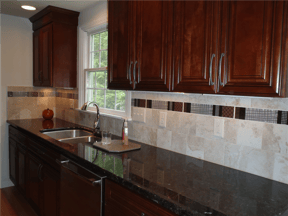 U. Under Counter Appliances and Storage. If you need additional refrigerator space consider installing a beverage refrigerator under a counter. Microwave ovens and drawer dishwashers can also be installed under counters and on islands. A mixer can be stored in a base cabinet with a pop-up shelf to free up counter space.
V. Ventilation. Ventilation hoods come in a range of sizes and styles but should be compatible with your stove or cooktop and fuel source. Some cooktops use downdraft ventilation. Your hood choice should be factored into your kitchen design since it will impact the placement of cabinets and may influence the installation of mechanicals (electrical wiring and venting to the outside).
W. Wet Bars and Wine Storage. A space dedicated to beverage storage and glassware is always a plus in a kitchen.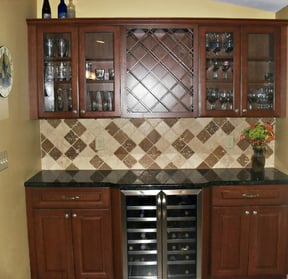 X. Xtra Ideas. A kitchen remodeling project is a big investment. Take the time to read consumer reviews, especially about appliances and products you plan to use in your project. Read what others are saying. Sources you may want to check out are Better Homes and Gardens Kitchen Bath Ideas, HGTV Kitchens, and our Kitchen Remodeling Gallery.
Y. Your Personal Touches. Choose colors, fabrics, wall decorations, kitchen collectibles, and other items that reflect your likes, interests, and lifestyle.
Z. Zones. When you put together the plan for your kitchen think about the way you want to use your space and plan around "zones" for food prep, clean up, dining, storage, baking, beverages, paperwork, etc. The National Kitchen and Bath Association offers an online Kitchen and Bath Workbook to help you plan your project.
Take your time when planning a kitchen remodeling project to address all the details. If the list seems overwhelming, a design/build contractor can help walk you through it and recommend some of the products you will need for your project. To get started, download our free guide "How to Plan a Kitchen Remodel."
Editor's note: This post was originally published on August 10, 2010 and has been updated to provide information about the latest trends and design ideas.