Last week, I wrote about the new types of kitchen countertop products on the market. This week, we'll talk about traditional kitchen countertop products. Granite continues to be the most popular product selected by our customers. Quartz is a close second. New laminate products are also getting a lot of attention.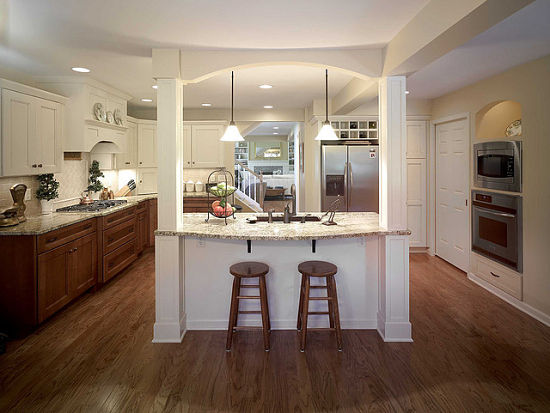 Granite was used for the island and perimeter counters in this transitional-style kitchen.
Granite
Most people favor granite countertops for their kitchens because the beauty and durabilty of granite are unsurpassed. Granite is more expensive than many other counter surfaces but since it will last for years it is an investment. The type of edging you choose for your granite countertop and the thickness of the granite will also influence the price.
Caring Tips: Granite is a hard surface for food prep and can be wiped clean easily. For regular cleaning, it can be wiped with a mild soap solution. Water can cause a temporary stain if left on granite for a period of time but the stain will disappear after the water evaporates. Oils will stain granite, too. Most oil stains can be removed with a paste or poultice that draws the oil out of the surface. Once a year, a sealer should be applied to the surface. This takes about 15 minutes.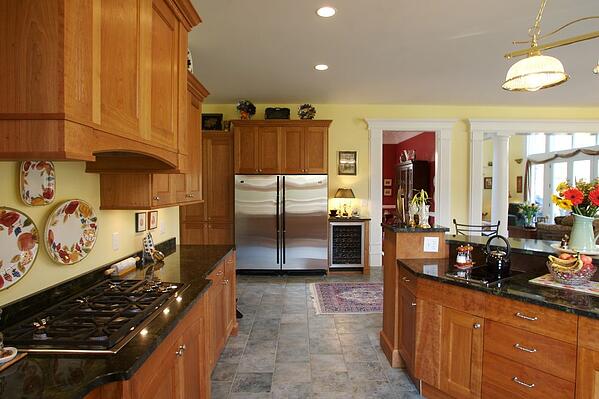 Granite countertops, custom mission-style cherry cabinets, tile flooring and stainless steel appliances give this traditional-style kitchen a warm, rich feel.
Quartz
New designs of quartz counters look so much like granite and marble that you will need to look closely to tell the difference. Cambria is one of the market leaders and has produced designs that are rich in color and veining. Quartz is scratch, heat and mildew resistant and can have a seamless appearance. Silestone and DuPont Zodiac quartz countertop products offer 15-year warranties.
Caring Tips: Unlike granite, quartz does not require sealing and is easy to maintain. Clean with a wet cloth. There are products you can purchase designed for shining stone counters such as Simple Green Stone Polish that restore the luster of granite and quartz.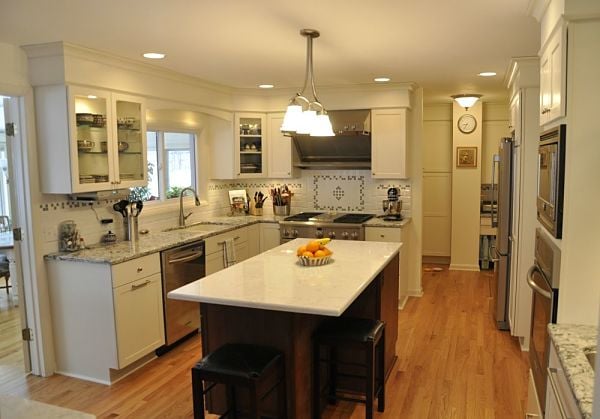 The counters in this transitional-style kitchen are quartz by Cambria. The "Torquay" pattern used on the island resembles marble. The "Praa Sands" pattern used on the perimeter counters resembles granite.
Laminate
Kitchen designers and home magazine writers are talking about laminates because of the range of options and the quality of products that manufacturers now offer. Laminate is versatile, easy to care for and is much less costly than stone, quartz or solid surface counters. Glossy finishes that are available in laminate provide the look of granite. High definition laminates can replicate wood finishes and products such as quartz, marble, soapstone and solid surface. Edgings have changed and now undermount sinks can be installed with laminate. Two manufacturers to check out are Wilsonart and Formica. These products are a great option if you have a tight budget for your project.
Caring Tips: Never place a hot object or cut directly on the surface of a laminate counter. Do not use abrasive pads such as Scotch-Brite because they will scratch the surface. Formica recommends using a clean cloth and a mild liquid detergent or household cleaner to clean the surface. Rinse off with water and wipe the counter dry with a clean cloth.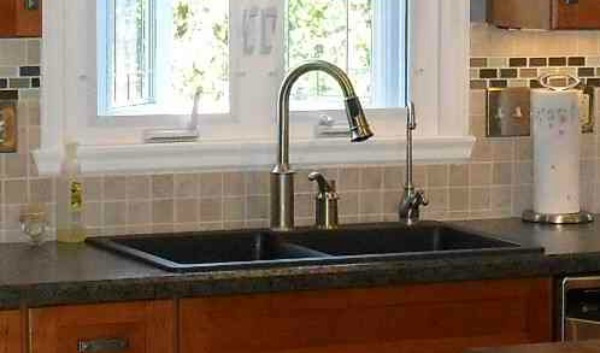 A dark brown cast iron drop-in sink blends with the laminate counter surface of this kitchen and becomes an architectural element.
Soapstone
Some of our customers choose soapstone because they want a distinctive look in their home. Soapstone is a natural stone product that is mined, similar to granite. It has rich veins in the stone and people like the look. Soapstone is not as hard as granite and has been known to scratch. If you're interested in this product, buy a piece of it and bring it home to test it before making a major purchase. Test it with spills and as a cutting board. Spill liquids that can permeate less porous stone on the surface such as wine, vinegar, and citrus juices and try cleaning it.
Caring Tips: Soapstone is cleaned with mineral oil.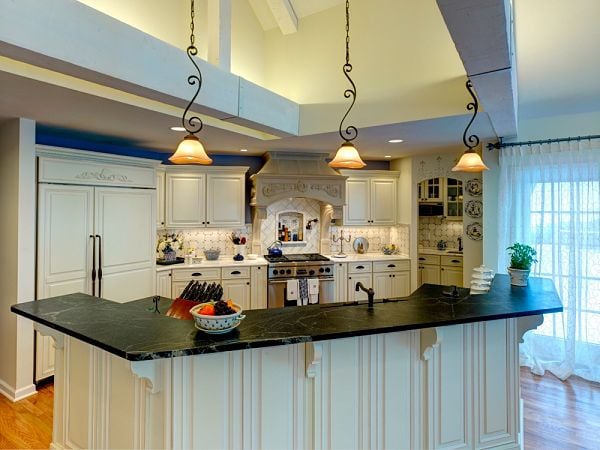 A tiered soapstone counter in a Country French-style kitchen with Danby Marble perimeter counters.
Solid Surface
During the 1980s and 1990s, Corian and Avonite were state-of-the-art products for kitchen counter surfaces. Unlike laminate, these products offer a hard attractive work surface and can be installed seamlessly. Corian is made by DuPont and remains a favorite among homeowners. Avonite was first introduced in 1983 and has been Corian's primary competitor. Both manufacturers have updated colors and textures.
Caring Tips: Solid surface counters are easy to clean and are certified by the National Science Foundation for food contact and sanitation. Because solid surface products are nonporous, stains do not penetrate the surface. With proper cleaning, solid surface counters also resist the growth of mold, mildew and bacteria. Wipe down the surface with a clean damp cloth. Simple Green Stone Polish can also be used on solid surface counters.