5 min read
How to Select the Best Sink for Your Kitchen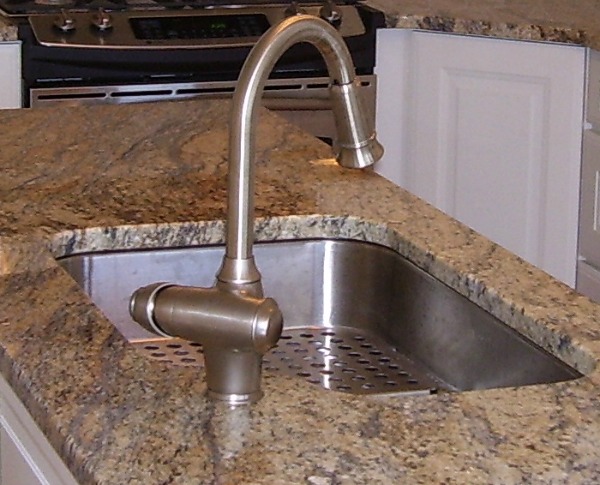 In any kitchen, the sink always receives the most daily use. Therefore, it's important to choose a sink that is right for you. There are a variety of materials used for sinks and various styles. Each has advantages and disadvantages.
When selecting a sink, first consider the size of your kitchen then how you use your kitchen and work in the kitchen. If your kitchen is small, you may be limited to a smaller sink to optimize the workspace.
How often do you use the sink during the course of a day? Do you like to cook or entertain? If so, size, depth and maintenance will be important when deciding on a model. If you do a lot of hand washing of pots, pans and dishes, volume may be a factor in choosing a sink.
Finally one of the most important considerations in selecting a sink is the way you work in your kitchen. Do you work from left to right, or right to left?
When you're determining the best sink for your kitchen, the options to consider are type of material, style, installation and trims. Here is an overview of each option:
1. Five Popular Types of Sink Materials
Stainless steel. Stainless steel sinks are the most popular sinks in homes today. Homeowners like the look and stainless steel is affordable, durable and easy to maintain. Stainless steel sinks come in various gauges (i.e., the thickness of the steel - the lower the gauge, the thicker the sink) ranging from 14 gauge (thicker) to 22 gauge (thinner). Thicker sinks are more resistant to dents and scratches. Disadvantages of stainless steel sinks include tinny noise in thinner gauge sinks (less than 20), water and mineral spots show unless wiped, and they can cause gray scratches on certain types of china or ceramic dishware.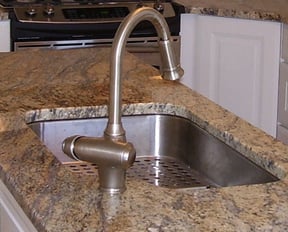 Cast iron sinks with enamel coating. Cast iron sinks are attractive but heavy (e.g., 100+lbs.). Cast iron sinks come in many colors and pricing may vary based on your color choice. Modern enamel is very durable and easy to maintain. A disadvantage of cast iron sinks are that they can be susceptible to chipping if something heavy is dropped and scuffs. Minor chips can be repaired. Metal pots will mark the surface of the sink when washed but scratch marks can be rubbed off with cleanser. Another disadvantage of cast iron sinks is that they are "unforgiving" when a glass or piece of china is dropped. Due to the hard surface, fragile items tend to shatter.
Composite sinks. Composite sinks are made of ground granite or quartz combined with resin. They are strong, durable, chip resistant and come in a range of colors. They also look great with stone counters and can be under-mounted. Composite sinks can be scuffed by metallic pots, pans and utensils. Marks can be cleaned off with cleanser but are more difficult to remove from dark colored sinks.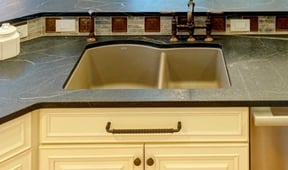 Fireclay sinks. Fireclay sinks are made of shaped clay, fired at a high temperature for hours. They are durable, easy to maintain and hygienic. Styles are often large, i.e. farmhouse style sinks are often fashioned from fireclay. Fireclay sinks can be expensive and require special care for installation.
Acrylic sinks. Acrylic sinks can look like enamel and are affordable. Typically the acrylic is reinforced with fiberglass. The advantage is that they are stain resistant and the surface is renewable. Scratches can be sanded and the surface polished. However, acrylic is not heat resistant and can be damaged by a hot pot.
2. Style/Configuration
Sinks come in many shapes and sizes. Sink bowls can range from 6-to-12 inches deep. Deeper bowls reduce splashes and are better for washing large pots, pans and bake ware. While a sink can be as deep as 12 inches, the right depth for your kitchen should be determined by your height and reach. When you shop for sinks, test display models to get a sense of how the sink may function for you at home.
Single bowl. If space is limited and you often wash pots and pans in the sink, you may want a large, deep single basin sink.
Double bowl. Many people prefer a sink with two bowls, one for washing dishes and the other for rinsing. Each of us has an orientation when working in a kitchen. Some people work from left to right, while others will work in the opposite direction. If you work from left to right consider having a larger bowl on the left as you face the sink and the disposal on the right in the smaller sink where you rinse dishes. Reverse the position of the disposal and sinks if you work the opposite way.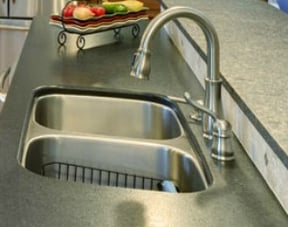 Triple bowl.Triple bowl sinks require a counter space of 40 or more inches to mount. Bowls can vary in size and depth depending on your needs. People who are passionate about cooking like these sinks because one sink can be dedicated to cleaning vegetables.
Farmhouse. Farmhouse sinks have a front apron that replaces part of the counter. They come in single and double bowls and are made many materials: fireclay, composite, cast iron, soapstone, copper and stainless steel. Styling is important. Designers offer many options such as fluted aprons, curved aprons and flat aprons. Most farmhouse sinks come without holes, therefore faucets, sprays and soap dispensers are installed through the counter.
3. Installation
Drop-in sinks. Self-rimming drop-in sinks fit into a hole cut into a counter. They also have holes drilled into the rim for faucets, sprays and dispensers. If you select a top mounted sink, be sure to check the holes because you will need to choose a faucet or accessories that fit. You will find drop-in sinks in stainless steel, acrylic and cast iron. Generally these sinks are less expensive and less costly to install. One of the disadvantages is that dirt can build up in the lip of the sink, so when cleaning pay special attention to the area where the rim meets the counter.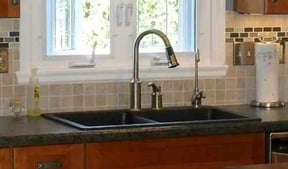 Undermounted sinks. Undermounted sinks are installed under the counter top and hung by the underside of a counter or are supported by the cabinet structure. It is possible to install an undermount cast iron sink but due to the weight, it may require an under cabinet support. Undermounted sinks are easy to clean and don't allow food particles to build up on a counter surface.
Flush mount sinks. Flush mount sinks are drop-in sinks with a narrow edge used with tile counters.
4. Trims
Flanges and stoppers. When selecting a sink also consider your options for flanges and stoppers. Often, these items are purchased separately. A flange is the trim piece that fits around the drain hole. Many flanges are metal and come in stainless, chrome or brass finishes. Flanges also come in colors to complement the sink such as almond, bisque, black and white. Ask about trim options when purchasing your sink.