If you love to cook and entertain in your kitchen, one sink may not be enough. More homeowners are adding a second kitchen sink when they update or remodel a kitchen. Often a second sink is a smaller fixture used as a prep sink or for a beverage bar and it improves the way people work in a kitchen.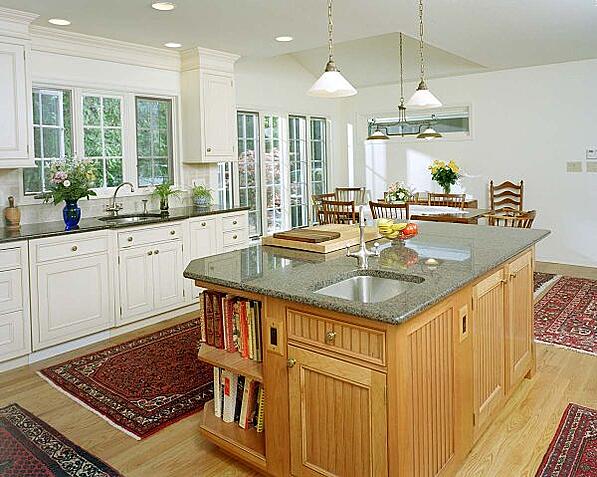 This kitchen features two undermount stainless steel sinks with matching faucets. A smaller prep sink was added to the island for convenience to wash vegetables and thaw foods. Having a sink on the island also simplifies cleanup.
When choosing a prep sink, consider the size of your kitchen, how you work in the kitchen and where it will be placed. Should it be placed on an island or on the perimeter counter of a kitchen?
Many people like having a second sink for prep work near a stove or refrigerator. Another consideration is how large and deep should the sink be.
Prep sinks are available in a variety of shapes and sizes and drop-in and undermount models. There are single and double bowl sinks and a number of materials to choose from.
The most popular types of sinks are stainless steel and composite. For a unique look, you may want to consider a copper sink.
A second sink is quickly becoming the newest essential in kitchen design. Here are some great design ideas from our kitchen remodeling projects where Central New York homeowners added a second sink.
Prep Sinks on Islands
If you have a kitchen with an island, it may be the ideal location for a second sink. Islands are often the primary area for preparing and serving meals. A prep sink is very versatile and provides a convenient source of water for cooking, drinking and cleaning up.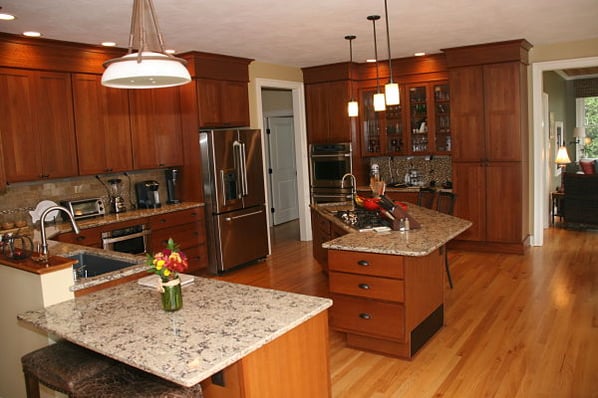 An undermount composite prep sink was strategically placed next to a cooktop. The island allows for seating and has a surface for storing utensils, cutting boards and knives.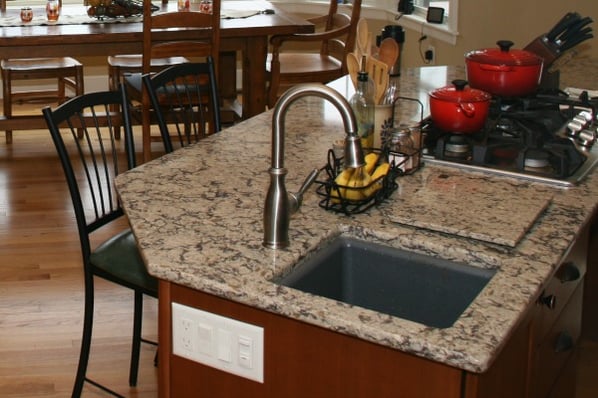 Close-up view of the prep sink featured in the photo above. Both the main sink and island prep sink are undermount composite sinks.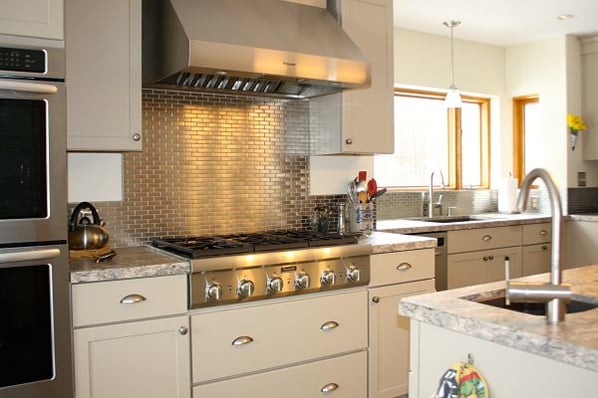 A composite prep sink was placed at the end of a kitchen island across from a cooktop and double oven. The counter surface in this kitchen is high definition laminate that has the look of more expensive granite surfacing. Undermount sinks can now be installed in laminate counters.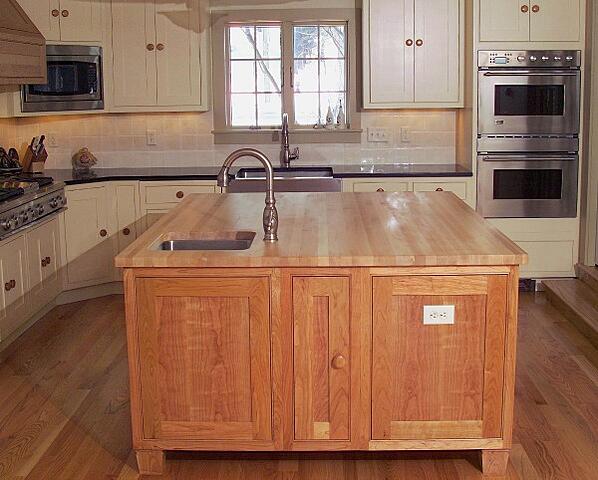 This kitchen addition was designed for people who enjoy cooking. There is a stainless steel undermount prep sink on the large butcher-block countertop island, which is near the commercial cooktop and Sub-zero refrigerator. The farmhouse-style main sink is used for cleanup. The sinks have matching faucets.
Prep Sinks on Counter Perimeters
Prep sinks may also be placed in work areas on counter perimeters near appliances.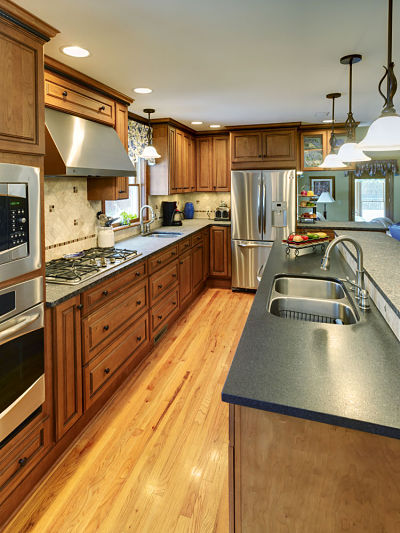 A double bowl stainless steel sink on the island is the main sink for preparing meals and washing dishes afterward. A dishwasher was also installed on the island. The island configuration allows the cook to interact with family members and guests as she/he works. A second sink was placed on the perimeter counter near a cooktop and refrigerator for additional prep space and for filling a coffee maker.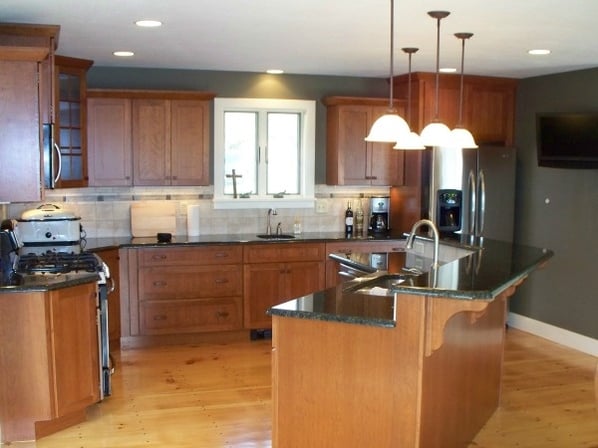 The main sink in this open kitchen was placed on the island, which is also where the dishwasher is located. A bar sink was installed under a window on the perimeter counter. The counter space to the right of the bar sink serves as a beverage center and is next to the refrigerator, which features an in-the-door ice and water dispenser.
Beverage Bar Sinks
More homeowners are adding beverage bar areas to their kitchens and dining areas. Beverage bars are becoming one of the most frequently used work areas of a kitchen and include storage for glassware and a beverage refrigerator. The bar sink is handy for filling coffee and teapots and for opening bottles of wine, beer or canned beverages.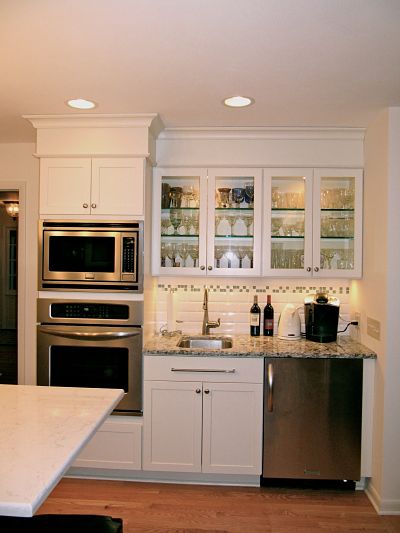 This bar sink is located near an island, wall ovens and a dining area. The glass door cabinets are lit and used to store glassware for wine and spirits. There is an under-cabinet refrigerator for beverages. The stainless steel sink also doubles as a prep sink when more than one cook is at work in the kitchen.