Kitchen islands are often the most important "work station" in modern kitchens. Islands evolved from the standard kitchen table. In homes today, islands serve a variety of functions and add style to a kitchen.
Creating a built-in island requires attention to the details of function and design. The island is usually formed by base cabinets and can be designed to accommodate some combination of cooking appliances, such as a cooktop, oven or microwave, a sink, a dishwasher, a beverage refrigerator or an area for informal dining.
If you are planning to remodel your kitchen and thinking about adding an island there will be many decisions to make. You will want to work with a design/build contractor to assure that the island optimally meets your needs.
In planning an island, follow these general guidelines to create a kitchen island that works:
1. Consider the space of your kitchen.
Islands won't work in all kitchens. Most islands require a minimum of 100 square feet of kitchen floor space. Minimally, a built-in island should be about three feet long and two feet wide. Height can vary depending on the function and can range from 28-to-48 inches.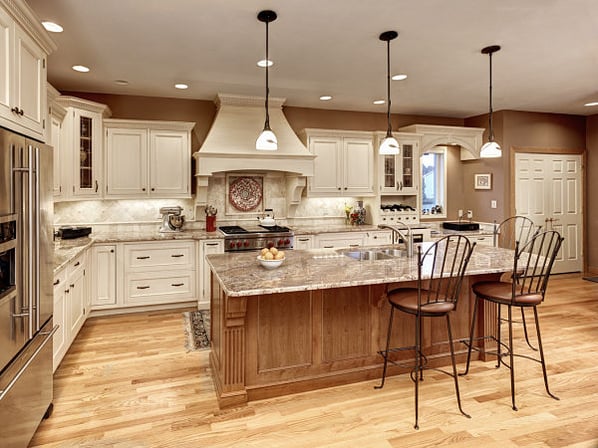 A large central island provides seating for four or five people, storage, a well-lit surface for food prep and a sink and dishwasher for cleanup.
2. Determine how you want to use the island.
Most people use an island for food prep and storage but other uses include dining, cooking, clean up and entertaining. As you plan your project, think about details that will affect how the island will function in your kitchen.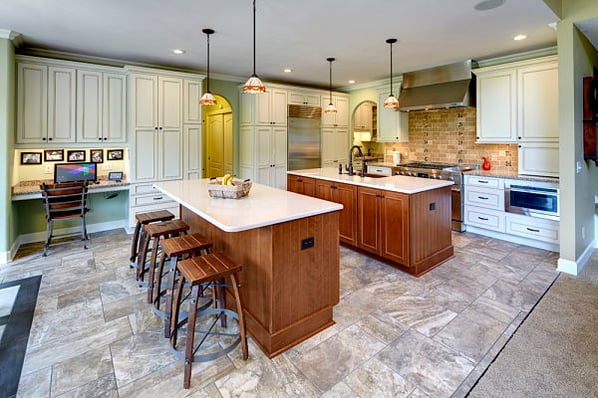 If space allows, more homeowners are adding a second island to their kitchens. This kitchen has an island dedicated to food prep and clean up and a second island that provides a place for informal dining for a busy household.
Here are some tips for planning space for storage, informal dining and cleanup:
Storage
Undercounter storage will be limited on islands that include an oven, dishwasher, sink or cooktop with a downdraft. If your install these items, your best bet for storage is on the ends of the island. You can include open shelving, shallow cabinets or, if the space permits, a lazy Susan.
If you don't have these obstacles, you will have more storage options. Consider using drawers and shelving with full extension glides for easy access to items stored. Also, think about pop-up shelves for storing a mixer or other small appliances and pullouts for items like oils and spices.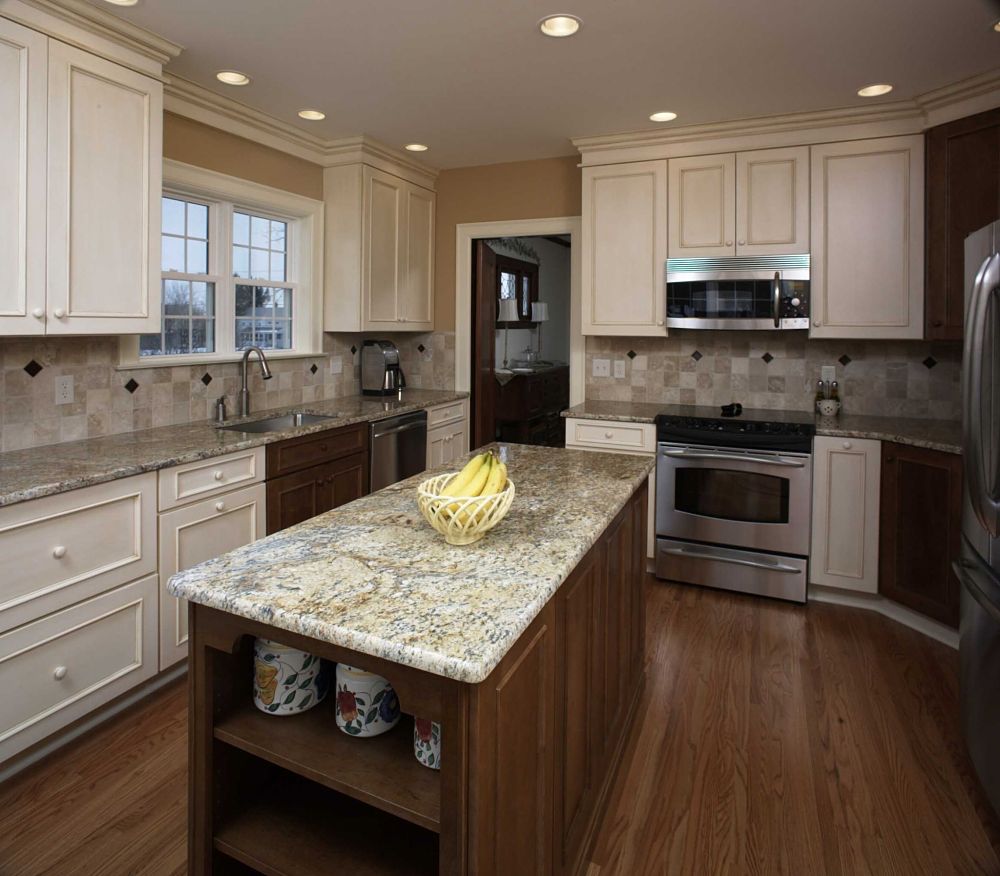 This kitchen island was designed specifically for food prep and storage. Open shelving at the end of the island allows the cook to keep baking staples stored in canisters at hand.
Informal Dining
For informal dining an island should be between 36 inches (counter height) to 42 inches (bar stool height) depending on your chairs or stools. The width allowance to accommodate standard size chairs or stools should be a minimum of 20 inches for each seat.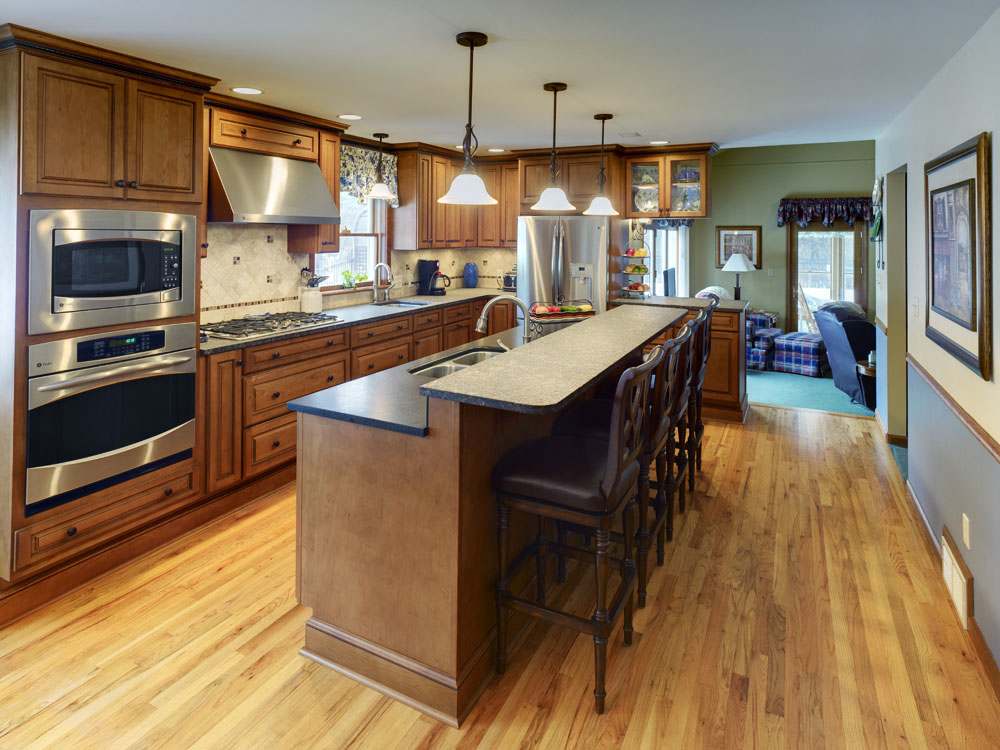 This tiered island was designed with a bar height informal dining area that can seat four. The seating is oriented so that family members and guests can converse with the cook. The island also includes the main sink and a dishwasher for cleanup.
Cleanup
If you are installing a dishwasher on the island, you will need to assure adequate clearance for the door in open position. The island should include a sink or be located near a sink. There should also be easy access to the drawers and cupboards where you store silverware and dishes. On the island, you may want to include storage for soap, scrubbers and towels.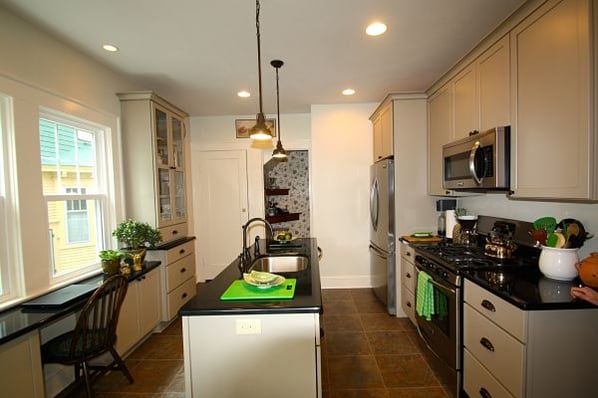 This long narrow island was designed specifically for food prep and cleanup. There is a large central stainless steel dishwasher on the island. It is conveniently placed near a range with a microwave oven/venthood for efficiency.
3. Consult a kitchen design professional.
An experienced kitchen designer can help you to create an island that will fit well into the space of your kitchen and address the needs you specify. Work with your designer to select products that will be used for the island including cabinetry, work surfaces and appliances.
The shape of an island is important to its function and this is where a designer can be of help. While islands are often rectangular, curves and other geometric shapes such as hexagons and trapezoids may help to maximize the surface of the island.
To optimize function, consider "tiers" or multilevel counters. These configurations will also create architectural interest within your kitchen.
A lighting plan will also be important. Lighting over an island can be a focal point but must also be functional and optimize the illumination of the work surface.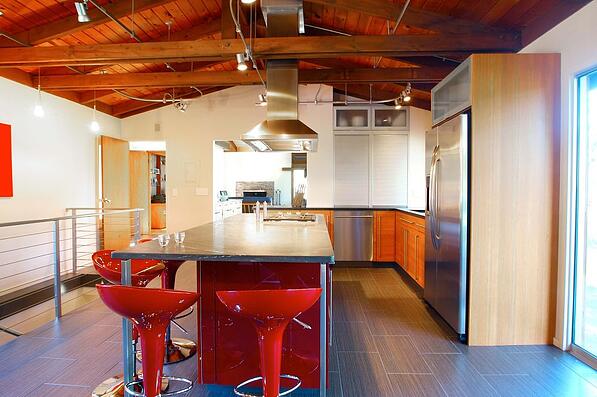 This award winning contemporary kitchen has an island with a dining area that seats four people. The island includes a gas cooktop and stylish stainless steel venthood with lights that illuminate the work areas. Track lighting was also installed to add additional illumination and to coordinate with the contemporary design.