Kitchen islands and peninsulas can be designed to address a number of functions and add style to the room. We'd like to share some photos of recent projects that demonstrate some of the creative ways islands and peninsulas have been used in Central New York homes for preparing meals, storage, dining, entertaining and aesthetics.
1. Islands designed for food prep, entertaining and informal dining
The location and size of a kitchen island are important to its function. For food prep the island should be placed near a stove and refrigerator. For entertaining there should be adequate aisle space to allow people to move about. Seating allowances should be about 24 inches per person for comfort.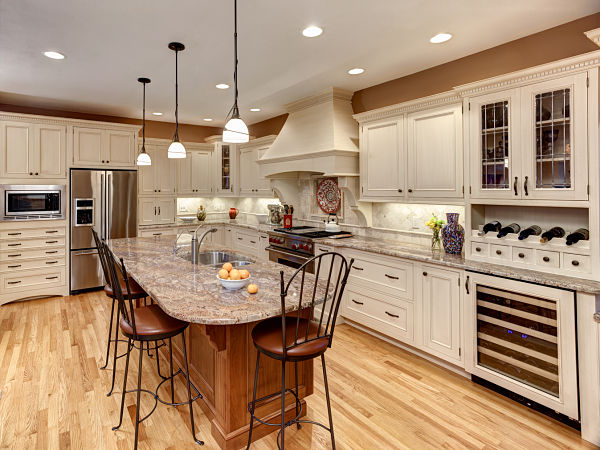 The island in this kitchen was designed to optimize the surface for food preparation. It has a straight edge near the cooking area that provides more counter area. There is a stainless steel dual bowl undermount sink in the center of the island with ample counter space on each side. The counter of the seating area has a curved edge for comfortable seating. The streamlined edge creates a wider aisle for access to the beverage area when the room is used for entertaining.
2. Islands designed for gourmet cooks
People with a passion for cooking often have a long list of "must haves" in planning a kitchen remodel. Prep surfaces are important and they often specify a large island with a granite or marble counter for preparing pastries. If there is more than one chef in the household, prep areas need to have adequate aisle allowances so that two people can work comfortably in the kitchen. They also opt for commercial appliances and need to keep bowls, pots, pans and other kitchen tools at hand.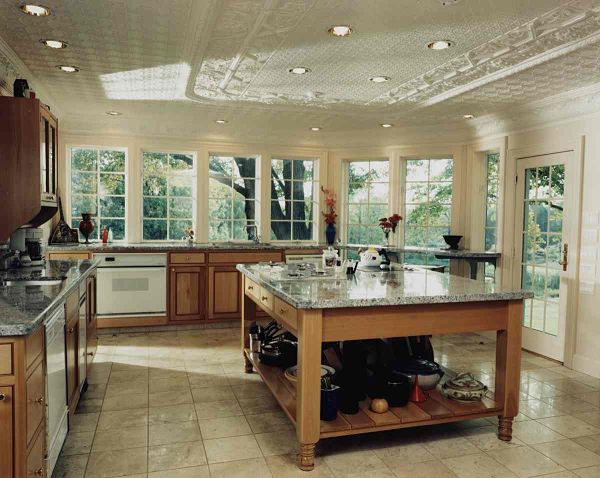 This island in a traditional style kitchen was expressly designed for homeowners who enjoy cooking. It has a large granite counter for food and pastry prep and open storage underneath to provide quick access to bowls, bakeware, pots, pans and utensils. Drawers on the island provide storage for small baking items, knives and other essentials. There are two sinks in the kitchen, including a prep sink placed on a perimeter counter near the island for rinsing vegetables, thawing or cleaning floured hands. There is a wide aisle that enables two people to work efficiently.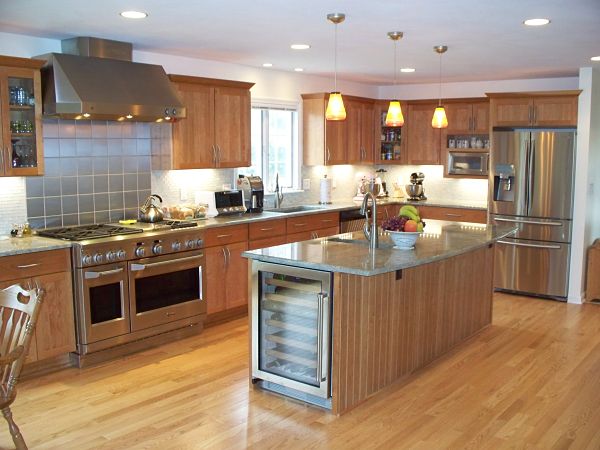 The island in this transitional kitchen was designed for people who enjoy cooking and entertaining. It can also be used for informal dining or overflow seating. There is an overhanging granite counter that creates a large surface for food prep. A curved edge allows for comfortable seating of up to four people. A prep sink with a gooseneck faucet was added to the work area. There are two electrical outlets to accommodate small appliances. Three glass downlight pendants add interest to the room and efficiently illuminate the work area. A wine refrigerator was added to the end of the island that faces the dining area for easy access at dinner time.
3. Islands designed for the kitchen's space
Kitchens come in many shapes and sizes. The minimum size of a functional island is 2-by-4 feet. Two 24-inch base cabinets could be used. Islands with sinks and appliances should be about seven feet in length. Aisle clearance is also an important consideration and there should at least 32 inches between the edge of an island and a perimeter counter or wall. Custom design is one of the best ways to assure that an island works well in a kitchen with angles and a surface that fit the space.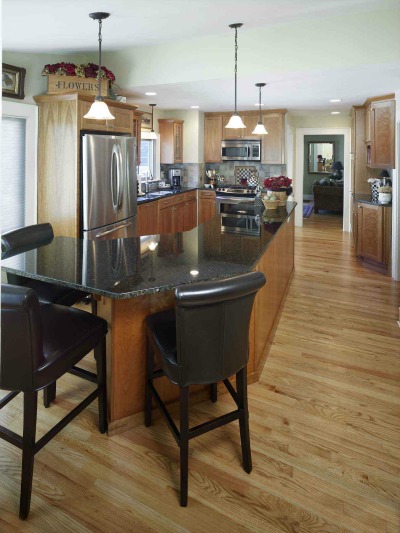 A long island was designed to provide both a work area and seating for this long narrow kitchen. Angles were used to optimize the counter space to allow seating for three.
4. Multipurpose islands
Cabinet and counter configurations can be used to create functional areas on an island for work, storage and dining. Varied heights of cabinets and tiered counters segregate spaces.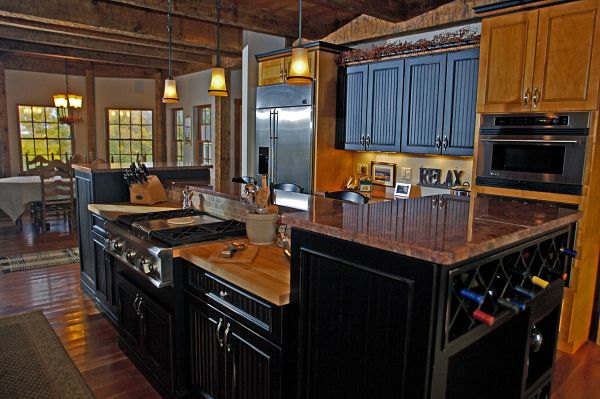 There are a number of functional areas within the configuration of this island: a cooktop and food prep area, a bar with wine storage, a seating area and a service area for the adjacent dining room.
5. Islands as architectural elements
Many home remodeling projects involve creating an open floor plan. Removing walls can create better uses of space and improve traffic patterns within a home, but sometimes there is a need to break up the space for both aesthetics and function. Removing a load bearing wall can be tricky, and may require an alternate means of support such as a post or beam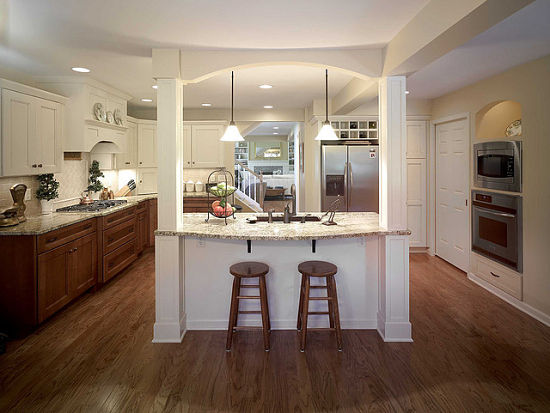 The posts and framing of the island of this large expanded kitchen become an aesthetic architectural element in the room and tie in a support beam.
6. Island and peninsula combinations
As more homeowners opt for open concept kitchens, linking the space to an adjoining room is important to address in a design. When a wall is removed, it is often adjacent to a dining room or family room. Even though an island is the central work or dining area, a peninsula can be added to provide extra storage and a physical separation between the spaces.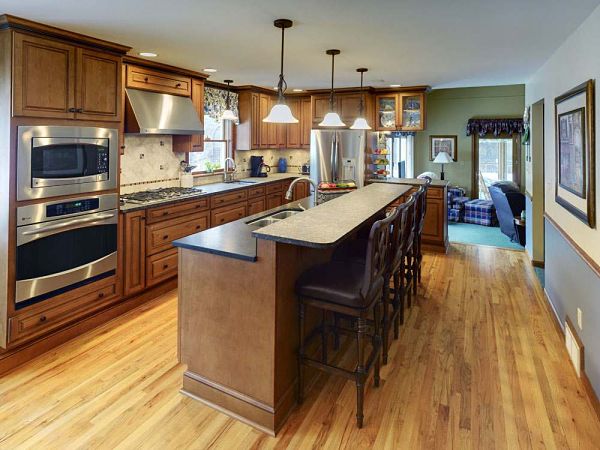 The owners of this home with a galley kitchen decided to open up the space and add a long narrow tiered island. The trade off was that they removed wall cabinets used of storage. A peninsula was added to provide additional storage and an overhead cabinet with glass doors provides storage for glassware. The peninsula counter can be used to serve food in both the kitchen and adjacent family room.
7. Custom designed peninsulas
Peninsulas are especially efficient in small kitchens and are being designed to optimize space for food prep and dining. Angles are often added to the shape of a peninsula to expand counter space and create appropriate clearances.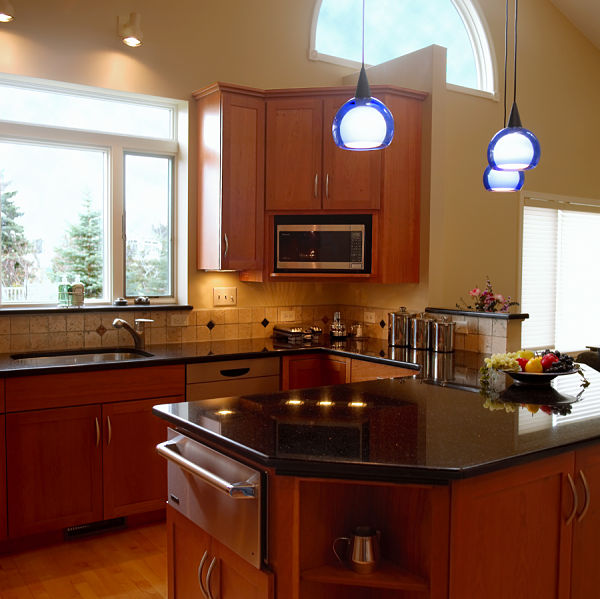 Note the long narrow counter of the work area of this kitchen and how the design of the peninsula expands the food prep space. It provides a space for a refrigerator drawer and open shelving. The depth of the peninsula creates deep storage space below and an area for serving food when entertaining guests.