Functional kitchens are created by cabinets. The depth and placement of drawers and cupboards determines what can be stored. Cabinet accessories help to improve organization and access in drawers and cupboards. Today, cabinet makers offer a wide range of accessories that are specifically designed to fit to their cabinets. We offer two lines of cabinetry as an option for our customers: semi-custom cabinets made by Bishop Cabinets, and custom cabinets made by Elmwood Fine Custom Cabinetry. Both manufacturers offer an extensive line of kitchen cabinet accessories.
Here are some the most popular cabinet accessories from their lines that make a kitchen more efficient and functional.
1. Pullout Trash and Recycling Bins
A cabinet accessory most homeowners ask for is a pullout for trash and recycling bins. There is nothing more unsightly than a trash can in a kitchen. If you've shopped for them, you have probably found that choices are limited and you will have a trash liner hanging over the edge of the can in full sight. Pullout trash bins are often installed near a sink and dishwasher where the depth can accommodate one or two receptacles. There is a front panel matched to cabinets. Pullout bins help to control kitchen odors.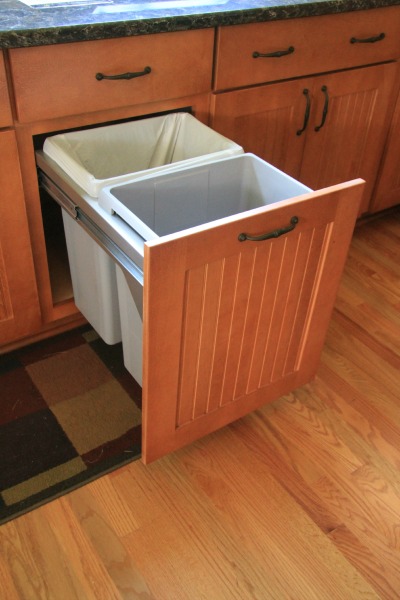 Double waste bin cabinet.
2. Drawer Dividers
There are a number of uses for drawer dividers, the most common are for cutlery or spices. In deeper drawers, dividers can be used to organize pots, pans and lids.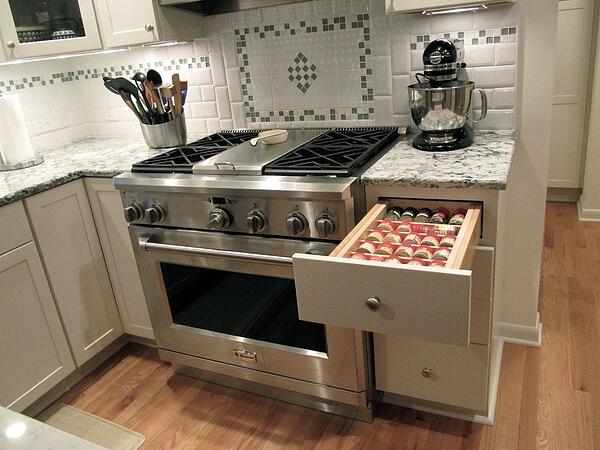 Drawer divider for storing spices.
3. Lazy-susans and Carousels
Before lazy-susans were invented corner cabinets were difficult to access and often became wasted space. Corner carousels help to keep contents organized and at hand. Many kitchens have a carousel in a base cabinet but they're also great in upper cupboards to store small items such as spices, oils and vinegars.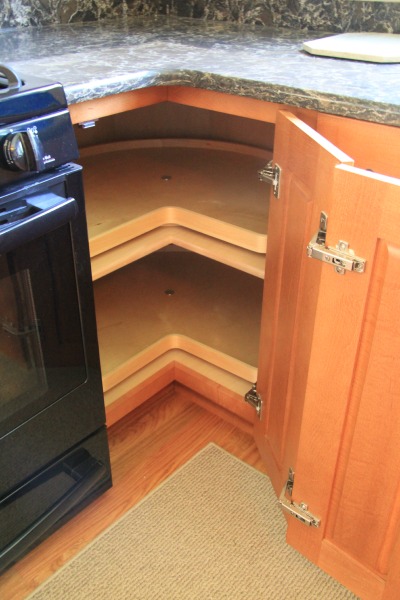 Base cabinet with carousel.
4. Pullout Shelves
Pullout shelves can be installed in almost any cabinet and help to make the full depth of the cabinet easily accessible and visible. Many of these shelves have an edge to keep contents in place.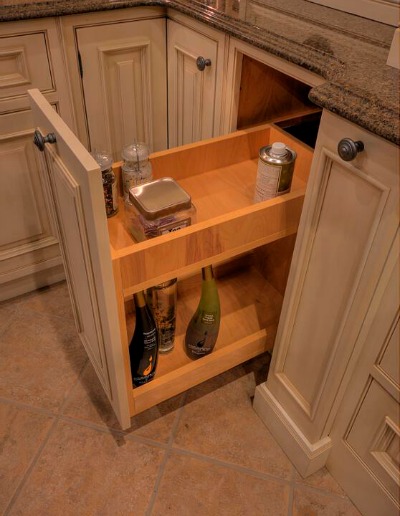 Base cabinet with pullout spice rack shelf from Elmwood Fine Custom Cabinetry.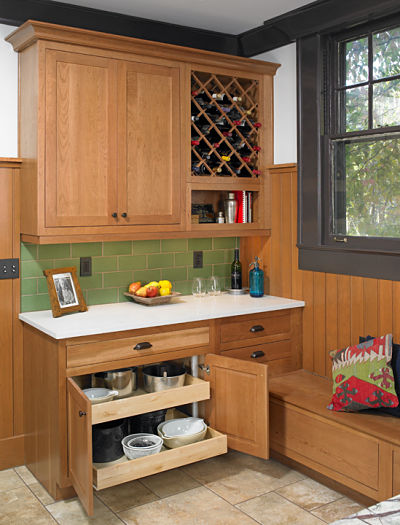 Base cabinet pullout shelves from Bishop Cabinets.
5. Pullout Pantry Units and Space Fillers
A pantry closet with shelves can easily become disorganized. Often we store canned, bottled and box food products in pantries so it's important to be able to easily access contents and check supplies and product expiration dates. Pullout units enable you to see everything that is stored and quickly find items you need.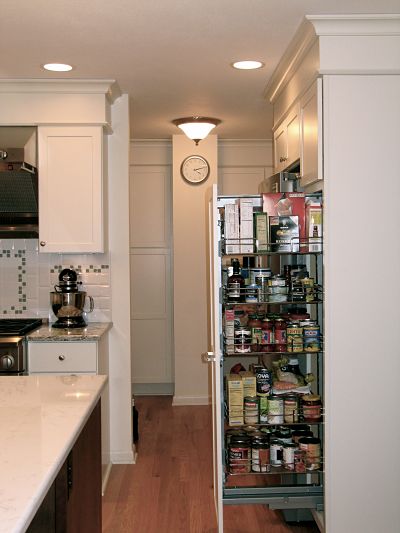 Tall cabinet with Rev-a-Shelf pullout pantry insert.
6. Flip-down Storage
Often the cabinet below a sink is fitted with a panel that resembles a drawer with no utility. This is an area where it's helpful to have a place for pot scrubbers, bar soap and sponges to keep them at hand. A panel can be fitted with a hinge and an insert that will accommodate these items.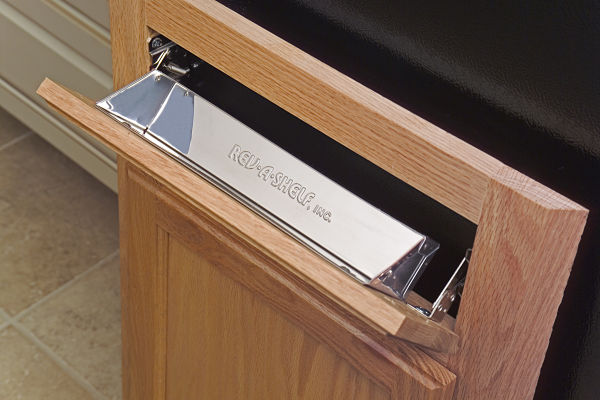 Flip-down cabinet drawer with a Rev-a-Shelf insert from Bishop Cabinets.
7. Wine Racks
Homeowners who enjoy entertaining often ask for wine storage racks in their kitchens. Racks can store as few as 12 bottles or dozens depending on your interest and storage needs.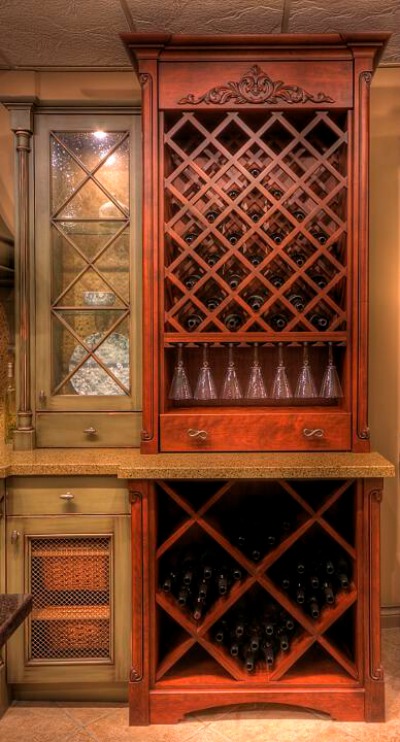 Wine rack cabinet from Elmwood Fine Custom Cabinetry.
8. Cabinet Dividers
Some of the most difficult items to store and have easy access to in a kitchen are baking sheets and cutting boards. Cabinets can be fitted with vertical dividers to keep these items visible and from becoming damaged or bent.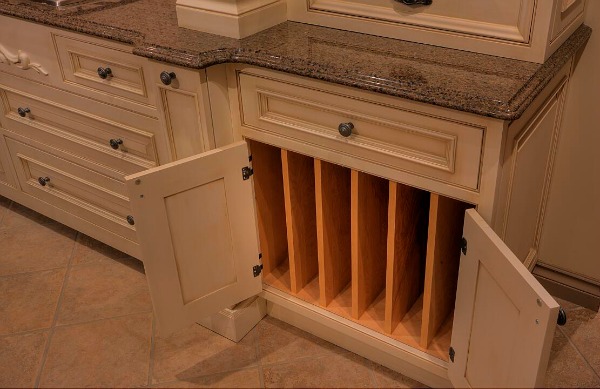 Base cabinet with tray dividers from Elmwood Fine Custom Cabinetry.
9. Storage Drawer Plate Organizers
More homeowners are finding that deep drawers are ideal for storing plates and bowls that they once stored in cupboards over the counter. When plates are in drawers it is important to keep them from sliding together and chipping. Dish organizers made for drawers are sized for plates and bowls and keep them intact.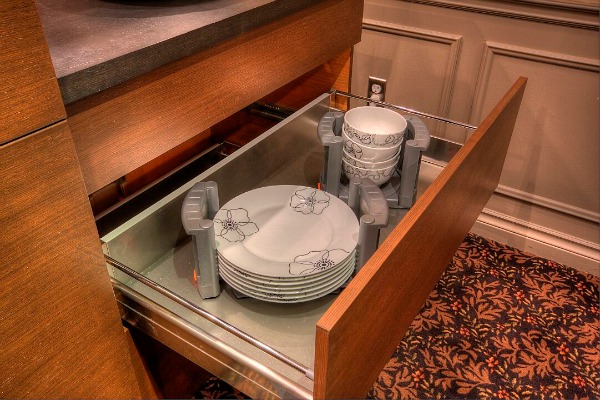 Cabinet drawer with plate organizers from Elmwood Fine Custom Cabinetry.
Photos 4, 8, 9 and 10 are courtesy of Elmwood Fine Custom Cabinetry.
Photos 5 and 7 are courtesy of Bishop Cabinets.