Basements can be transformed into lower level living spaces to meet your specific needs and add value to your home. The owners of this LaFayette, NY home wanted their basement remodel to provide more space for entertaining, cooking, exercising and an office. They added a gathering space for family to enjoy that includes a kitchenette, living room, full bath and exercise area. They chose transitional décor for the space featuring Shaker-style cabinets for the kitchenette and bath, quartz counters, upscale vinyl flooring and Mission-style furniture.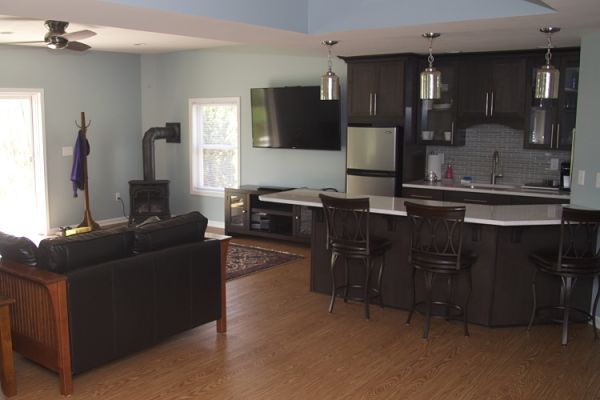 A coffered ceiling hides wires and plumbing in this lower level living space. Upscale vinyl flooring looks like wood and is easy to maintain. The kitchenette includes a bar area for food prep, serving and informal dining. A big screen TV is mounted on the wall for optimal viewing from the seating area. A corner gas fueled stove provides supplemental heat to the room and helps to lower humidity.
Homeowners' Objectives
Creating a living space to entertain guests was the primary objective of the project. The walkout basement was unfinished and had been used primarily for storage. The homeowners wanted to create a functional lower level living space that would be an extension of the main floor of the home. Their specifications included:
1. A lower level bathroom. The homeowners wanted to add a full bath so that guests would not have to go upstairs and for their own convenience.
2. An operational kitchen with appliances, an area for informal dining and a bar. A second kitchen would be great for holiday entertaining. They wanted to equip the kitchen with serving ware, cold storage for drinks and a microwave to warm up food.
3. A seating area set up for TV viewing. The basement had ample space to provide a seating area for guests. There was a front wall that could be used to mount a television screen.
4. Office and exercise areas. The office was a priority. The space would be out of the mainstream of the home and equipped with a door that could be closed to quiet noise or when the room is not being used. The homeowners prefer to exercise at home and wanted a separate space for working out.
5. Efficient mechanicals. There was one heating and cooling unit for the home. The temperature in the basement was never comfortable. Lighting and plumbing would also need to be added.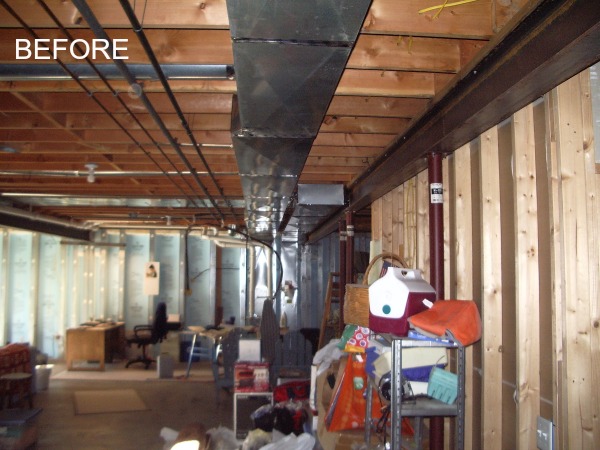 The large unfinished basement in this newer home had a lot of potential. It served as a temporary office for the homeowners.
McClurg's Solutions
1. Add a Full Bath With a Walk-in Shower
Basements often have nooks and crannies that are perfect for creating closets and rooms. An alcove in this home provided ample space for full bath with a walk-in shower. A prefabricated acrylic shower unit was used. A toilet and vanity with a sink were installed.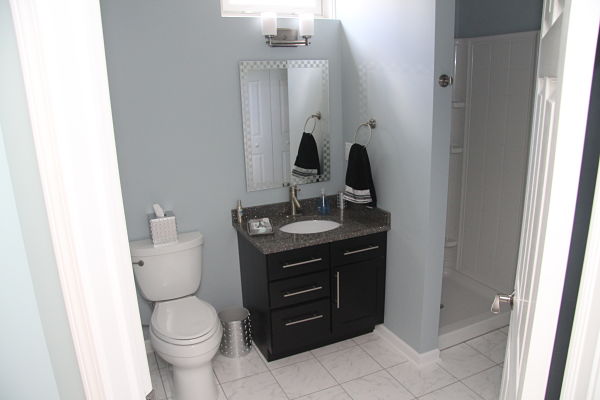 A window brings natural light into this basement bathroom and can be opened to provide ventilation. Flooring is slip-resistant tile. The Shaker-style vanity has a quartz surface and undermount sink. The mirror and uplight sconces add interest to the room.
2. Add a Kitchenette With Bar Seating
Lower level kitchens are one of the most popular trends in basement remodeling projects. Shaker-style cabinets from Bishop cabinets were used for this kitchen and finished with crown molding. The design plan included building a microwave oven into the wall, framing the refrigerator and adding both task and general lighting. The large peninsula provides seating for up to six people and is illuminated by three pendant lights. The quartz counter is "Torquay" from Cambria. The stainless steel bar sink is equipped with a gooseneck faucet.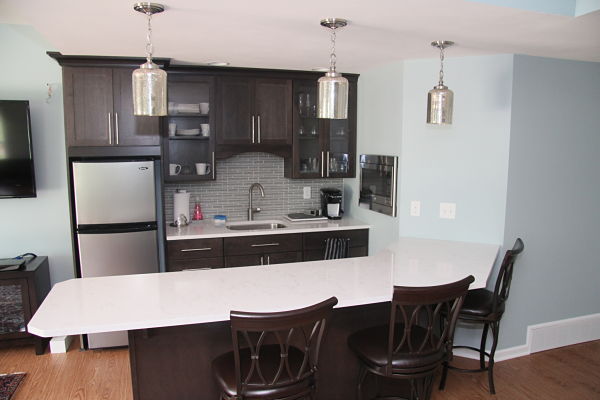 A stylish transitional kitchenette features dark stained cabinets, quartz counters and a mosaic glass tile backsplash. Upper cabinets with glass doors make contents easy to view. The brushed nickel cabinet hardware is sleek and functional. Drawer pulls double as towel bars.
3. Optimize Seating Space
The seating area is optimized with an open floor plan design. The homeowners love the look of wood but wood flooring would not be practical in a basement that has a concrete floor and is susceptible to damage from humidity. We recommended upscale vinyl flooring, which replicates the look of wood floors and is more durable and easier to care for in a lower level. Doors that lead to the outside and a window located within the seating area provide natural light during the day. A gas stove was installed in the corner of the room to add warmth and reduce humidity. A ceiling fan circulates the air in the winter and helps to cool the area in the summer.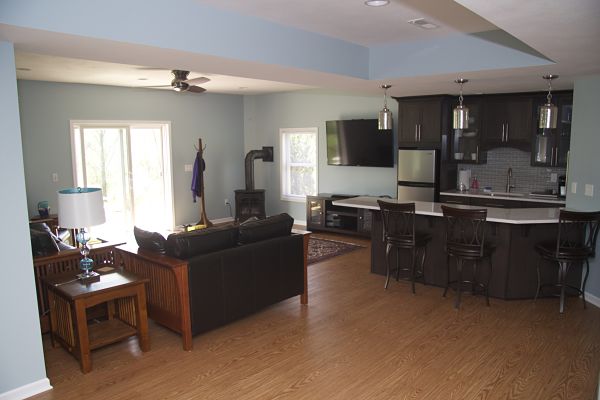 This lower level with an open floor plan features upscale vinyl flooring, a wall-mounted flat screen television, an entertainment center that matches the cabinetry of the kitchenette, a gas-burning stove and Mission-style furnishings.
4. Add Office and Exercise Rooms
While the lower level was designed for entertaining, the office and exercise rooms are two private spaces closed off by doors.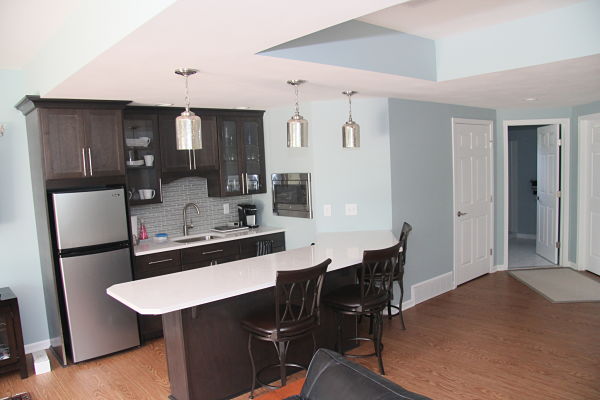 Two rooms, an office and an exercise room, were built off the open area. Doors can be closed to hide contents. A full bath between the two rooms can be used by guests or the residents of the home for a quick shower after exercising.
5. Design and Install Mechanicals to Address Problem Areas
Mechanicals (lighting, heating, ventilation, plumbing, drainage and electrical wiring) are important in all remodeling projects. Mechanicals must be up to code and work efficiently. In this project, a gas-fueled stove was added to provide supplemental heat and an ejector pump was installed to manage drainage from the new bathroom and kitchen because the main plumbing stack was located above the basement floor.