If you are planning a basement remodeling project have you considered adding a second kitchen, kitchenette or a beverage bar? Lower level conversions often provide areas for recreation and entertaining and can also be designed to add more space for preparing meals and snacks.
Lower level kitchens are one of today's most popular trends in basement remodeling projects. Many people find that there is never enough storage space in a kitchen, especially if you like to entertain.
A basement kitchen can provide the space you need for all of those dishes, glassware, pots, pans and serving bowls and platters that you don't use every day but are essential for feeding a crowd.
To help you get started on planning your project here are several kitchen design ideas for basements and lower level living areas from remodeling projects we've designed and built for Central New York homeowners.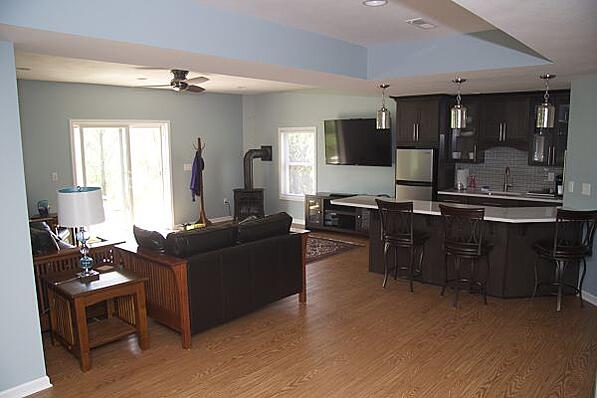 This lower level living space with an open floor plan features a custom kitchen with a peninsula that provides an area for informal dining, upscale vinyl flooring, a wall-mounted flat screen television, an entertainment center, a gas-burning stove and Mission-style furnishings.
Full Kitchens
If you plan on using a lower level living space frequently for television viewing or entertaining, a full kitchen can be a major asset especially during the holidays and summer months.
A kitchen is a place where people often gather and plans should address storage, appliances, fixtures and seating. It's important to consider including options such as a refrigerator, microwave oven and/or stove, a sink, dishwasher and sufficient counter space for small appliances like a blender, coffeemaker, crockpot and mixer.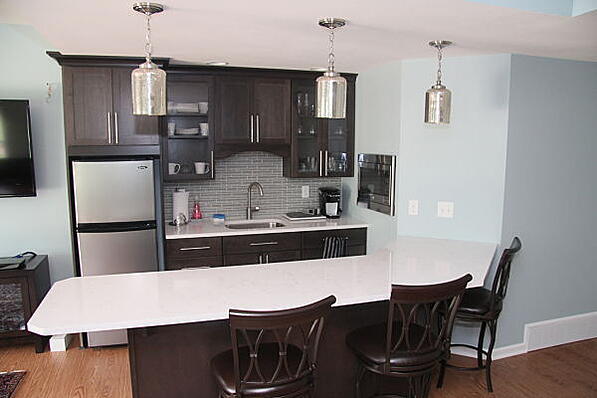 The design plan for this lower level kitchen included building a microwave oven into the wall, framing the refrigerator and adding both task and general lighting. The kitchen features dark stained cabinets with crown molding, quartz counters, mosaic glass tile backsplash and a built-in microwave. The large peninsula provides seating for up to six people and is illuminated by three pendant lights.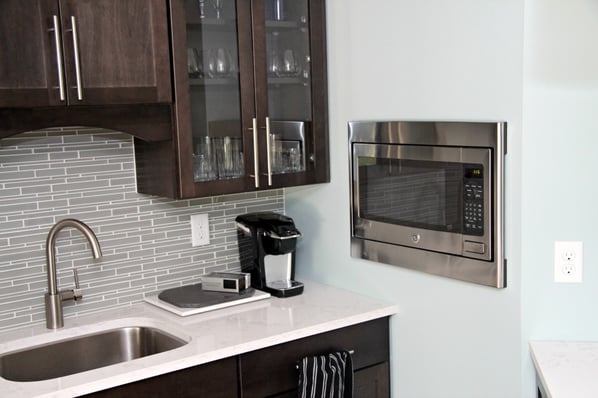 Shaker-style cabinets from Bishop Cabinets were used for this basement kitchen. Upper cabinets with glass doors make the contents easy to view. The quartz counter is "Torquay" from Cambria. The stainless steel bar sink is equipped with a gooseneck faucet. The brushed nickel cabinet hardware is sleek and functional. Drawer pulls double as towel bars. A stainless steel GE microwave oven is built into the wall.
Kitchenettes
A kitchenette is a small kitchen configuration that is equipped with appliances and fixtures you may need for limited food prep and storage.
In many lower levels a kitchenette may include a refrigerator, microwave oven and cabinets. If space allows, there also may be a small sink included.
Some homeowners find that they can recycle kitchen appliances when they update their primary kitchen by moving them to a basement and creating a kitchenette. It's helpful to have a second refrigerator and stove in a home especially during the holidays and for special occasions.

This kitchenette provides a space for preparing snacks and informal meals. Natural finish oak cabinets from Bishop Cabinets were used. The Cambria quartz countertop and backsplash are easy to clean. An undercabinet light illuminates the sink.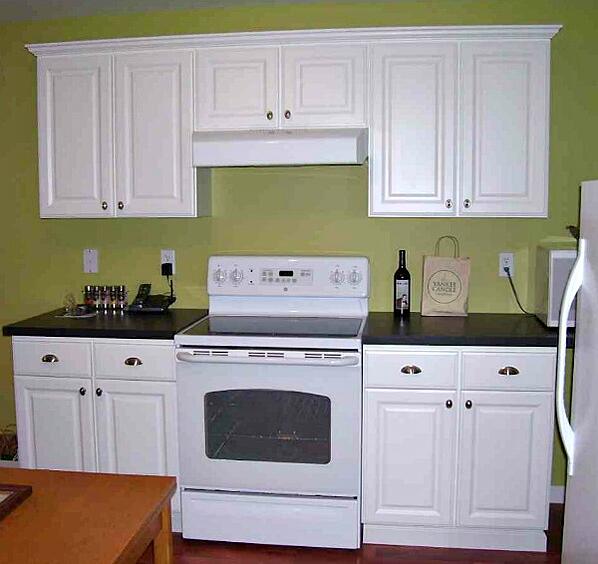 A range, microwave oven and refrigerator were installed in this basement kitchenette. White cabinets provide storage and there is counter space and a table for food prep. There are also outlets for small appliances and a cordless phone.
Wet and Dry Bars
A wet bar is a counter equipped with a sink often used for preparing drinks and with outlets for small appliances such as a microwave oven or an under counter refrigerator.
A dry bar is a counter without a sink. These are handy spaces in a basement and also should include electrical outlets for countertop appliances.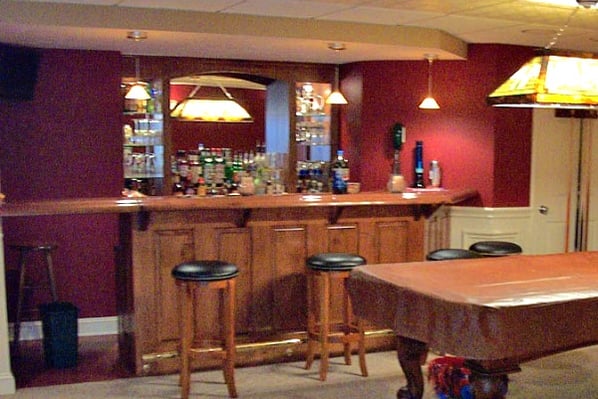 This custom-built lower level wet bar features seating for four or more, pendant lighting, shelves for glasses and spirits, and a foot rail. The mirror behind the bar helps to reflect light into the room.