5 min read
Make the Most of Your Finished Basement with These 4 Design Ideas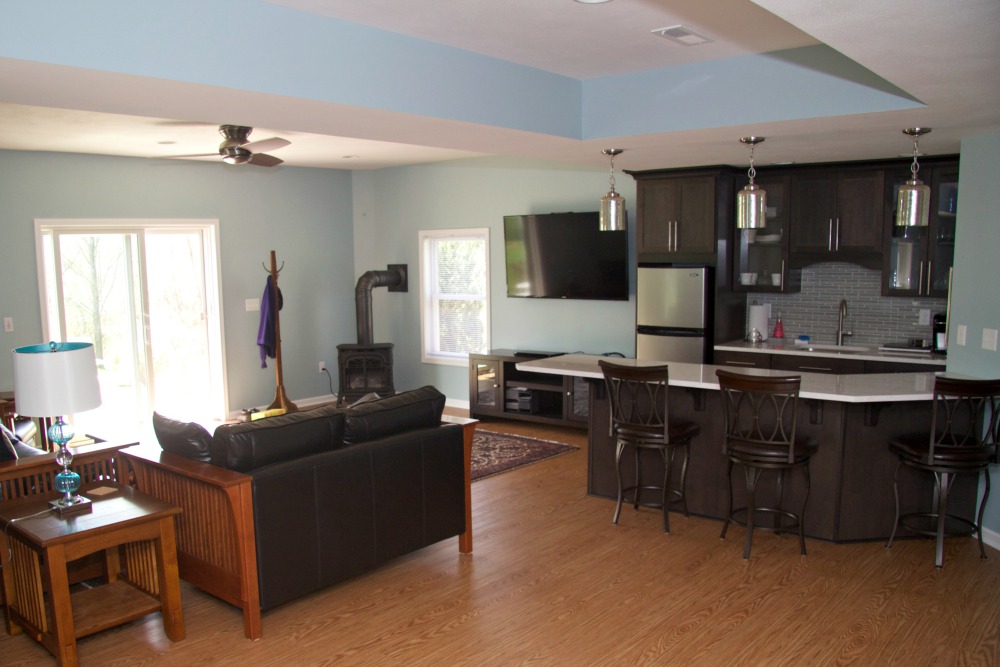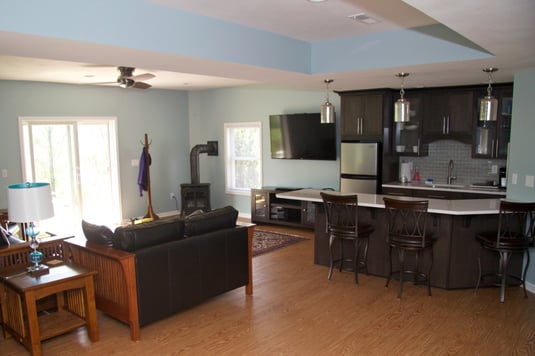 We've covered several outdoor entertainment topics, including patios and pool areas, but what happens when the weather turns cold? Winter is a guarantee here in Central New York, and when the patio gets covered with snow and the pool is closed for the season, we end up spending more time indoors. If you're wondering how to bring your entertainment inside, you may not have to look any further than the basement.
A finished basement is a great blank canvas for indoor activities and entertainment options. Turn this empty space into a downstairs bar for entertaining, or a game room that the whole family can enjoy. Below we've listed some basement remodeling ideas to transform your plain finished basement into an indoor oasis from the colder weather to come.
Bring the Party Downstairs
If you're lacking in entertainment space, and afraid that the cooler weather will put a damper on your get-togethers, don't fret. A finished basement can be the perfect venue for entertaining guests during the months when the outdoor patio space isn't an option. Just as much fun can be had in a finished basement if you have the right setup.
Tailor your space for entertainment by having a downstairs bar installed. Both family and friends will enjoy this escape, especially during the cold winter months. You'll want the bar to reflect your personal style. If you're going for a more refined and elegant look, consider adding a bar with marble or granite countertop and sleek leather barstools. For a cozier feel, add natural wood elements.
Lighting design is key here too—pendent lighting above the bar will give it a feeling of warmth, making this an area where everyone will want to gather. As far as bar storage goes, built in shelving is a perfect way to store your liquors and wine. Lighting can be utilized here too—backlighting will showcase your collection while making it easy to find the essentials to mix everyone's favorite drink or pour the perfect glass of wine.
Have a Designated Area for Play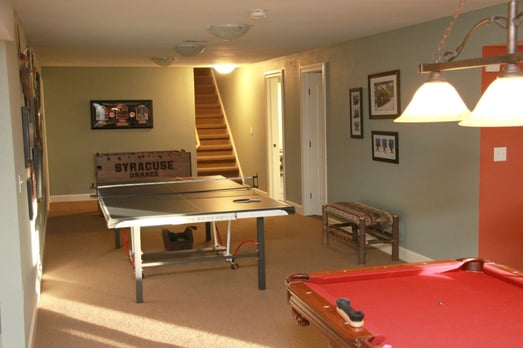 Life is full of hard work, so why not create a space entirely for play? Transform your basement into a billiard room and place a dartboard in the corner. Or create a specific play area for the kids or grandkids with their favorite games and toys. The words "I'm bored" will become far less common.
If you're main priority is implementing some fun for an older crowd that's still young at heart, combine the downstairs bar idea above with popular games like pool, darts, or air hockey. If you're afraid things will get a little rowdy, have your trusted design-build contractor sound-proof your game room, so neighbors and any family members upstairs won't be bothered.
If you have kids, or the grandkids are in town, having a playroom is a great way to provide entertainment when the weather is nasty, and it also creates dedicated a space for game and toy storage. Built in shelves and cubbies provide a way to keep everything in its place when playtime is over. Add elements of fun with a unique theme and bright colors, or cover one wall with chalkboard paint so your young Picasso can go wild. For even more merriment, have a slide built in alongside your staircase. You may find that your basement will end up becoming the most popular room in the house.
It's important to create a space for the adults to hang out too so kids won't go unsupervised. Consider adding a lounge area in one corner with a TV, or a small office space to get work done nearby while the kids have a blast. If you want to get a workout in while the kids are at play, set up a gym area in the other half of your basement with a wall to wall mirror, stationary bike, and treadmill.
Bring the Entertainment Home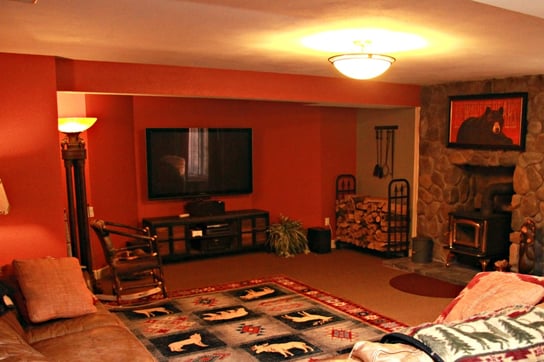 You won't have to step outside to enjoy game day or head to the movie theater. Create a hub for entertainment right in your own home by transforming your finished basement into a media room. If you're looking for the full-on movie theater experience, go even further by turning your entire basement into a home theater.
By adding an entertainment system to your basement, the battles of what to watch on TV will become a distant memory. Now the game can be on downstairs, while that history documentary you wanted to watch can be on upstairs, or vice versa. When everyone is agreeing on what to watch, quality time can be spent together in your media center in the form of movie nights or game day viewing parties. Since the TV will be the main attraction, you'll want to have a sound system installed that will eliminate visible wires and provide you with the "surround sound" effect.
This is especially important if you're taking it to the next step and completely transforming your basement into a home theater. Good acoustics can improve the quality of sound as well. Cover hard floors with carpeting, and add fabric wall panels to reduce any echoing so you can enjoy your favorite movies without any distraction. Whether you'll be using a large-screen TV or a projector and screen for your home movie theater is up to your discretion, but either way lighting is important here. Recessed ceiling lights with the ability to dim will prevent any glare, and give your basement true movie theater ambience.
Create a Suite Experience for Guests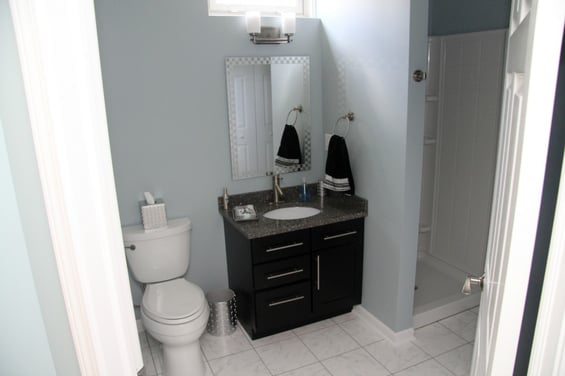 It goes without saying that you want guests and visiting family to feel welcome in your home. That can be easier said than done if you're short on space. Instead of setting the in-laws up in the living room, turn your finished basement into a guest suite.
If you're going the bedroom in the basement route, it's important to remember that New York State building code requires finished basements to have an emergency exit. If you don't have them already, egress windows are the perfect solution. Having these installed will let in natural light while providing an easy exit. After all, you don't want guests (yes, even your in-laws) to feel like they're in a basement dungeon. The goal is to create a space that's cozy and welcoming. Warm paint colors also do wonders for making a basement feel like any other room of the home, and make up for the limited natural light.
When it comes to creating a welcoming space, lighting design once again comes to the rescue. In addition to having ambient lighting installed for overall illumination, adding floor lamps or a lamp on the nightstand for reading also make for a well-lit, yet cozy feel. If you have the space, make the guest room into a true bedroom suite by adding a guest bathroom for even more convenience. Your guests will appreciate the added privacy, and you won't have to worry about your main bathroom getting too congested.
Additions to your basement capitalize on space that you already have, and they're also a good investment. Basement conversions are one of the few improvements that can increase the value of your home without having to add to your home's basic dimensions. Looking for more ideas to make your home into the house of your dreams? Feel free to contact us! Our experienced team of design-build contractors are here to help.