One of the easiest ways to expand your living space is to use the area in your basement or lower level. Lower levels generally are perfect for adding a sizeable entertainment room, a guest bedroom with bath, a kitchenette, a workout area or even a secluded home office.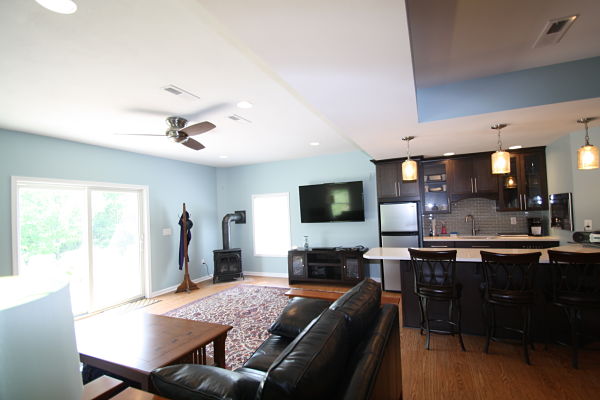 A lower level family room with a view of and an exit to the outdoors. The open space includes kitchenette with a bar area and many of the conveniences of a full sized kitchen.
Lower level conversions often address entertaining and recreational needs. Homeowners can get the most out of a lower level remodel by adding features that are comparable to features found in the main living areas of the house. For example:
Wet bars that may include amenities such as wine chillers, beer and soda taps, dishwashers, refrigerators, ice-makers, foot-rails, granite countertops, bottle storage, glass holders and custom cabinetry.
Media rooms that have big screen or projection televisions, surround sound, special seating, soundproofing and even popcorn makers.
Bathrooms added for convenience and that also may include a steam room or sauna.
Craft and office areas that are out of the mainstream of the home and include storage for supplies and files.
Kitchenettes that provide a place to cook a quick snack or additional prep space when preparing a meal for a crowd.
Exercise rooms that accommodate treadmills, weight lifting equipment and stationary bikes as well as a flat screen TV connected to a Wii.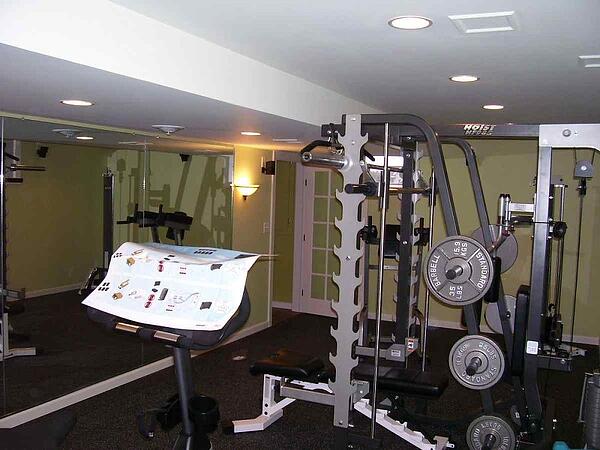 This lower level remodeling project was designed and built to accommodate a homeowner's exercise equipment. The wall of mirrors makes the room feel larger.
Here are four awesome lower level design ideas from remodeling projects we've designed and built for Central New York homeowners:
1. Enhance the Stairway
A lower level living space can be integrated with the main floor of the house by enhancing the appearance of the staircase leading to the lower level. This can be done by removing walls and opening up the stairway, or by replacing rails and stairs with quality materials.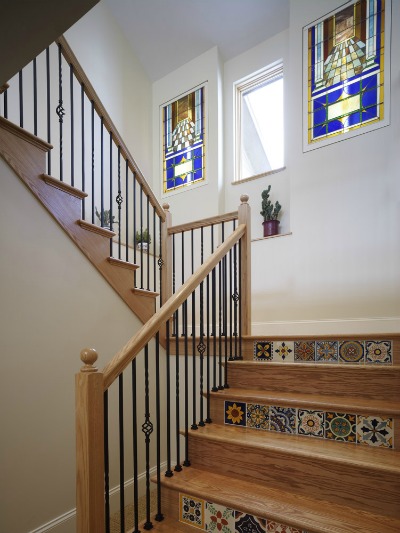 Tile imported from Spain was used on the risers of this staircase leading to a lower level living space. Backlit stained glass adds beauty and elegance to this unique custom design.
2. Optimize Natural Light
One of the design challenges of remodeling a basement is the lack of natural light. Many projects include the installation of egress windows to provide more light and an emergency exit. Egress windows are large basement windows that are partially set under grade level. They use a retaining system to hold back the ground and provide a means of exit in case of an emergency. New York State building code requires finished basements to have an emergency exit. Egress windows are not only attractive but they meet this state requirement.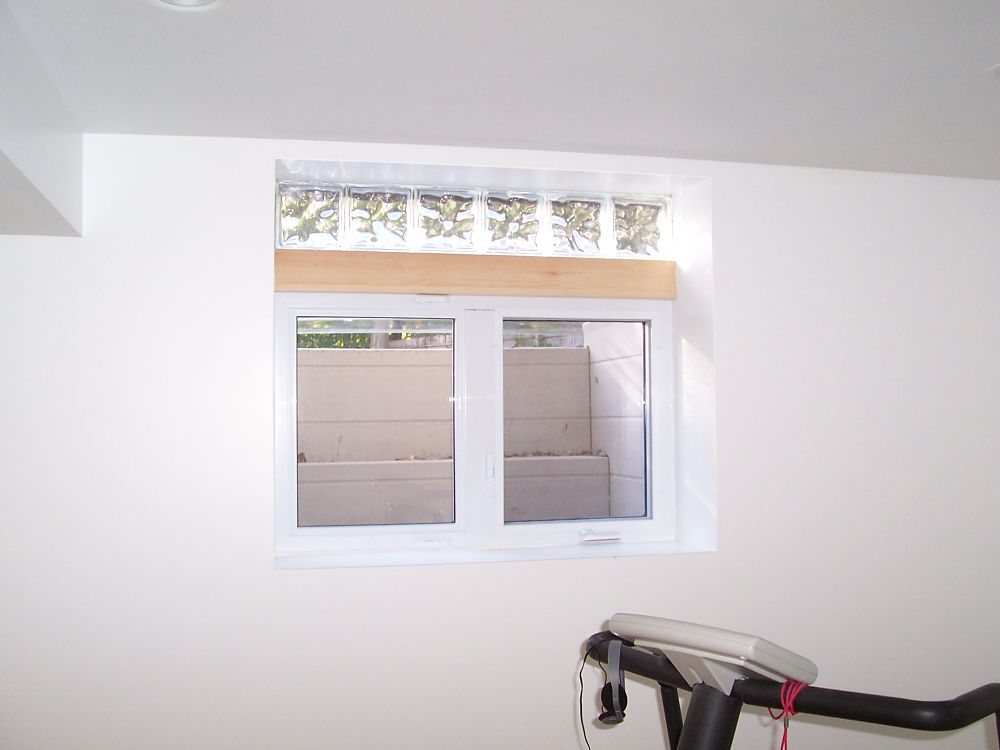 The interior side of this egress (exit) basement system allows more natural light and ventilation into the space. An attractive glass block transom adds style to this window.
3. Add Finished Ceilings and Crown Moldings
Spend some time planning the way you will finish the ceiling and discuss your ideas with a designer or your contractor. The ceiling of a finished basement will cover pipes, support beams, floor joists, vents and wires. In areas where there are pipes, you will need to be able to maintain access for the possibility of repairs. If you have a high ceiling, a tray ceiling can provide a solution for addressing irregularities. If you're trying to create architectural interest, wood ceiling beams can be left exposed or metal beams cam be framed in wood or drywall. If you have a low ceiling, consider using crown molding to create an illusion of height.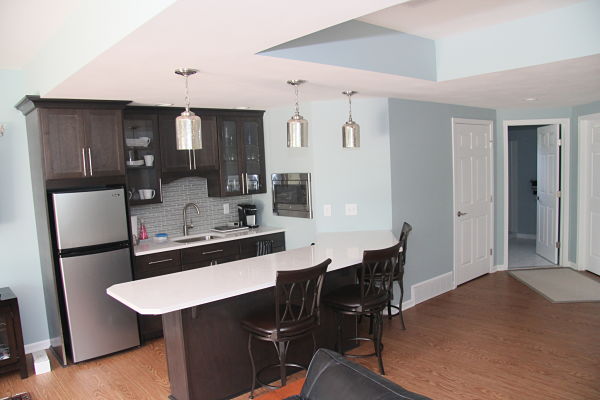 A tray ceiling helps to define areas of this lower level living space. Crown molding was used over the upper cabinets to add interest. Two rooms, an office and an exercise room, were built off the open area. Doors can be closed to hide contents. A full bath between the two rooms can be used by guests or the residents of the home for a quick shower after exercising. See more of this Project of the Month here.
4. Paint the Walls in Bright Inviting Colors
Basements often lack adequate sources of natural light. Bright colors warm the appearance of space while soft colors add reflective light to the room. Check out our article on "The Hottest Interior Paint Colors for 2015" or select one of your own favorite colors.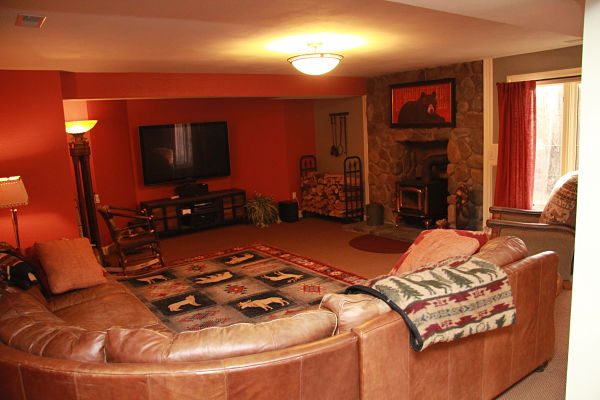 Walls in this lower level theater area were painted red and new carpet was installed. A flat screen television is mounted on the wall of an alcove for optimal viewing and reduction of glare. A floor-to-ceiling stone wall and cast iron stove provide a focal point in the space