A ceiling is often overlooked in a home remodeling project but it is the area that can add architectural interest to almost any room. Here are four ways to update a room by changing the look of the ceiling without changing the structure.
Coffered Ceilings
A coffered ceiling is a specialty ceiling treatment with recessed panels framed by beams. Most of us are familiar with this type of ceiling in Craftsman style homes or formal, ornate homes. The ceiling is a series of square or rectangular panels accented by beams. Coffered ceilings are a good way to hide support beams and provide a uniform look to a room. These ceilings can be constructed from a variety of different wood species or composite materials.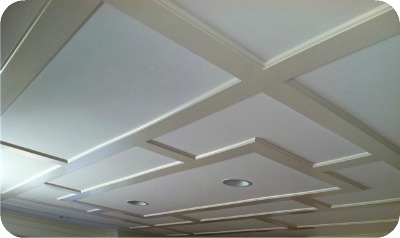 Exposed Trusses or Beam Ceilings
Exposed trusses or beam ceilings can add rustic charm to a home, make a high ceiling seem lower or help mask transitions when a new room is added to a home. To install either beams or trusses, a ceiling should be at least 8 feet from the floor. Depending on their function these ceiling features can be made of wood, high density polyurethane foam, metal, fiberboard or a variety of other composite materials.
Tongue and Groove or Beadboard Ceilings
Tongue and groove panels and beadboard can be used to add some character to an indoor or outdoor ceiling. They are a great way to mask minor flaws in ceilings in outdoor areas such as porches and entries or indoors. If you have a home with dormered rooms, you may notice that the ceiling is vulnerable to cracking. Tongue and groove and beadboard can be a good solution to cover cracks caused by seasonal movement.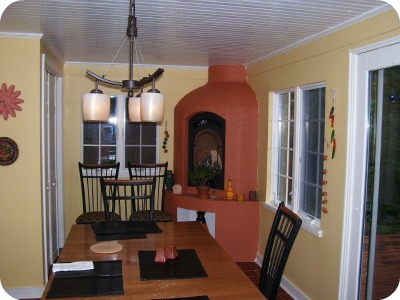 Crown Molding
Another way to transform a ceiling in a room is to add crown molding. Crown molding can be a simple piece of decorative trim or it can be a combination of many differed moldings that are installed where the wall meets the ceiling in a room.
Crown moldings are made in a variety of architectural and decorating styles to work with your tastes and furnishings. It may be plain or intricate. Standard crown molding profiles include cove (a curved shape); ogee (an s-shape) and dentil molding (carved squares of rectangles). Many other styles are available including rope and leaf relief.
Crown molding can be made from materials such as various wood species, medium density fiber board (MDF) and high density polyurethane foam as well as other composite materials
Crown molding is not only decorative but it can hide flaws in ceilings and is often used in combination with many of the other ceiling details discussed here. It can also be used to create an illusion of space and height in a room.