Do you feel housebound in the winter months and during cold rainy spells? In Central New York, where our winters are long and there are many gray days, lower levels and basements of a home can be converted to provide space for indoor entertainment and recreation.
If you are thinking about remodeling your basement, here are seven design ideas for lower level game and entertainment spaces to consider for your home:
1. Provide Space for a Game Table
Table tennis, billiards and other table games are once again becoming popular indoor sports. If your plans include a game table, you will want to assess what you may need for flooring, lighting and storage you may need for items such as paddles, cues, racks and a scoreboard.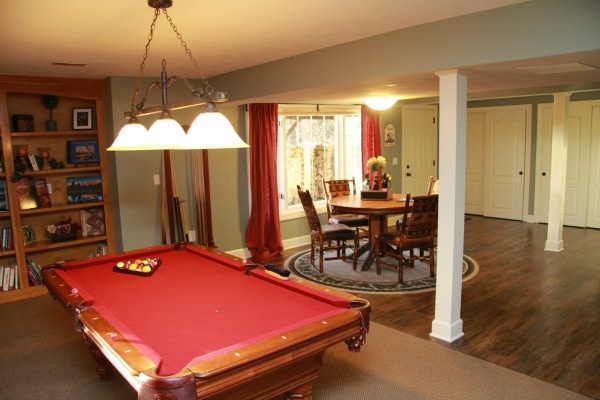 This lower level game room features a pool table. A three-lamp downlight hanging fixture was placed at a proper height to illuminate the surface of the table. There is also a rack on the wall to hold cues and carpeted flooring in the game area.
2. Create a Media Room
If you attended the Parade of Homes in recent years, you undoubtedly noticed that many of the new homes featured a lower level media room. Home entertainment has become a major trend in both new homes and home remodeling.
During winter months when many of us enjoy viewing sporting events and movies at home, media equipment is important to our lifestyles. Large screen HD televisions or giant screen projectors require a dedicated space for optimal viewing. To make the most of a lower level media room consider surround sound, special seating, soundproofing, dimmed lighting, storage units for equipment, DVDs, CDs and books, and even a place for a popcorn maker.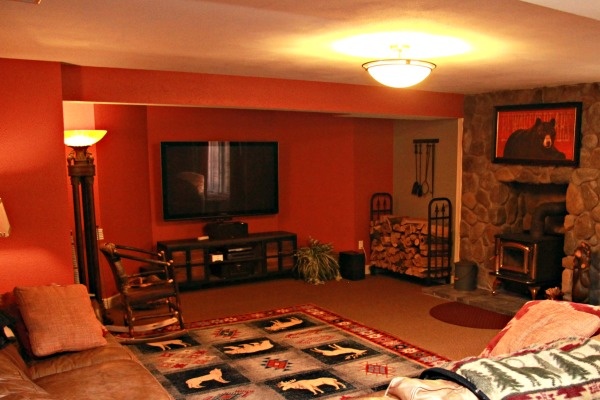 Walls in the theater area of this media room were painted red and new carpet was installed. A flat screen HD television is mounted on the wall of an alcove for optimal viewing and reduction of glare. A floor-to-ceiling stone wall and cast iron stove provide a focal point in the space.
3. Add a Wet Bar
Wet bars are one of the most popular features that homeowners include in basement remodeling projects. They often add amenities such as wine chillers, beer and soda taps, dishwashers, refrigerators, ice-makers, foot rails, granite countertops, bottle storage, glass holders and custom cabinetry.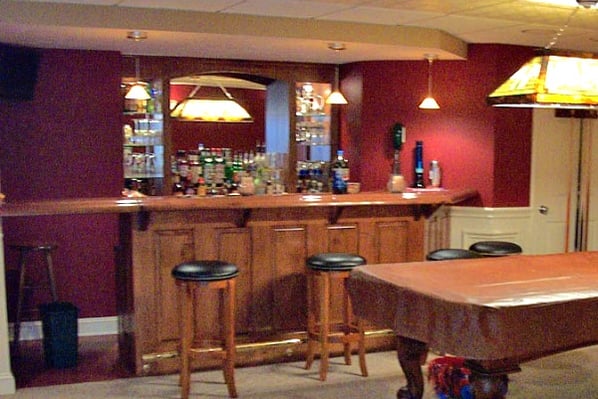 This custom-built lower level wet bar features seating for four or more, pendant lighting, shelves for glasses and spirits, and a foot rail. The mirror behind the bar helps to reflect light into the room.
4. Exercise at Home
Fitness can present a challenge for people with busy lifestyles or those who don't like braving the rain, snow or cold to go to a gym. A lower level exercise room may provide you with a solution and can be designed to accommodate treadmills, weight lifting equipment and stationary bikes as well as a flat screen TV connected to a Wii.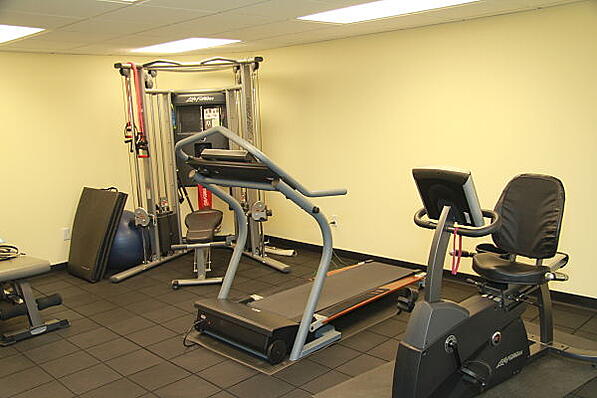 This lower level home gym includes a treadmill, universal, weight bench and an exercise bicycle. The specialized flooring provides cushioning for the exercise equipment. The ceiling has acoustical tile to provide access to mechanicals and quiet the sound during workouts.
5. Create a Personal Space
A lower level can provide the perfect location for a home office, playroom for children or for hobbies such as woodworking, sewing, pottery or painting. When planning space for these activities include storage for supplies and files, proper lighting and work areas.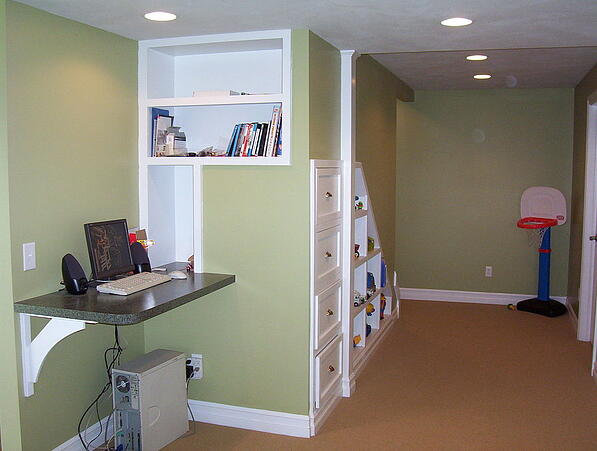 Cubbies and drawers were custom built underneath the stairs to this finished basement to create a place for toys and books to be neatly stored. A small countertop was installed to create a computer station.
6. Add a Second Kitchen
Kitchenettes are a smaller version of the main kitchen and provide a place in a lower level entertainment area to cook a quick snack or additional prep space when preparing a meal for a crowd. It's important to have a sink, dishwasher, refrigerator and microwave oven but also include counter space and outlets for small appliances such as a coffeemaker, toaster oven and blender. Many kitchenettes may include a range. If you enjoy entertaining, having a second stove and oven is an asset.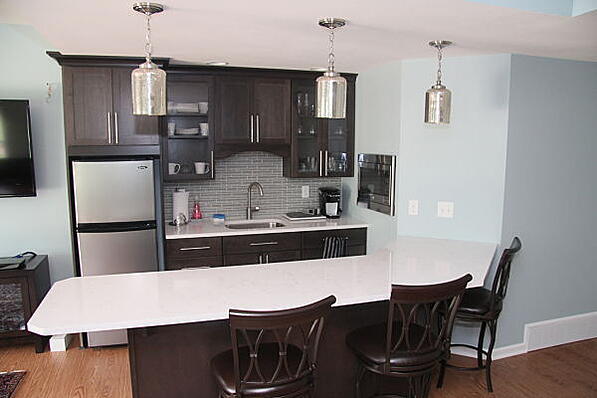 This stylish transitional kitchenette features dark stained cabinets, quartz counters and a mosaic glass tile backsplash. Upper cabinets with glass doors make contents easy to view. The brushed nickel cabinet hardware is sleek and functional. Drawer pulls double as towel bars.
7. Add a Full or Half Bathroom
A basement bathroom can be as simple as a powder room with a toilet and a sink. Talk to your contractor about the best place for installing the plumbing and about ventilation. If you have an active household or host guests who frequently visit you may want to add a shower.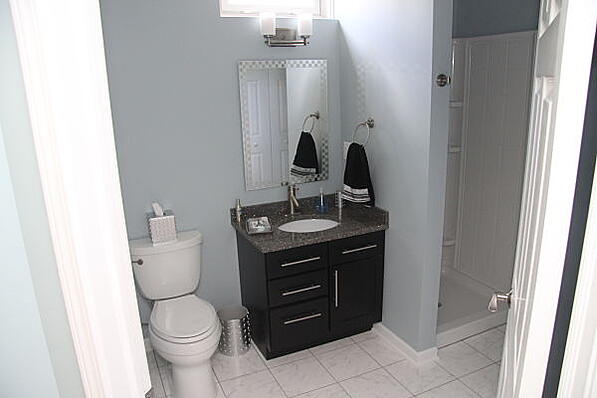 A window brings natural light into this basement bathroom and can be opened to provide ventilation. Flooring is slip-resistant tile. The Shaker-style vanity has a quartz surface and undermount sink. The mirror and uplight sconces add interest to the room. The homeowners also included a convenient walk-in shower.