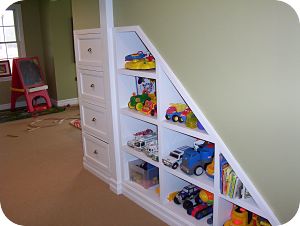 Thinking about remodeling your basement? Gone are the days of paneled walls, suspended ceilings, shag carpets and large fluorescent lights. Basements are now an extension of the look and architectural style of the upper level of a home.
According to REMODELING magazine's "2011-2012 Cost Versus Value Report", the average cost of a basement remodeling project in our region (Mid-Atlantic) is $67,860 and at resale homeowners can expect to recoup about 56 percent of that investment. Those of us who live in Central New York know that a basement remodel will add function to our homes and is often a necessity since we spend so much time indoors in the winter months and need a place that is cool in the heat of summer.
While we remodel basements for a variety of uses, here are five basement design trends that can be applied to almost any project:
1. Add Built-in Shelving and Storage Units
If you are planning to remodel your basement to extend your living space, put storage at the top of your list when designing your project. A basement has a lot of nooks and crannies that are ideal for creating closets and areas for built-in shelving.
First consider how you want to use the space and what items you will need to store. Will the basement be transformed into a media room, home office, laundry area, space for entertaining or game room? The possibilities are endless. Here are a few general ideas to consider for storage:
Use shelving units where you have a large expense of wall to control clutter.

Closets will help contain and hide unsightly clutter by just closing a door. Add shelving inside a closet to easily access contents.

Use graduated shelving or built-in shelves along a staircase. Shelf units can also serve as room dividers to define and break-up the space.

Create work surfaces by adding an island or a desk/table installed on a wall with brackets.

Free standing furniture pieces such as dressers, tables with drawers or shelves, armoires, bookcases, hassocks with interior storage and chests are elements to consider in your storage plan.
2. Add a Bathroom
Finished basements are created to meet the specialized needs of homeowners who will spend a lot of time in that space. Whether you're creating a "man cave", laundry room, playroom or home office it makes sense to include a bathroom in your plans.
3. Integrate the Basement With the Upper Level By Adding Finished Ceilings and Crown Moldings
The ceiling of a finished basement will cover pipes, support beams, floor joists, vents and wires. Spend some time planning the way you will finish the ceiling and discuss your ideas with a designer or your contractor. In areas where there are pipes, you will need to be able to maintain access for the possibility of repairs. If you have a high ceiling, a coffered ceiling could add architectural interest and provide a solution for addressing irregularities. Work with ceiling beams, wood beams can be left exposed and metal beams could be framed in wood or drywall. If you have a low ceiling, consider using crown molding to create an illusion of height.
4. Paint the Walls in Bright, Bold, Warm Colors
The latest trend in basement remodeling projects is to use bright and deep wall colors to warm the space. Often basements lack natural light and are dreary. Check out our article on "hot colors for 2012" or go a little crazy with your own color choices. Paint is one of the easiest things to change and tends to be "trendy".
5. Install Lighting Strategically
No huge fluorescent lights please! When it comes to basement lighting, the best option is to create a plan with your contractor or electrician.
Recessed lighting is frequently used in finished basements and dimmer switches can be installed to soften lights when needed.

Because basement ceilings are irregular, track lighting can be used to illuminate areas where cans would not be adequate or for accent lighting.

Lighting should not be limited to the ceiling. Consider how you will use table and floor lamps in the room.

Undermount lights can be added to cabinets and shelves.

Pendant lighting can illuminate bar, game and table areas.

Uplighting can also be used to create a relaxing environment in entertainment areas.