I love helping my clients select colors for a remodeled room. Colors often reflect the latest home design trends but can also be a personal statement. To me the latter is more important because it is the way homeowners define their space. There are many ways to add color to a home but people most often ask me about paint colors.
How to Select Interior Room Colors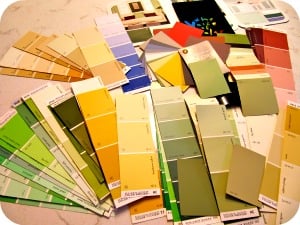 One of the keys to using color in a home setting is to coordinate the hues of various rooms. Think of your home as a color palette when making color choices. I find that people are often afraid of experimenting with color and are unsure of what tones will be pleasing in their homes. Here are a few tips to help you select interior colors:
Consider colors that appeal to you. What colors are most frequently in your wardrobe? If you've visited homes or cut out photos of rooms that serve as an inspiration for your project, what colors caught your eye?

Look at your furnishings for keys to wall color. If you have upholstered pieces, what are the dominate colors? Would you use a similar or complimentary color on the walls?

Use the "Color Wheel". Remember your art classes in elementary school when the art teacher pulled out a color wheel? Those principles are helpful in selecting wall colors, trims and accents for a room in your home.

Do's and Don'ts. Check out HGTV's list of do's and don'ts for selecting interior colors.
Online Paint Selection Tools
Paint manufacturers try to do some of the work for you. Several have put together palettes that simplify the process of selecting colors for your home and actually make it fun. Some of our favorite palettes are Benjamin Moore's "Historic Colors", 174 colors found in homes of the 18th and 19th century that have stood the test of time, and "Pottery Barn" colors, which are ever changing with today's furnishing and fabric trends.
Sherwin Williams has a great website that allows you to experiment with color before you invest in paint. You can upload a photo of your room to the site or select photos of rooms that represent your space. You can play with color to help choose shades that are ideal for your home.
Pittsburg Paint also has an interactive palette to help you with color selections.

Our Picks for the Hottest Interior Room Colors in 2012
If you still are having trouble deciding, here are our picks of great neutrals and hot, bold colors that we're seeing in Central New York homes for 2012:
Neutral Colors
Bold Colors