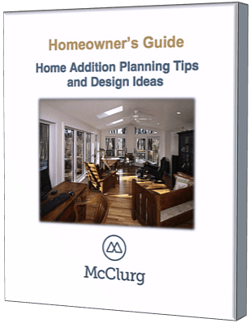 Do you need more living space but like your home and neighborhood too much to move? A home addition may provide the solution.
Popular Central New York home addition projects include kitchen expansions, master bedroom suites, family rooms, sunrooms, porches and decks.
When planning a home addition, it's important to consider the many details that go into this type of remodeling project including the location, architectural elements, function, exterior design, interior design, local building codes and your budget.
If you're thinking about adding more living space to your home, you probably have many questions about everything from how much space you will need to how much to budget for your project. Our newest homeowner's guide "Home Addition Planning Tips and Design Ideas" was written to help answer your questions.
In this free 38-page guide you will learn about the steps to planning a successful home addition project. Some basic planning steps covered in the guide include defining project objectives and priorities, setting a budget and meeting with a design-build contractor.
Our home addition guide provides detailed planning tips and design ideas, complete with photos, to help you get started. The guide addresses many common home addition projects including:
Kitchen Additions
Master Bedroom and Bath Suites
Living Room and Family Room Additions
Porch Additions
Deck Additions
Sunroom Additions
Here are some excerpts from the guide:
Kitchen Additions
Planning a kitchen addition and bringing an idea to reality can be an exciting process. It can also be stressful, but less so if you can break the planning process into steps:
Collect ideas and photos.
Make a wish list.
Identify functional elements and architectural features you want to address in your project.
Consider the special needs or users.
Determine the location of the addition, how much space will be needed and if zoning requirements will affect your plans.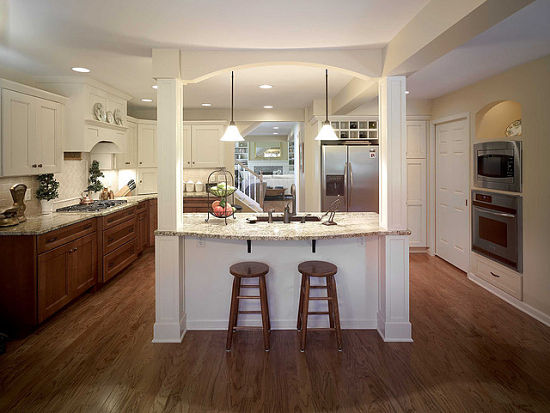 A large kitchen and great room addition were added to this home. The U-shaped kitchen features a central island. Beams and posts connect the new construction to the existing home.
Master Bedroom and Bath Suite Additions
A master bedroom and bath addition is a popular remodeling project for personal comfort and enjoyment. A term that you may be hearing a lot lately is "en suite." En suite refers to a bedroom with an adjoining bathroom.
A master en suite may include a king size bed, multiple dressers, walk-in closets, a bath with spa features, a walk-in shower, a free-standing tub and other amenities.
If the space required for a master en suite cannot be attained by making interior changes, many homeowners will opt to build a master en suite addition.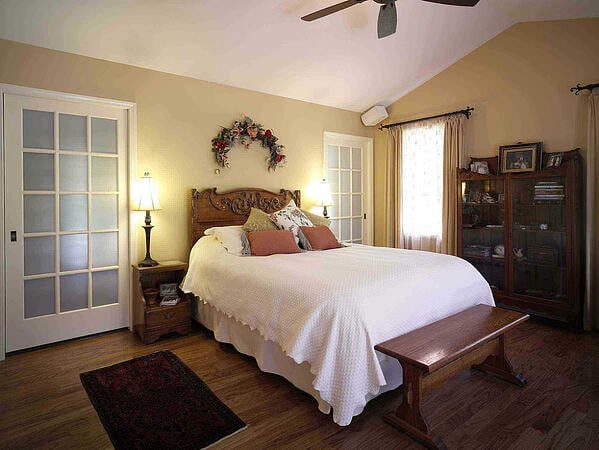 A master suite addition is often high on the wish list of Baby Boomers.
Living Room and Family Room Additions
Do you want space for family gatherings and entertaining or for modern amenities such as an area for television viewing, media equipment, a gas fireplace or a wet bar? A family room or living room addition might provide a solution especially if you love the home you own and plan to live there for many more years.
Often the decision to build an addition onto a home is based on intrinsic value. Many older homes in great neighborhoods were built for a life style that did not include the modern technologies that add to the quality of life today. For example, television screens in the 1950s were small and built into a cabinet. Televisions became portable in the 1960s and were placed on moveable carts. Who would have envisioned watching movies at home on a large flat screen television with surround sound or playing video games in that era when homes were built?
If removing walls and reconfiguring a floor plan does not provide the extra space you might need, you may want to consider a living or family room addition.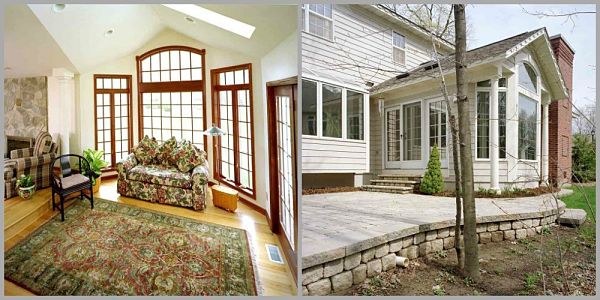 The architecture, windows and doors of this family room addition blend perfectly with the home inside and out. The addition was designed to bring more natural light into the home and provide more room for entertaining.