Early spring is the perfect time to think about planning an outdoor living space for your home. In Central New York one of the most popular outdoor projects is a deck addition.
A deck addition can be as simple as a grade-level platform that stands on its own a few inches above the ground or as intricate as multi-tiered structures with steps, railings, pergolas, trellises and built-in features such as tables, benches, planters and hot tubs.
Here are seven tips to help you plan a new deck addition:
1. Determine Your Wants and Needs
We recommend that homeowners begin their projects by making a list of needs and wants. In planning a deck addition consider:
How you intend to use the space. Do your plans include outdoor dining and entertaining? Will you be looking to integrate the deck with a pool or hot tub?
Seating and storage requirements. Will you need built-in seating? Benches are great places for built-in hide-away storage. Decking for a pool area may also require adding storage for mechanicals and accessories.
Optimizing a view. Does the back of your home overlook a lake, valley, gardens or natural habitat? Clear panel railings can help optimize a view.
Adding special features. If you enjoy home barbeques, an outdoor kitchen may be just what your need. For cool evenings, enjoy your deck longer with a firepit.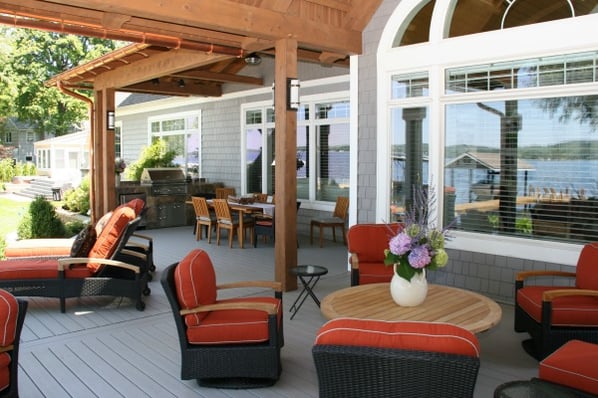 This covered deck includes an outdoor kitchen featuring a gas grill, refrigerator, storage cabinets and a bar sink built into a stone veneered island with a granite countertops. This section of the deck provides a gorgeous lake view and was designed for dining, entertaining and relaxing deck. Composite decking complements the siding of the cottage. The slip and splinter resistant decking surface is ideal for those who want to walk barefoot on the porch.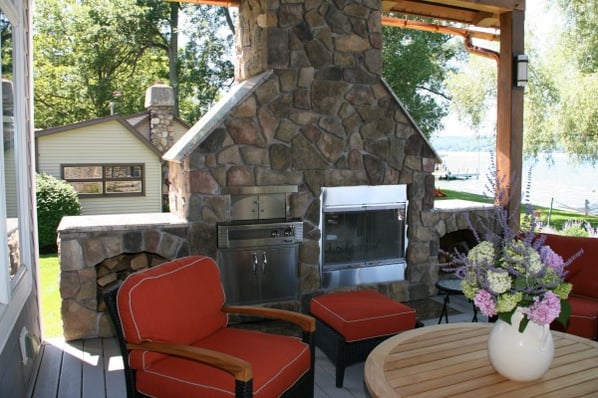 At the opposite end of the covered deck is this large stone fireplace wall, which includes a pizza oven, wood burning fireplace and two wood storage spaces. A granite hearth complements the fireplace.
2. Decide Where You Want to Locate the Deck
You probably have an idea about where you want to locate the deck but think about the following during your planning process:
Building zoning and codes in your community. Begin your project by talking with your contractor about building zoning and codes. There may be restrictions that will determine where a deck can be built such as space between neighboring homes or land use near a lake. Codes may also specify railings and address safety requirements.
Accessibility and use. Many homeowners want to locate a deck off of a kitchen, living room or family room for easy access.
Sun exposure and shade. In Central New York, a deck placed on the south or west side of a home will optimize the warmth of the sun. If you want to avoid the sun (deck surfaces can become hot and unusable during 90-degree days) build your outdoor space in a north or east facing area.
Privacy and exposure to neighboring properties.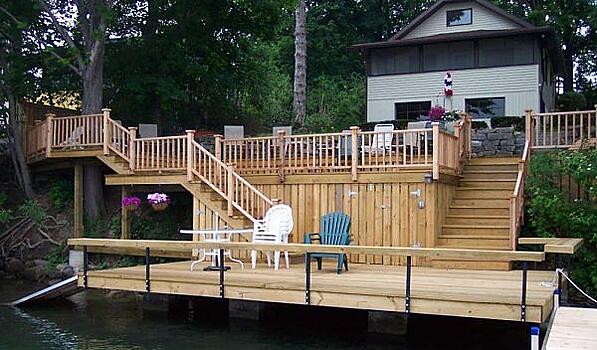 This deck over the water includes concealed storage areas, a ramp into the water, an attached dock and a cut-out for an existing tree. Benches incorporated into the deck design provide plenty of seating.
3. Determine the Size of the Deck
Review your list of needs and wants and assess how much space you will need based on measurements of furnishings and features:
Outdoor furniture. Measure the furniture and allow space for pulling out chairs and walking around.
A grill or outdoor kitchen. Consider its location on the deck and a workspace for the chef.
Other amenities. If the deck will include a hot tub, firepit or built-in storage factor the dimensions of those features into your plan.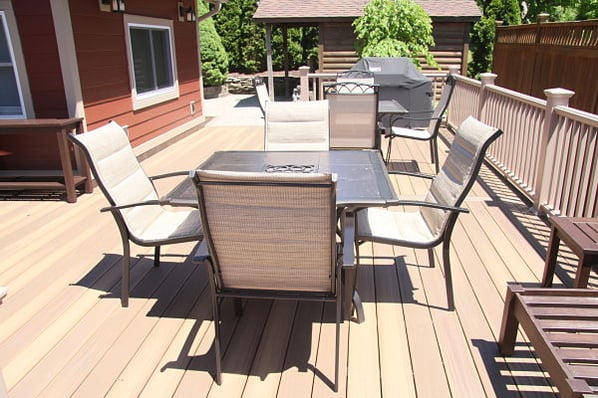 This composite deck was designed to easily accommodate two outdoor dining tables, bench seating and a grill. The deck blends into two patio areas.
4. Select Products that Complement the Design of Your Home
A deck that blends with the architecture of your home will add value. The style of your home will dictate the types of materials and accents to use in the project. New decorative and functional products such as clear rail panels optimize a view, are easy to maintain and add beauty to your home.
Homeowners have a range of options for decking materials including composite, vinyl, pressure treated wood, exotic wood, plastic and metal. Consider appearance (how it will look as an addition to your home), durability, maintenance and cost when selecting decking. Here are three popular choices:
Composite decking. Composite decking is one of the most popular deck choices with Central New York homeowners. It is known for its performance, ease of maintenance and longevity.
Vinyl decking. Vinyl is the most durable product and has a life of 25 to 50 years. Its cost is comparable to composite and it requires the least amount of maintenance – just a periodic wash down with a hose. One of the advantages of composite and vinyl decking is that you won't get splinters.
Pressure treated wood decking. Many homeowners prefer the look of a traditional pressure treated wood deck. This decking material will generally last about 10 to 15 years. The disadvantage is that pressure treated wood needs annual cleaning and staining and can cause splinters.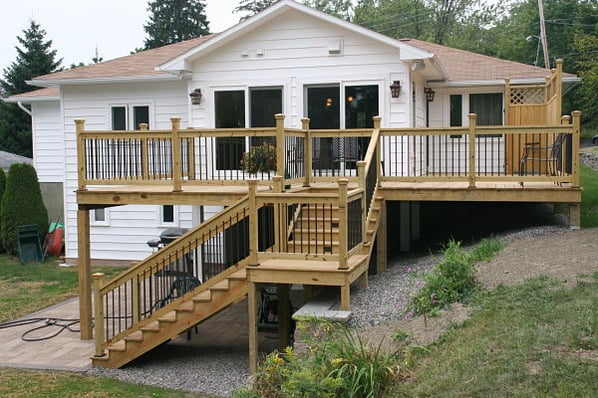 This elevated deck was built using pressure treated wood and a hidden fastener system that does not require unsightly screw or nail holes in the deck board surface. Aluminum spindles, wood post caps and lighting complement the deck. Beneath the deck is an area for a hot tub.
5. Plan Landscaping
Spending five percent of the total value of your home on landscaping can add 15 percent or more to the value of your home.
If you are landscaping for privacy choose tall, easy to maintain bushes or trees that can also provide shade.
If you add a trellis use climbing plants to enhance the beauty of your deck.
The easiest way to add color is to place containers of showy annuals and vegetables on the deck.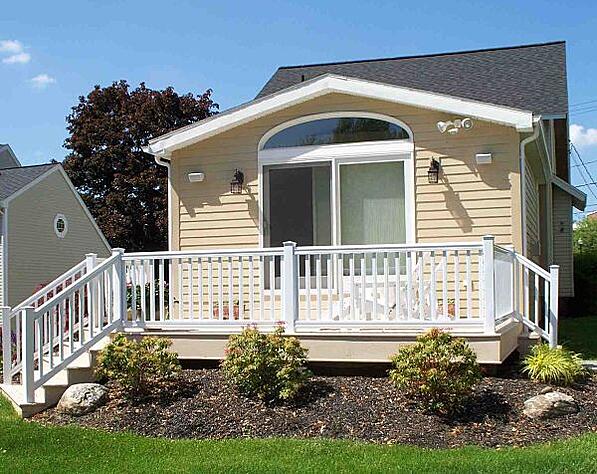 Landscaping adds curb appeal to this home. The two-tone maintenance free deck includes composite decking and trim boards, which complement the exterior house color, and a white vinyl rail system. Motion-activated flood lights, wall sconce lights and outdoor speakers add to the enjoyment of this deck.
6. Include Lighting
Deck lighting can include wall sconces adhered to an exterior wall, accent lights around the perimeter, post lights, or flood lights affixed to a roof awning or placed near the base of a deck.
Put switches indoors if possible for convenience and consider using dimmers and timers. Solar lighting products have significantly improved in recent years and should also be considered for walkways and around gardens.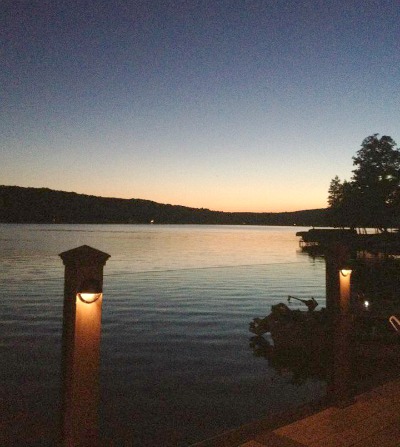 Downlights installed on balusters illuminate this deck at night. Glass panels provide a view of the lake.
7. Consider a Design/Build Contractor to Help Plan Your Deck Project
A design/build contractor will consider the items on your list and will create a plan that will address zoning, size, structure and blending with the architecture of your home.
Another benefit of working with a designer is the advice you will receive on the latest product options and design ideas on how to optimize your new outdoor living space.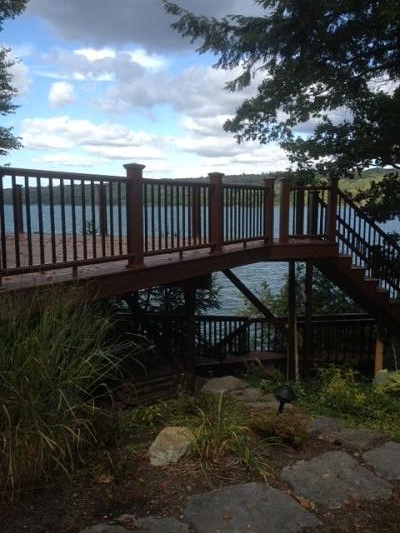 This deck additionwas built at a home surrounded by trees on the shores of Skaneateles Lake. The deck measures 40-by-40 feet and is approximately 30 feet above ground level. A stair and railing system provide access to the lake. Glass panels were used to enhance views of the lake and natural surroundings. All decking materials are durable and easy to maintain.