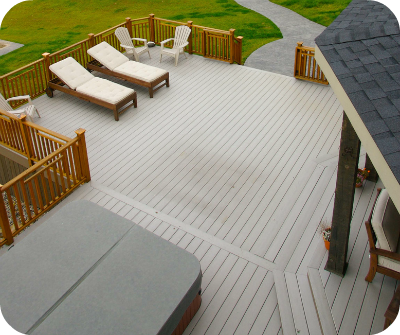 If you have a deck in need of repair or replacement, or plan to build a deck, choosing the right decking material is the first step. Your options include composite decking, pressure treated wood, other woods, vinyl, plastic and metal.
Composite decking is fast becoming one of the most popular deck choices. Composite decking is manufactured from wood fibers and plastic to make a plank board that's longer lasting and easier to maintain than wood. It's virtually maintenance free and is very attractive with a range of textures and colors to choose from.
Here are six reasons we've found Central New York homeowners are choosing composite decking:
1. Common problems with wood decking.
Decks are often built with pressure treated wood because of its availability and affordability. Most pressure treated wood used for decking is pine.
There are a number of problems with wood decking including cracking and splinters, susceptibility to rot, fading and providing a nesting place for bees and other insects. Wood decks also require annual maintenance, including staining and replacing boards that have cracked or warped.
If your wood deck was built prior to 2004 it most likely was treated with chromate copper arsenate (CCA). CCA-treated wood has since been prohibited for outdoor residential structures such as decks and playgrounds. Check out EPA's recent guide for using, cleaning and maintaining pre-2004 CCA-pressure treated decks.
2. Composite decking performance.
Composite decking has the following advantages:
• It lasts a lifetime and typically comes with a 20-25 year warranty.
• It is stain resistant.
• It is much kinder on your feet and you will not experience splinters, cracks or warping.
• It is attractive and can be found in a variety of finishes and colors.
3. Composite decking is eco-friendly.
Have you ever wondered where all those plastic grocery bags that you recycle go? Recycled plastic and wood that otherwise would be dumped in landfills are key components in the production of composite decking. About 95 percent of the material used for composite decking is from recycled products. No trees are cut down to provide material for composite decking.
4. Ease of maintenance.
Composite decking can be maintained fairly easily. It should be swept regularly. Periodically, it will need to be washed with a hose or power washer. Food and stains can be cleaned with a mild soap solution. It is important to check the manufacturer's recommendations for maintenance.
5. Composite decking manufacturers have greatly improved their products to address problems of fading and mold.
Fading was one of the drawbacks with composite decking. Now, manufacturers offer stain and fade warranties. DuraLife decking, formerly CorrectDeck, was rated as the top decking product by Consumer Reports and offers a 25-year warranty on stain and fading. Thermal Industries decking, "Dream Deck", offers a 20-year warranty. Azek has changed the formulation of its composite decking products and uses less "wood flour", which created an environment for mold growth. Azek offers a limited lifetime warranty. CertainTeed offers a 20-year warranty on its composite decking and has also resolved fading and mildew problems.
6. Cost vs. benefits of composite decking.
Composite decking material may cost six times more than wood decking but it may be affordable when considering exotic wood, vinyl, plastic or metal. According to REMODELING Magazine's "Cost vs. Value Report 2011-2012", the average cost of a 16' x 20' pressure treated wood deck is $10,490 compared to $15,900 for a composite deck. Overall, its performance, ease of maintenance and longevity make it a good investment.