It may not feel like it quite yet, but according to the calendar it's officially spring. Central New York took a beating this winter, with Syracuse alone getting over 100 inches of snow for the season. Now that the snow is slowly receding, it's a great time to get your deck ready for the warmer weather headed our way.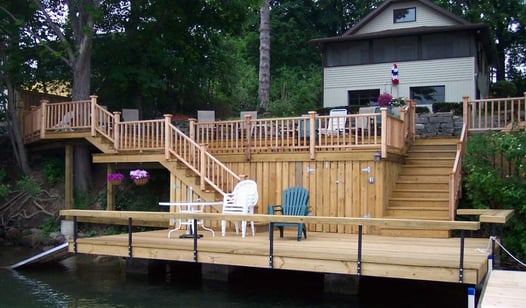 Inspecting Your Deck for Damage:
Precipitation as well as fluctuating temperatures can all take a toll on your home—your deck included. Once the snow thaws, it's important to check your deck for damage not only for aesthetic reasons but for safety too. Whether you're entertaining friends or simply enjoying a family dinner al fresco, you should be able to rest assured that you're doing so safely.
The older a deck gets, the more prone it is to rot, loose boards and raised nails. In the worst case scenario, without proper care your deck will start to fall apart. A deck collapse is no joke. Just ask the students from Stony Brook University who were injured when a deck collapsed during a college party. This is an extreme example, but it goes to show just how important it is to do an annual inspection, even if it means you're saving your family members from a few splinters during the summer season.
An annual deck inspection is always a good idea. You should be checking your deck for things like insect infestation, wood rot (if you have a wooden deck), water damage and separation of the house and deck ledger board. Sound extensive and confusing? It can be, and some damage isn't visible to the untrained eye. Hiring a design build contractor that offers home repair and maintenance services to inspect your deck and repair any damage can save you a lot of headaches, and ensure that your deck is safe and functional for the warmer weather ahead.
Cleaning and Staining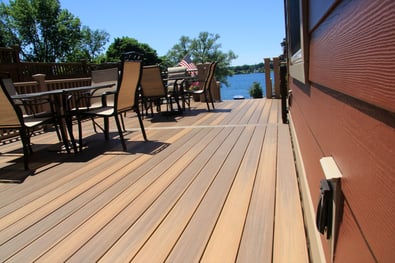 If no deck repairs are necessary, your deck will likely still need a good cleaning and a new coat of sealant or stain to continue to protect it from the elements. Cleaning options will depend on the size and layout of your deck, and any plant life nearby that could be affected by the chemicals in cleaning agents. You don't want to accidentally kill off that garden of perennials you planted last season that's just starting to come back to life.
You'll want to clear off the entire area of your deck before giving it a good sweep and moving on to using a cleaning solution. If you have a large deck, a power washer can be a great tool to ensure you're cleaning every square inch. However, make sure that the pressure isn't set too high as you don't want to damage the surface of your deck.
Once you've finished giving your deck a deep spring cleaning and allowed it to dry completely you'll have to determine if it needs a new coat of sealant or stain. Decks should typically be resealed or re-stained every 2 to 4 years, but where your deck is positioned on your property as well as weather can affect this frequency. For example, if your deck is in direct sunlight the finish on your deck is more likely to deteriorate faster than if it's in the shade.
Remodeling Your Deck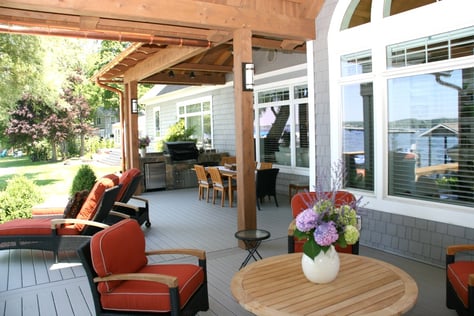 Once you've gotten the necessary housekeeping done in terms of deck upkeep, it's also a good time to start thinking about any deck remodeling you'd like to undertake. As temperatures continue to rise and using your deck again becomes a reality it's much easier to start picturing the changes or updates you'd like to make. Meet with your design build contractor to discuss your ideas and start putting them into action. If you want to make a change, but you're not sure where to start, check out the deck design ideas below for some inspiration.
Consider composite decking
With all the rain and snow we get in Central New York, wood isn't always the most ideal material. Consider switching out your standard wooden deck boards for synthetic or composite planks. These faux wood decks are much more low maintenance and last longer than traditional wooden decks.
Built in benches with storage
Many of the storage and design ideas that you may find inside your home can also be brought outside to your deck. For example, consider built in benches for your deck that feature storage underneath for things like outdoor games and your seasonal décor.
If you're ready to take on a bigger project, consider changing up your deck space by putting in an addition like an attached gazebo to create a great space for entertaining. Or for the ultimate outdoor getaway, build out your deck to incorporate a hot tub or pool.
Wire for sound or outdoor lighting
Do you love entertaining? Have your design build contractor install a weatherproof outdoor sound system. Being able to play music outside adds great ambience to any party. The same goes for lighting. Adding low-voltage or solar post-top lights will provide a welcome glow to those summer dinner parties that linger into the night.
Here at McClurg we're looking forward to putting the winter coats away and bringing our renovation services outside. If you're looking for repairs or renovations, inside or out, contact us! We're here to bring your vision to life.