Outdoor living spaces enable Central New Yorkers to take full advantage of our spectacular but too brief summers. Decks are a popular way to integrate a home with the outdoors. Deck additions can be customized for almost any home and to meet the needs of homeowners, whether it be a space for entertaining and outdoor cooking, a surround for a pool or hot tub, or a place to relax at the end of a warm summer day.
Here are seven deck design ideas from projects we've built over the years for a variety of homes. They range from multiple decks built onto two-story homes to an easy care sun deck added to a ranch-style home.
1. Multiple Decks
If you have a home located in a beautiful setting, one deck may not be enough to enjoy the view. You may also find that you need storage for furnishings, accessories and grills. If you're considering building two or more decks onto your home, the project can be done in phases if time and costs are factors.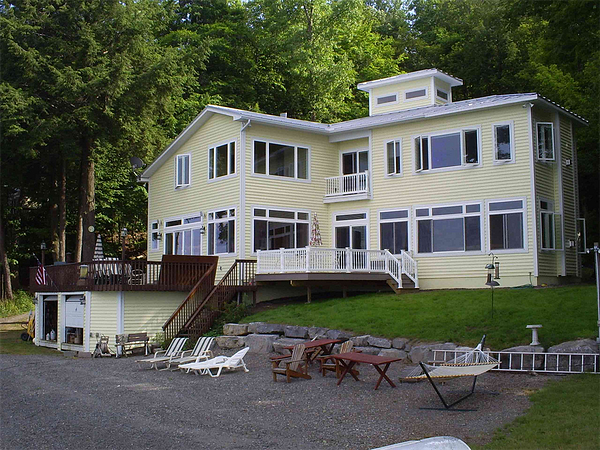 Multiple decks on this Skaneateles Lake home provide plenty of room for outdoor living and access to the beach. Sliding glass doors provide an exit from the home to the decks. Under the main deck there is a storage area for summer furniture, grills, and yard tools.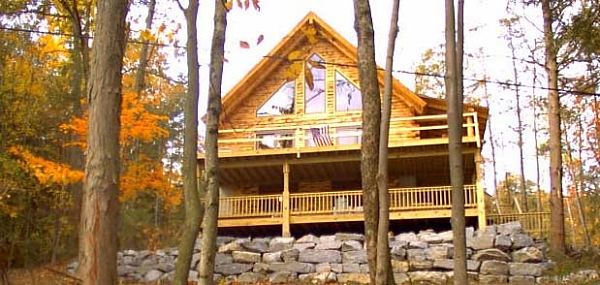 An Adirondack-style log cabin features a two-level wrap around deck and a stone retaining wall. Large windows allow the owners to take in the view and bring light to the interior.
2. Blending Architecture and Nature
Decking should be designed to complement the architecture of a home and its surroundings. Trees or beach frontage can be incorporated into the plans.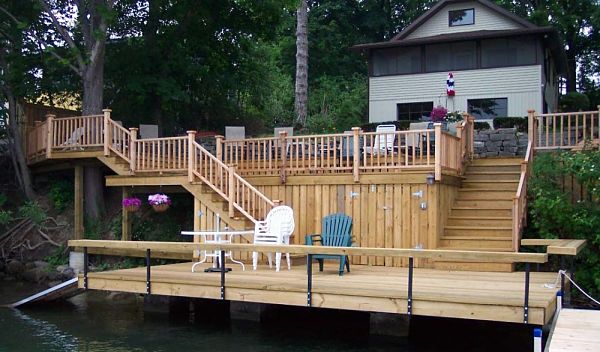 This deck over the water includes concealed storage areas, a ramp into the water and an attached dock with a cutout for an existing tree. Benches incorporated into the deck design provide plenty of seating when the family and their guests gather.
3.
Outdoor Entertaining

Many homeowners enjoy having an outdoor area for entertaining and cooking meals on a grill. New products for outdoor living are taking center stage at area retailers during the spring and summer months and include weather resistant furniture, outdoor carpeting, a variety of grills, outdoor appliances, lighting and accessories to enhance a deck.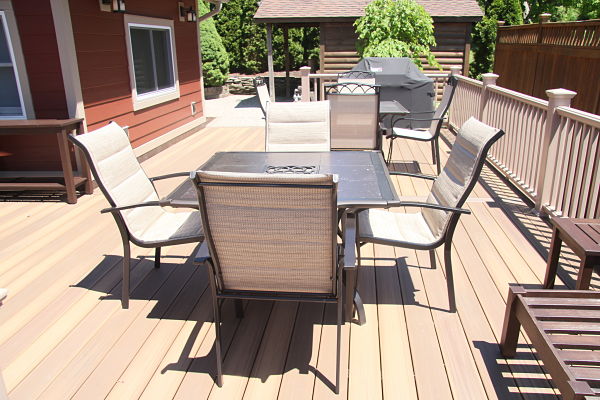 A composite deck addition provides ample space for entertaining and blends into two patio areas to extend the space. This deck easily accommodates two outdoor dining tables, bench seating and a grill.
4.
Optimized View

Glass panels and rail systems designed for decks optimize a view of a lake, woodlands or gardens. We have used them for these purposes but also for homeowners with special needs, such as a wheelchair accessible deck we built for a mother who had a spinal injury.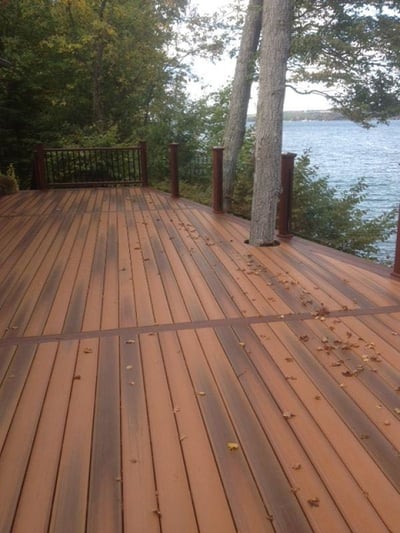 A composite deck was built around trees. Clear glass rail panels provide an unobstructed view of Skaneateles Lake.
We built this accessible composite deck as a community service project to help a mother of two young boys who uses a wheelchair. Glass panels were installed to enable her to watch over the boys from the deck as they play in the yard.
5.
Around the Pool and Hot Tub

Decking can be used along with pavers in pool and hot tub areas. The advantages of composite decking are that it is easy on bare feet, slip resistant and water resistant.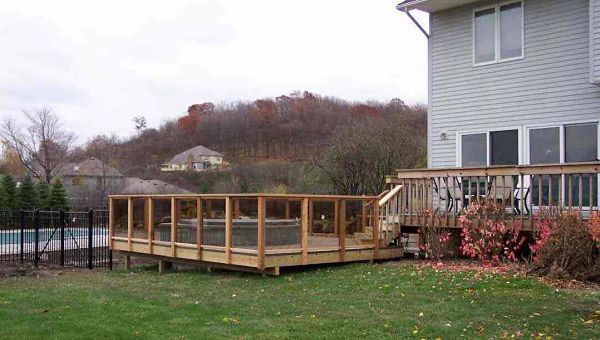 A deck built around the whirlpool provides easy access for year-round use. Clear panels allow for a full view of the pool area, yard and surroundings between railing posts.
6.
Sun and Shade

Structures that provide shade and shelter can be built with decking for function and architectural interest. Pergolas, gazebos and overhanging roofs help keep people comfortable on a deck and protect them from the elements.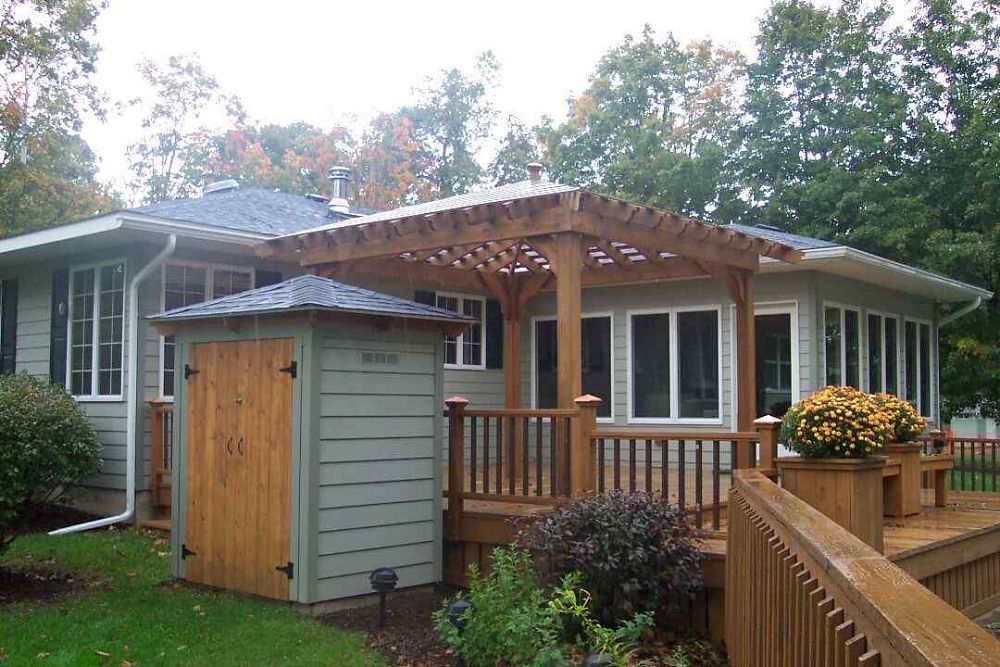 Sunshine or rain, the covered pergola offers an attractive living space on the deck. A small shed provides storage for outdoor tools and houses the pump and heater for an in-ground pool.
7.
Easy Care Outdoor Living

Today's decking materials help to keep maintenance at a minimum. Composite decking and vinyl rail systems stand up to our harsh winter weather and can be washed with a hose in the spring.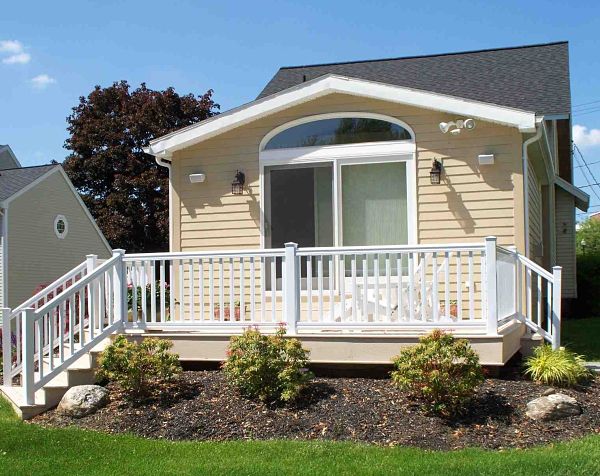 A two-tone maintenance free deck adds a small outdoor space to a ranch-style home. Composite decking and trim boards used for the project are complemented by a vinyl rail system.